Kentucky kept Duke under the radar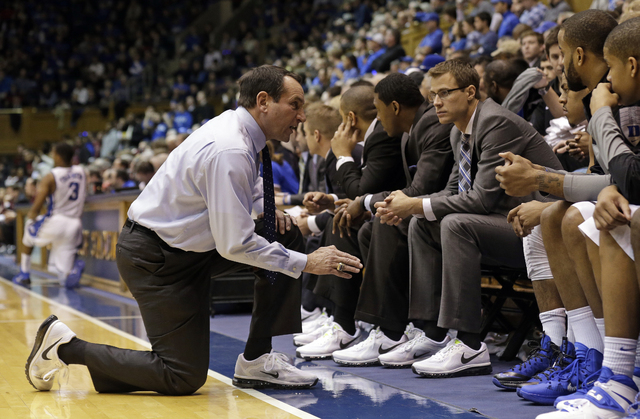 INDIANAPOLIS
Books have been written on the subject and, as we recently saw through an ESPN "30 for 30" film, documentaries are made about it. The reasons for such scorn would fill the miles that encompass Tobacco Road, an endless diatribe about favoritism from officials and hidden scandals that the NCAA has over time refused to unearth and a Hall of Fame coach and his fan base dripping in arrogance.
To suggest any Duke basketball team over the past 25 years has flown under the national radar is to suggest Tom Brady can walk into any restaurant across the Northeast unnoticed.
The Blue Devils have played 291 straight games as a ranked team in the Associated Press Top 25 poll, covering 155 weeks.
It's just another reason they're hated so much.
They're just so damn good.
But a curious thing happened to Duke on the way to tonight's national championship game against Wisconsin at Lucas Oil Stadium.
Kentucky happened.
The Wildcats stole college basketball's spotlight this season like a brother might his younger sibling's toy, snatching it with a grip strong enough to shatter granite. Kentucky spent five months chasing perfection while sprinting toward the quest of 40-0, basking under an intense glare that rarely set its eyes on other programs.
Think about it: There is every chance that because of the zero on Kentucky's record, we never realized how good this version of the Blue Devils were until the NCAA Tournament began.
"If you have the spotlight and attention on you, you deal with it, and if you don't, you deal with that," Duke freshman guard Tyus Jones said. "Kentucky had a great season. The attention was deserved. Obviously, going undefeated is tough to do. They had a special run here to the Final Four. We focused on what we could control — winning games."
Duke haters, the millions of you across Nevada and beyond know who you are, would rather crawl naked through shards of glass or, even worse, wear a Christian Laettner throwback jersey, than admit at any point the Blue Devils have been undervalued.
Kentucky also stole some shine from Wisconsin's memorable season — the Badgers exacted more than enough revenge by eliminating the Wildcats here Saturday — but Duke is always perceived differently.
It was obvious Duke again had a good team, one that enters tonight's final 34-4.
But think about this: Kentucky had nine McDonald's All-Americans this season.
The same number as Duke.
"We didn't have unrealistic expectations," Blue Devils coach Mike Krzyzewski said. "In other words, we knew we had a good team but were one of many good teams. So we had to beat really good teams in order to get here. I like to deal with it as a team and not what other people expect.
"I've said all year long that we didn't want to live in the past of a first-round exit from the NCAA, nor a national championship or Final Four thing, we just wanted to be in this moment. For some reason, we've been able to do that. I think we've really enjoyed the whole journey this season. I certainly have not felt any pressure of expectations. We've kind of really been in our moment."
A major storyline here became about the nation's best offense (Wisconsin) against its best defense (Kentucky). But the third-best offense and 12th-best defense belongs to Duke, which has rolled through five NCAA games with an average winning margin of nearly 18 points. Only one of its games has been decided by single digits.
This is how great teams evolve over time: Duke couldn't stop itself early in the season, so Krzyzewski went to a zone defense and hoped his three freshman starters eventually would build the skills and understand the nuances needed to contest people at this level. They learned to talk more, move more, help more.
They just kept getting better as individuals and collectively.
They just kept improving.
There were hiccups against North Carolina State and Miami and twice against Notre Dame, just enough for many to doubt the Blue Devils had what it took to win it all in the same season that featured that team from Lexington. Duke's warts weren't obvious, but noticeable enough.
But now, as we have watched it dominate the NCAA field and realize which teams live for tonight's game, it's not crazy to think we had it wrong. It's not crazy to wonder if Duke hasn't been the best team all along.
"I don't think basketball fans that I know wouldn't think that Duke didn't have a good team," Badgers coach Bo Ryan said. "A lot of people thought they had a pretty good team because they came in and spanked us at our place (by 10 points in December). I think everybody that I've ever been around this year knew that Duke had a really good team. I can't say that they were ignored, that's for sure."
Not ignored, but probably not viewed in a way comparable to their talent.
There is a reason for that: Kentucky happened.
Las Vegas Review-Journal sports columnist Ed Graney can be reached at egraney@reviewjournal.com or 702-383-4618. He can be heard from 11 a.m. to 2 p.m. Monday through Friday on "Gridlock," ESPN 1100 and 100.9 FM. Follow him on Twitter: @edgraney.