Kentucky Wildcats get inspiration from Michigan's Fab Five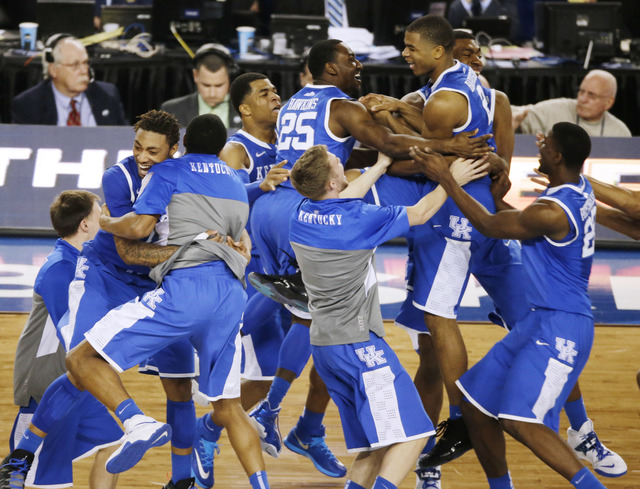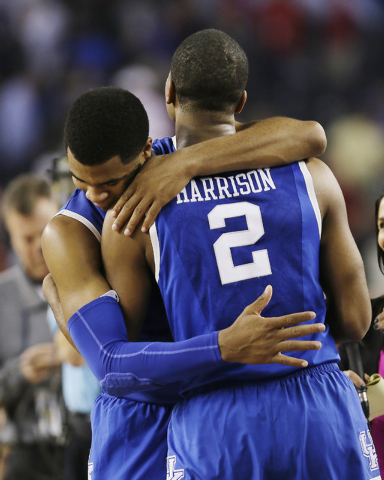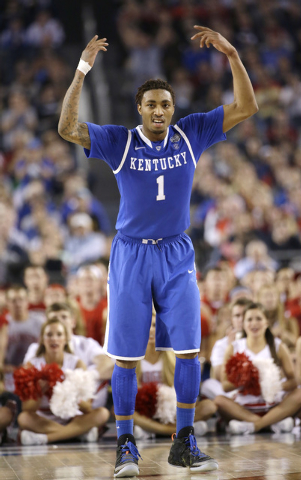 ARLINGTON, Texas — Here is what that team did: It influenced a nation of basketball fans, erroneously presented by some as the embodiment of what was wrong with college sports because of how they dressed and what they said and the music blaring from their headphones.
They were viewed as rebellious. Black socks. Baggy shorts. Hoops embedded into the hip-hop culture.
But their legacy lives even today, 22 years later and yet within a different program.
When the Wildcats of Kentucky start a lineup of all freshmen against Connecticut in tonight's national championship game at AT&T Stadium, it will be the first time in a final since the Fab Five of Michigan did so in losing to Duke in 1992.
Kentucky is attempting to do what the Wolverines couldn't, and it's not easy.
You only get one shot with a freshman class.
"What they did back then and how they came together, can't you just feel the brotherhood?" Kentucky coach John Calipari said. "They fought for each other. They closed ranks when things got ugly. They were there for each another. So there is that correlation between that team and ours."
There are other similarities.
Michigan in '92 didn't get its act together and on a roll playing well until a few games before the NCAA Tournament, much as Kentucky did this season in beginning to show its potential at the Southeastern Conference Tournament.
These Wildcats, arriving in Lexington with resumes only McDonald's All-Americans can offer, weren't born when the quintet of Chris Webber, Jalen Rose, Juwan Howard, Jimmy King and Ray Jackson made history in Ann Arbor.
But they have seen the documentary.
A lot.
"Probably 10 or so times," Wildcats guard Aaron Harrison said. "It's one of my favorite films."
The weight and pressure of expectations can be a substantial burden to carry, and when your season begins with a No. 1 ranking and whispers of potentially delivering a 40-0 record, you can imagine how losses to Arkansas (twice) and South Carolina will be vilified.
When he signed six McDonald's All-Americans, Calipari was said to have assembled the best recruiting class in history. This after the Wildcats as defending national champions were bounced by Robert Morris in the National Invitation Tournament opener.
But giants don't nap for long. The NIT fiasco was a blip on the otherwise sparkling record Calipari has produced in five years at Kentucky. Mostly, he has defined himself as the One-and-Done King, with 12 of the 17 Wildcats drafted during his tenure being freshmen.
Four, and perhaps all five of those who start tonight, could leave school for the draft after just this one season. Such is one way Kentucky of today doesn't compare with Michigan of '92. The Fab Five returned intact for a sophomore season, losing again in the national final.
"It has been a sort of ebb and flow with freshmen ever since the Fab Five," UConn coach Kevin Ollie said. "Some can play well together; some can't. Back then, that was a great team that Coach (Steve) Fisher put together and had them compete for one common goal of trying to win a championship. That's not easy when you have that much young talent. But that's also what (Calipari) has done. Great coach, wonderful motivator, able to get young guys like that to buy in.
"You see the fruits of their labor now. That's what great teams do. They grow up. They mature. They play their best basketball at the most important times."
This is what that team did: It presented a group of players whom the media painted as thugs and villains while corporate America cashed in on them as merchandising stars.
It stuck together. It played as one. It fell just short. That was the Fab Five.
Tonight, Kentucky gets a chance to do what it couldn't.
Las Vegas Review-Journal sports columnist Ed Graney can be reached at egraney@reviewjournal.com or 702-383-4618. He can be heard from 11 a.m. to 2 p.m. Monday through Friday on "Gridlock," ESPN 1100 and 98.9 FM. Follow him on Twitter: @edgraney.
RELATED:
Time for Calhoun to let Ollie have the spotlight