Kevin Kruger hopes UNLV can mimic Aztecs' magical run someday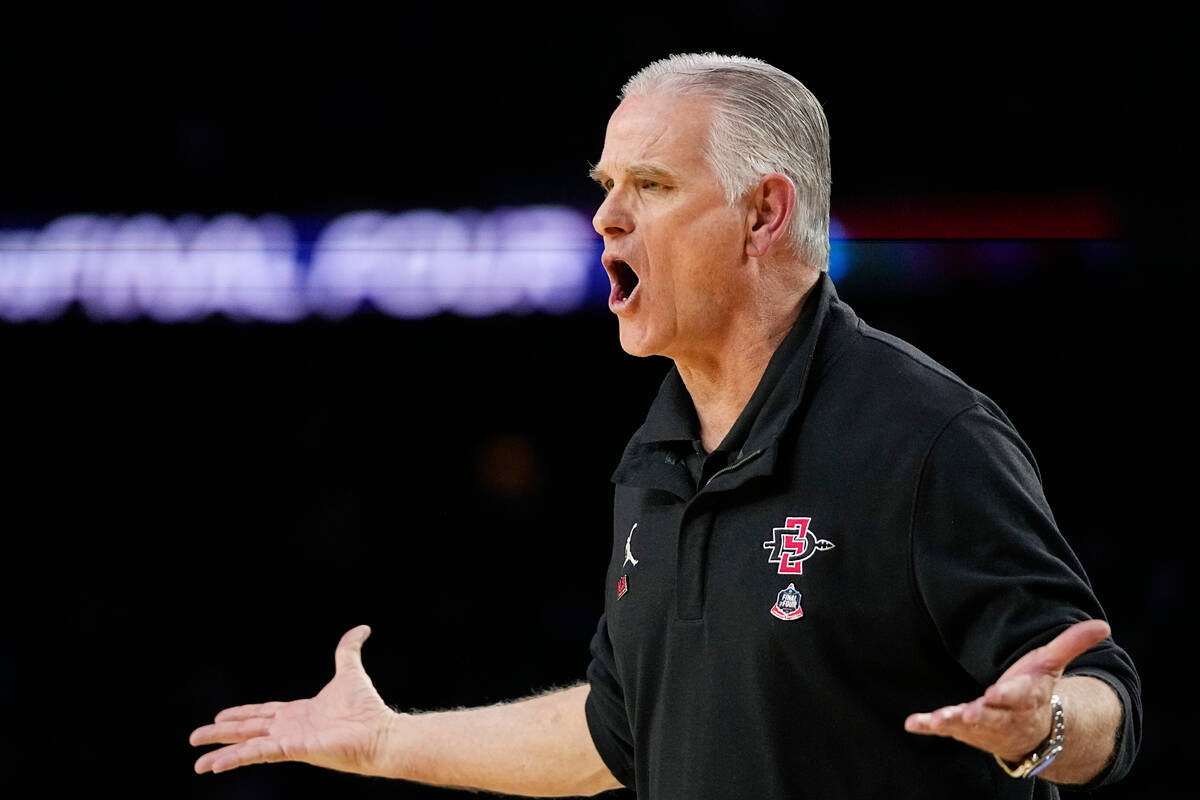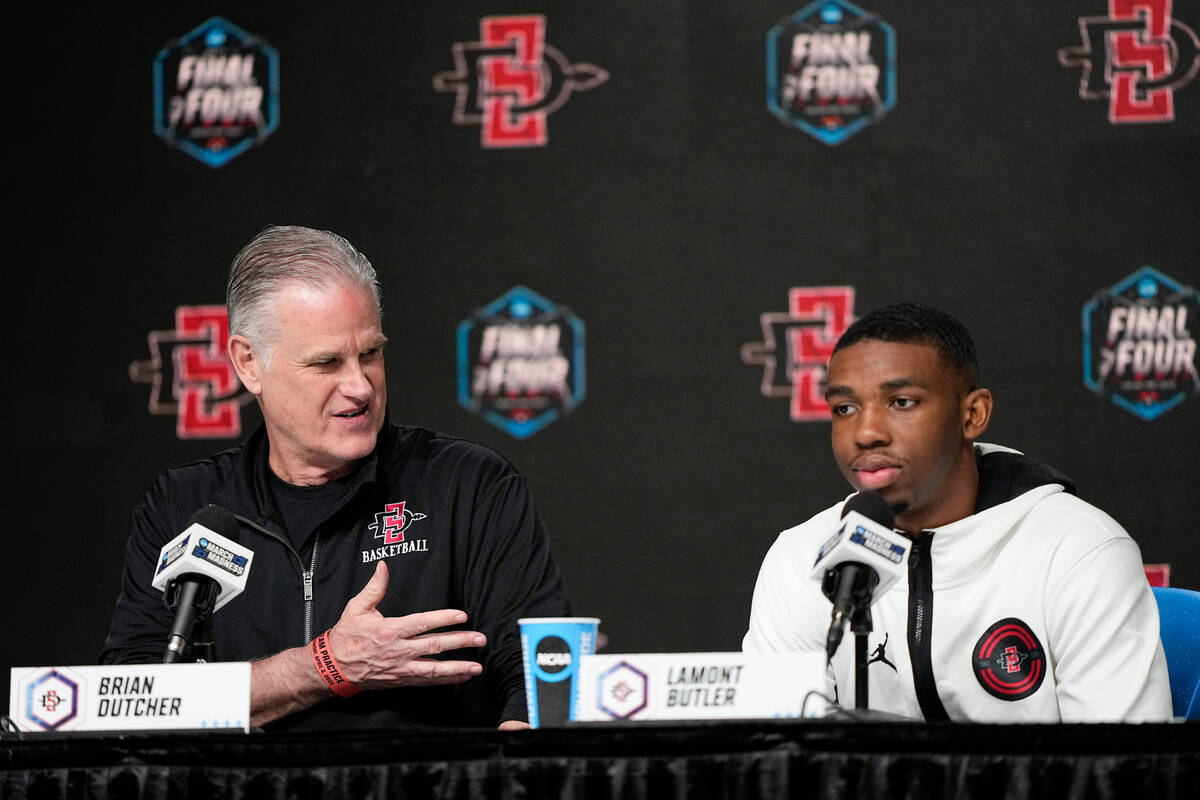 HOUSTON — Mountain West commissioner Gloria Nevarez wore a red blazer for a Final Four game between conference member San Diego State and Florida Atlantic on Saturday.
So if UNLV ever makes it to the season's final weekend again, she'll have the appropriate wardrobe.
It's a (really) long and (really) winding road.
The Aztecs, on a last-second shot from junior guard Lamont Butler, beat Florida Atlantic 72-71 and will play for the national championship Monday against Connecticut.
And sitting in the first row off the court at NRG Stadium when the ball went through the net was UNLV coach Kevin Kruger.
Watching. Evaluating.
Dreaming.
A serious drought
There isn't a coach who doesn't believe that in time his team can't reach the pinnacle of its sport. Kruger is no different.
But it's impossible to take your midrange jumper at history if you're not at least invited to the dance.
UNLV hasn't made an NCAA field since 2013. We're talking a serious drought of not being good enough.
"To pat San Diego State on the back is hard to do as a conference opponent you compete against all the time," Kruger said. "But this run is more than 20 years in the making. The culture they have established. The way they play. They're so incredibly consistent because they've stayed with it and trusted in it and believed in what they do. And now they're in the Final Four."
It's a strategy Kruger, who will enter his third year as coach next season, hopes to mimic if given the time. A lot goes into it, beginning with players. UNLV needs better ones. They also need to keep them around longer.
The Rebels — and all Mountain West teams — would love to borrow a page from San Diego State's game plan. It's one that says if you can qualify for the NCAAs enough, odds favor breaking through at some level. Perhaps even like now. Like with this particular run.
The Aztecs have been to 12 NCAAs since Steve Fisher assumed control of the program in 1999 before giving way to Brian Dutcher six years ago. San Diego State has had its share of first-round losses, a definite level of disappointment.
But it has kept coming back. Kept being good enough.
It's not the same with other Mountain West teams, even when they do qualify. The league — which put four teams in each of the past two tournaments — had lost 11 straight NCAA games before San Diego State began this magical journey.
"Unfortunately, our conference hasn't had much March Madness success," San Diego State assistant coach Dave Velasquez said. "But if you have a program like UNLV — with its tradition and going back to its (national championship) run of 1990, that was an incredible run. I think other Mountain West teams can do this."
It's not easy for a midmajor program to advance this far, especially those whose schools also play football. Budgets and targeted resources are always pointed first at the sport of helmets and shoulder pads. It garners the most dollars.
Consider: UNLV basketball is allotted just over 10 percent of its athletic department's budget.
Gonzaga, which doesn't play football, is at 35 percent.
It has also made five Elite Eights and played for two national championships in the past eight years.
Never say never
"That makes a big difference," said Marvin Menzies, a former UNLV coach who now runs the program at Missouri-Kansas City. "It's important for midmajor teams to have as many resources as possible. A lot of stuff has to fall in place for a run like San Diego State is having. Anything can happen. I think UNLV has an excellent athletic director in Erick Harper who understands the landscape.
"Never say never. If it happened once (at UNLV), it can happen again."
There is more to it. Recruiting. Patience. Roster management. Portal. Name, Image and Likeness.
Patience.
Kruger sat and watched and envisioned much better times for his program Saturday, seeing the level of physical play and understanding it's an area in which his team needs to greatly improve.
Watched and thought about his own side one day breaking through.
But you have to get there first. You can't have the last dance without a first one.
"That's the goal," Kruger said. "To be out there competing with these teams."
If you can't dream it, why bother?
Ed Graney is a Sigma Delta Chi Award winner for sports column writing and be reached at egraney@reviewjournal.com. He can be heard on "The Press Box," ESPN Radio 100.9 FM and 1100 AM, from 7 a.m. to 10 a.m. Monday through Friday. Follow @edgraney on Twitter.
Up next
Who: Connecticut vs. San Diego State
What: NCAA championship game
When: 6 p.m. Monday
Where: NRG Stadium, Houston
TV/Radio: KLAS-8; KWWN (1100 AM, 100.9 FM)
Line: Connecticut -7½; 132