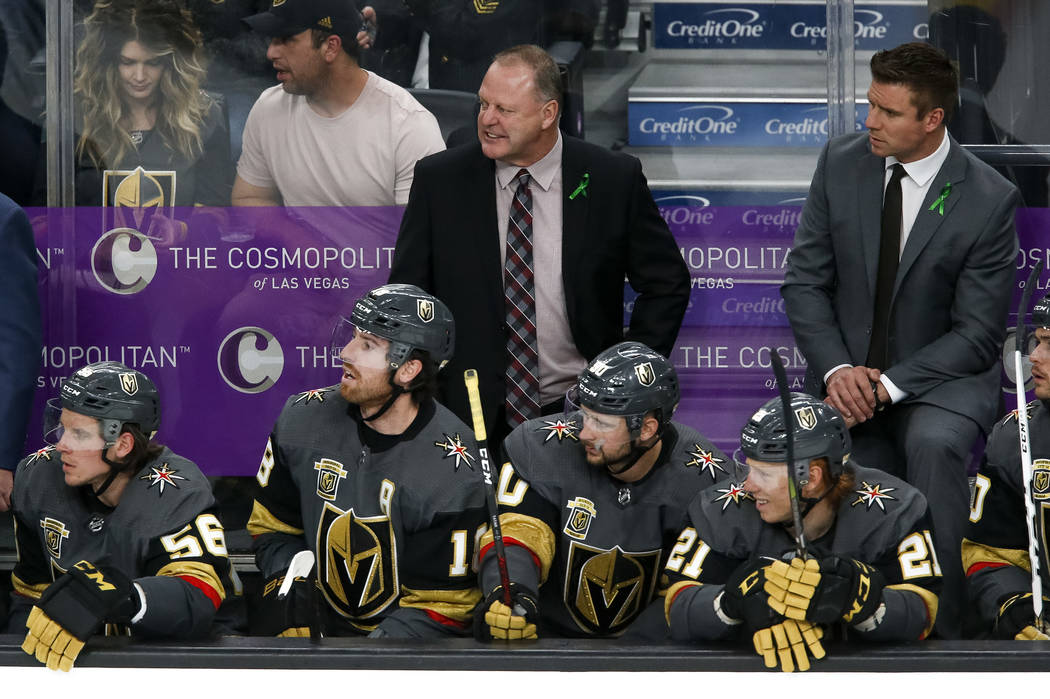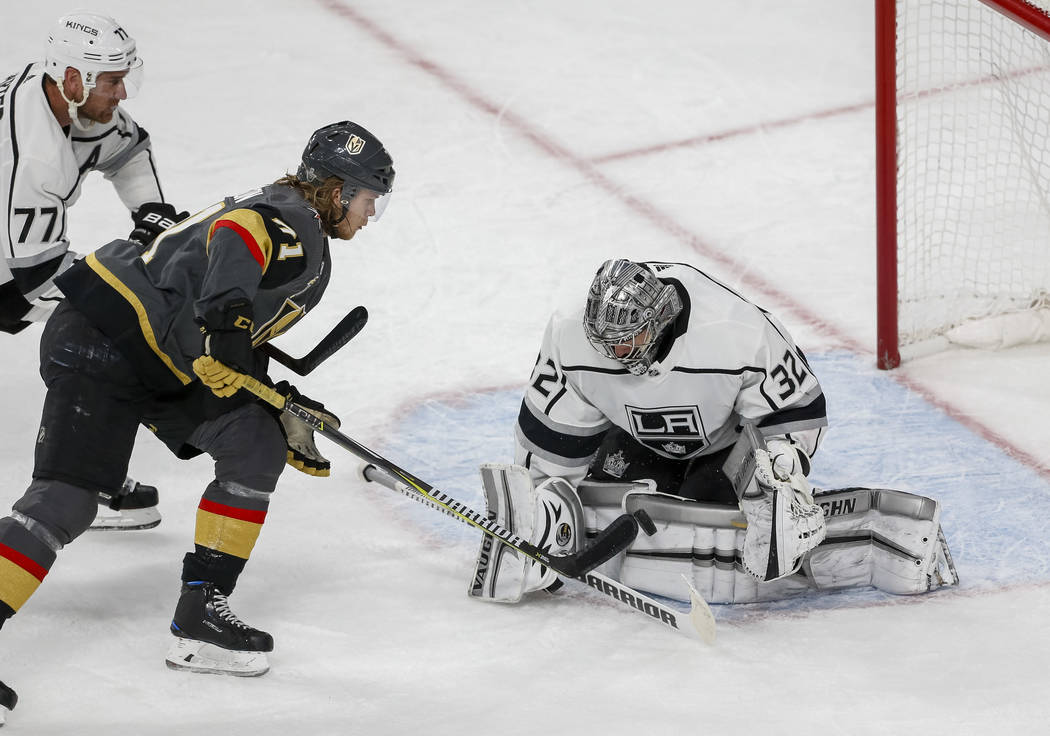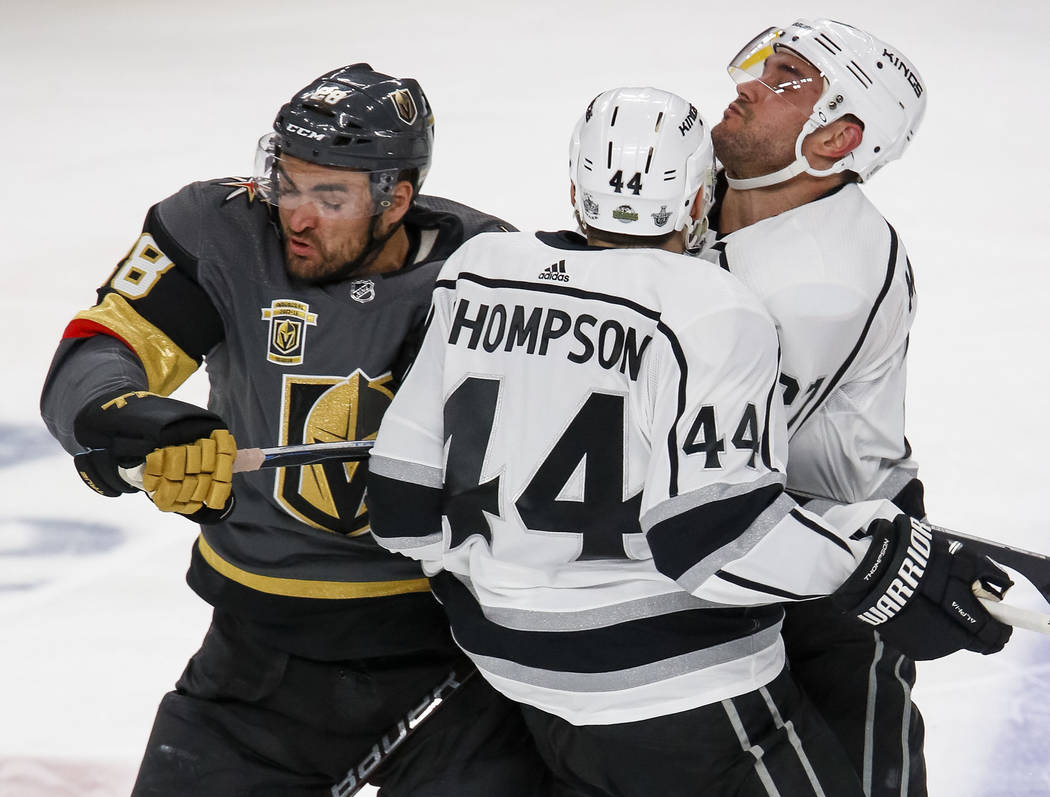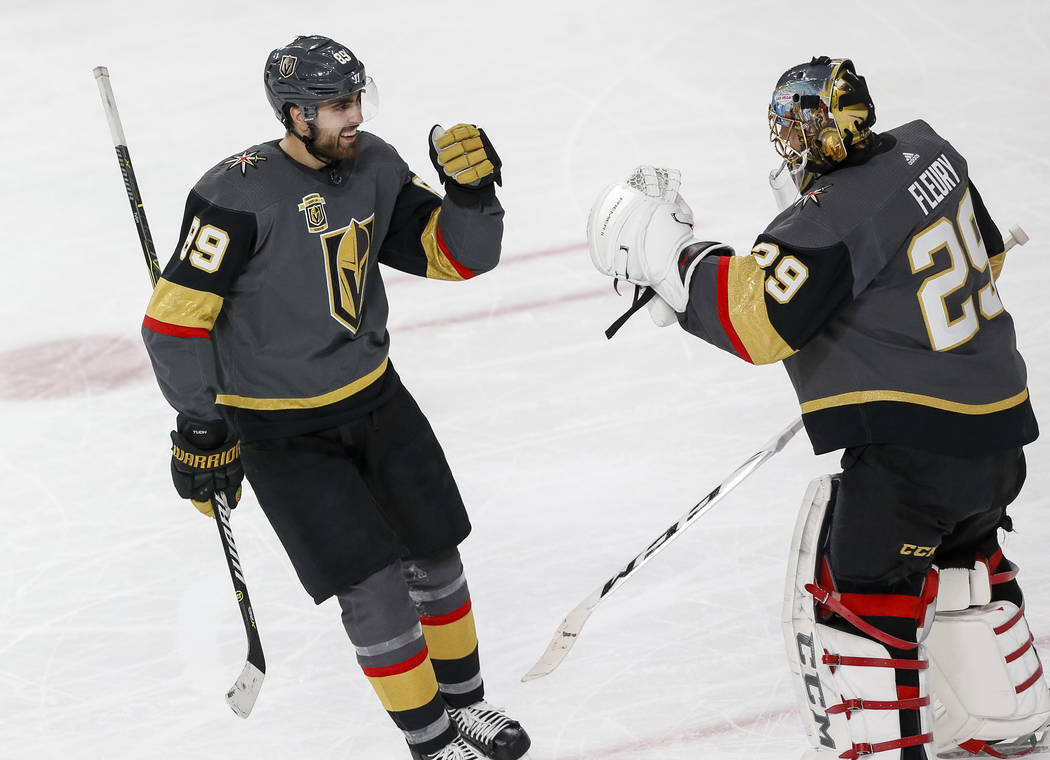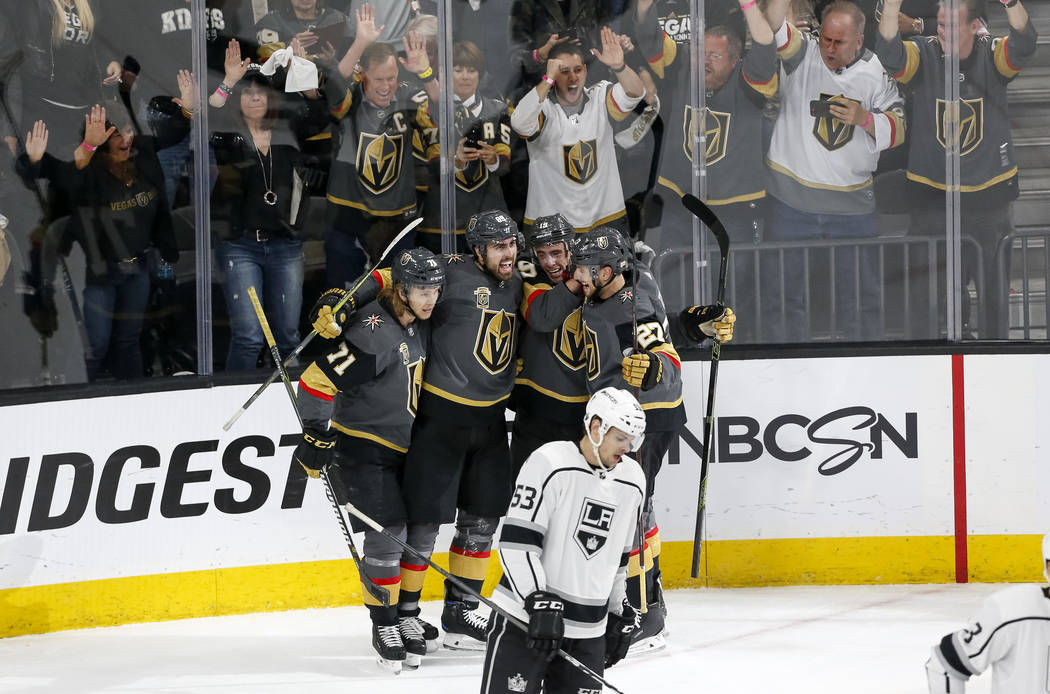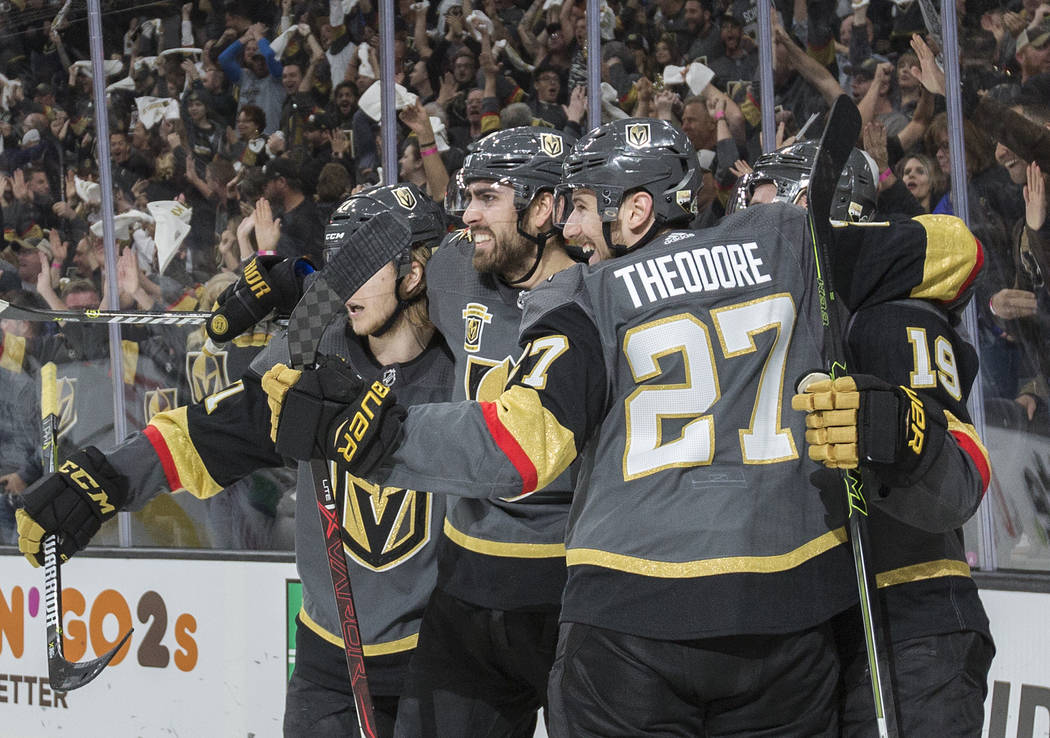 The pressure to win sat squarely on the shoulders of those wearing home sweaters, the ones for which an announced crowd of 18,588 screamed so loudly and passionately, the ones who were facing an opponent without one of its most critical pieces.
The ones who can't get enough of their team.
Don't kid yourself — leading a best-of-seven Western Conference playoff series after one game didn't in any way reduce stress on the Golden Knights to extend their advantage.
That they did Friday night can't be overstated for its importance.
This. Was. Enormous.
Vegas ultimately overcame one of the better goaltending performances you will find this time of year, and that's saying something for this time of year, beating the Kings 2-1 in two overtimes at T-Mobile Arena.
IT'S OVER! @GoldenKnights win 2-1 in double OT #VegasBorn pic.twitter.com/rsR3IZ3xYb

— Las Vegas RJ (@reviewjournal) April 14, 2018
The Knights lead the series 2-0 because Erik Haula scored at 15:22 of the second OT, with things now shifting to Staples Center in Los Angeles for Game 3 on Sunday and 4 on Tuesday, where Vegas will for the first time as a franchise feel the reality of being a playoff villain in someone else's house.
Put it this way: The Knights set a team record for attendance in each of the first two games.
There won't be so many faces smiling in their direction the next two.
Vegas might have scripted a Hollywood story this season, but in no way will it be welcomed in a congenial manner.
"Obviously it was a big win, and in the overall picture, it's huge going back to their rink, which is tough to play in," said Knights forward James Neal, who assisted on Haula's game winner. "We're going to look for them to be even better and really pushing to get a home win. We'll get our rest and be ready."
The Kings were much better in Game 2 than the previous outing and they were always going to be, because even when it's early in a series, a small amount of desperation can still be a pretty formidable source of motivation.
They were without three of their top defensemen Friday, including the league's best in Drew Doughty, suspended for the game following a hit on William Carrier of the Knights in Wednesday's opener.
Jake Muzzin and Derek Forbort also remained out for the Kings. Los Angeles wasn't near at full strength.
But pre-series thoughts about how terrific the goaltending would be were not in any sense exaggerated, as Marc-Andre Fleury of the Knights and Jonathan Quick of the Kings have for 155-plus minutes now been even better than advertised.
Quick is very much a two-time Stanley Cup champion, whose performance without top names in front of him Friday was beyond something.
He stopped 54 of 56 shots.
The Kings, for that matter, were as good defensively as anyone could have imagined given their depleted lineup.
Fleury, owner of three rings, has been just as superb in net, facing 26 fewer shots than Quick in Game 2 and yet just as active and athletic and stingy when needed most.
This is goaltending at its absolute finest level.
Vegas out-shot Los Angeles nearly 2-to-1.
It had all sorts of chances if not for the brilliance of Quick.
The Knights did solve a certain drought against the Kings this season at 14:47 of the first period, when Alex Tuch jammed home a rebound off the boards for a 1-0 lead. It was the first Vegas power play score against Los Angeles this season in 17 tries.
The Kings would get their own power-play goal — and first score against Fleury in nearly 95 minutes of the series — on a Paul LaDue wrister from the point.
From there, fingernails of 18,000-plus were gnawed to the bone, the importance of Vegas earning a 2-0 advantage in the series not lost on anyone in the building.
It ended when Haula beat Quick, sending things to the land of movie stars and sandy beaches and all sorts of dreams.
The pressure was on Vegas to hold serve.
It handled such business and grasped hold of this series.
"It still hasn't sunk in, really," Tuch said. "I feel like I have to go out there and play another period."
Translation: You can't overstate the importance of such a win.
More Golden Knights: Follow all of our Golden Knights coverage online at reviewjournal.com/GoldenKnights and @HockeyinVegas on Twitter.
Contact columnist Ed Graney at egraney@reviewjournal.com or 702-383-4618. He can be heard on "The Press Box," ESPN Radio 100.9 FM and 1100 AM, from 11 a.m. to 2 p.m. Monday through Friday. Follow @edgraney on Twitter.