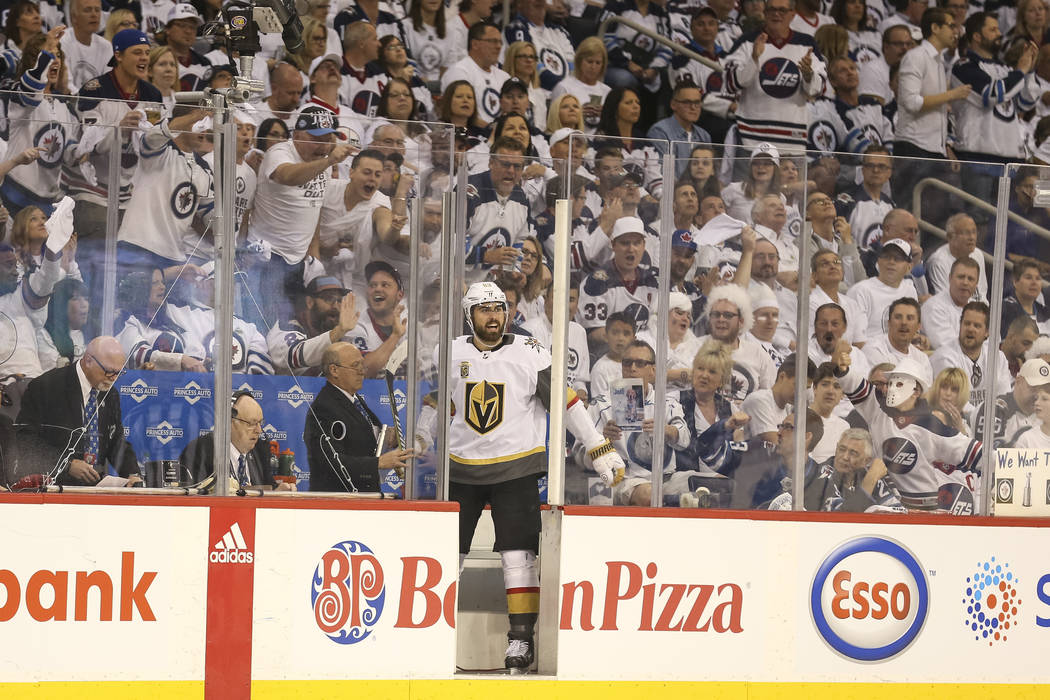 WINNIPEG, Manitoba — So, remind us, which team had six days off between games?
Which had 48 hours?
Which talked about getting a quick jump to start and seeing how bone-tired the legs of its opponent might be?
Which was coming off an emotional Game 7 on the road?
Opportunity is pretty tough to embrace when you squander it as fast as the Golden Knights did Saturday, immediately falling behind and then chasing all evening of a 4-2 loss to Winnipeg at Bell MTS Place in Game 1 of the Western Conference Final.
You aren't often presented the type of chance Vegas had to steal a Stanley Cup playoff game in another's building — not against this good a team — with the Jets having won Game 7 of their second-round series at Nashville on Thursday and the Knights having been off and rested since closing out San Jose on May 6.
"You definitely want to get off to a good start in the series," said Winnipeg captain Blake Wheeler. "You can take Game 1, especially in your own building, that's important, but with that being said, we're not resting on that. It's the Western Conference final. We can keep improving each game."
Well, that's a scary thought.
The most preparation Winnipeg players did for Vegas was stroll into a press conference Friday wearing shorts and flip-flops and then a morning skate Saturday.
And yet not two minutes into the series opener, the Jets intercepted a pass, broke out in transition, and had Blake Wheeler find Dustin Byfuglien for a blast past Marc-Andre Fleury.
No one picked up Byfuglien.
There wasn't a Knight in sight.
"Not the start we wanted and they just played two days ago, but they were game ready and we weren't," said Vegas forward Jonathan Marchessault. "Their push was good, but we knew they were going to come.
"(Monday) is definitely a must-win game. As a group, there can't be any excuses. Everyone needs to step up if you want to win against the best team in the league."
Translation: Now we see what the Knights, who trail in a playoff series for the first time, are really made of.
It's just the beginning, just one game, just 60 minutes.
But for all of them, Winnipeg was bigger, faster, tougher, better. It outworked Vegas, competed harder.
In terms of better line play, it was a clean 4-0 sweep for the Jets.
Winnipeg's stars of stars all showed up, its top two lines accounting for eight points.
The bigger part isn't changing, unless Vegas somehow secretly hires Rick Moranis to point an electromagnetic shrinking machine at the Winnipeg lineup.
The faster part better show up for Vegas if it's to create more chances in Game 2 on Monday and make the series as compelling as most believe it could prove to be.
Vegas just couldn't get their rush going much Saturday, which points directly to a staunch Winnipeg forecheck that kept the puck in the Knights offensive zone and never allowed a consistent attack.
The Knights had just 21 shots.
They had one takeaway.
One.
Byfuglien had three by himself.
"Sometimes you don't get the bounces, but we didn't create good enough ones for ourselves," said Knights forward Pierre-Edouard Bellemare. "We need to feed off the emotion more like we did against Los Angeles and San Jose.
"Big plays didn't hurt us, but the small details did. We got hurt more than just one specific way. We have to come out Monday and get more shots on net."
Winnipeg was ready for this, both its team and terrific fan base, an announced 15,321 inside the arena and thousands more outside, as a party that stretched four blocks began hours before the puck was dropped and went on well after victory was secured.
This too is the Jets' first time in a conference final.
The city is crazy for its team.
It's just the beginning, just one game, just 60 minutes, but you can be sure Vegas has been issued a challenge and the bar is set.
"When we win, we need 20 guys going," Knights coach Gerard Gallant said. "We didn't have all 20 going."
This, the team that had six days off.
Opportunity missed.
Opportunity squandered.
Now, we see what the Knights are really made of.
More Golden Knights: Follow all of our Golden Knights coverage online at reviewjournal.com/GoldenKnights and @HockeyinVegas on Twitter.
Contact columnist Ed Graney at egraney@reviewjournal.com or 702-383-4618. He can be heard on "The Press Box," ESPN Radio 100.9 FM and 1100 AM, from 11 a.m. to 2 p.m. Monday through Friday. Follow @edgraney on Twitter.