Knights' Theodore must bounce back from Wheel of Misfortune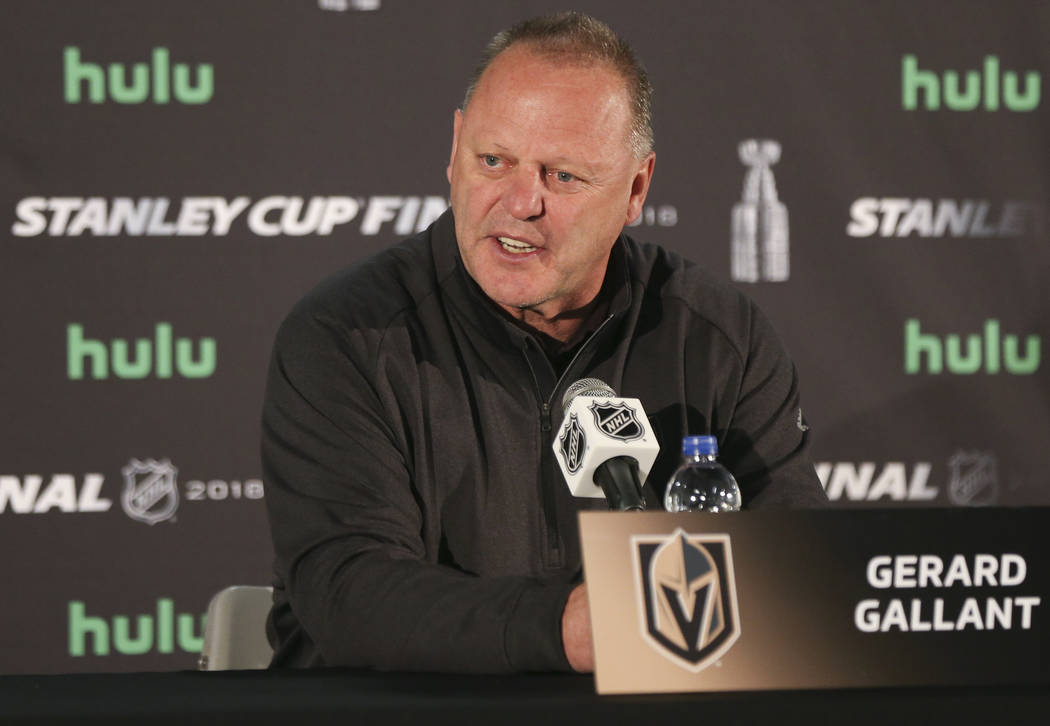 ARLINGTON, Va. — Things were gliding along Saturday night, the Washington Capitals treating their fans to a nostalgic video of players then and now, a captivating arrangement of shots past and present, complete with music and a sea of red thunder sticks glowing in the darkness of Capital One Arena.
Then the guy who calls out letters for a living walked onto the ice and things became sort of awkward.
It was then Shea Theodore should have considered buying a vowel.
Pat Sajak sure knows how to halt the momentum of an otherwise memorable pregame ceremony, and it was shortly after the "Wheel of Fortune" host introduced starting lineups when Game 3 of the Stanley Cup Final commenced between the Capitals and Golden Knights.
It's one Theodore needs to move on from quickly, both for his own sake and that of the Knights.
Washington beat Vegas 3-1 and leads the best-of-seven series 2-1, with Game 4 on Monday and the Knights very much in need of evening things up or facing the harsh reality that history will not look favorably upon them in terms of winning a Cup.
The Knights haven't for the first time these playoffs lost consecutive games based solely on the play of a young and talented defenseman.
Far from it. Way far from it.
Vegas only has one line really playing well right now, and when it's your fourth in a Stanley Cup Final, issues are obviously spread among several names.
But there are also times when one's mistakes are magnified, when it's as if you're the only one on skates and standing under an intense spotlight usually reserved for Sajak, times when you can't stop spinning the Wheel of Misfortune.
"Did Shea do something real bad?" Knights coach Gerard Gallant said dismissively to a question regarding Theodore's play in Game 3. "He plays the game like everybody else. He made a couple mistakes that ended up in the back of the net. A lot of guys make mistakes in a hockey game that don't end up in the back of the net.
"Shea is a 22-year old kid who I love. He's a great player, and he's going to be a star in this league."
Lean on veteran
This is where, more than anything, Theodore can benefit from defending alongside veteran Deryk Engelland. Momentum in a series can change with one shift, one period, one result, and yet carrying your errors from a previous game to the next is never a suggested format for improvement.
Theodore just wasn't very good. He broke a stick that led to a Evgeny Kuznetsov goal, whiffed when trying to clear that led to a turnover and a Devante Smith-Pelly goal, and was badly out-skated near the end of one shift by Matt Niskanen, forcing Vegas goaltender Marc-Andre Fleury to come out and defend, leading to a tripping penalty and erasing a Knights power play.
Theodore has been on ice for four of Washington's last six goals, and was sat by Gallant for more than three minutes immediately following the Smith-Pelly score.
Gallant said to ask assistant coach Ryan McGill about that later.
Um, the Knights ridiculously didn't even make their top liners available to media Sunday — "It's like the '27 Yankees putting Wally Pipp up there," said Review-Journal columnist Ron Kantowski — so you can imagine the response had someone requested to inquire of McGill about skipping shifts for Theodore.
"(Shea) has been great for us all year," Engelland said. "He's young, he's going to have mistakes. I talked to him (Saturday night). You've just got to tell him to make it simple."
Gallant might be considering lineup changes — anyone for giving Tomas Tatar a look up front? — but in no way should they include Theodore.
He assisted on a goal in Game 1 and scored in Game 2, the guy who runs the Vegas power play and is far more an offensive threat than anyone now sitting as a healthy scratch.
Theodore was among those not made available Sunday, but did talk briefly following Game 3, saying things like he needed to recharge and have a short memory and be better all over the ice.
Then again, so does Pat Sajak, and he has hosted "Wheel of Fortune" on and off for more than three decades.
Which means there is hope for all the Knights to even this series Monday, including a certain young and talented defenseman.
More Golden Knights: Follow all of our Golden Knights coverage online at reviewjournal.com/GoldenKnights and @HockeyinVegas on Twitter.
Contact columnist Ed Graney at egraney@reviewjournal.com or 702-383-4618. He can be heard on "The Press Box," ESPN Radio 100.9 FM and 1100 AM, from 11 a.m. to 2 p.m. Monday through Friday. Follow
@edgraney on Twitter.