Kruger realizes taking Rebels from good to great is biggest step
October 16, 2010 - 11:00 pm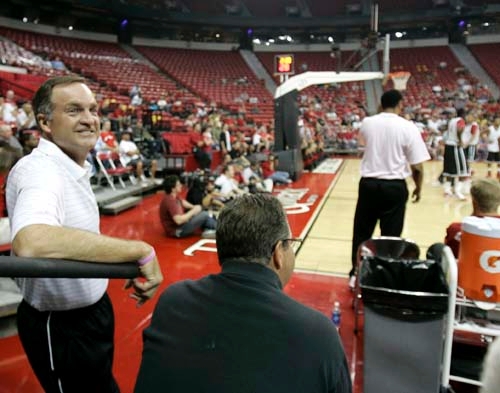 Maybe this is it. Or almost it. Maybe in the world of UNLV basketball, there is some truth to that quote about timing.
That with patience, the unreachable becomes reachable, the unavailable becomes available, the unattainable becomes, yeah, you guessed it, attainable.
Building a program is like climbing a mountain. There are different grades along the way to gauge the difficulty of reaching certain spots. Each step comes with its own obstacles, its own requirement for strength and skill.
Becoming good in college basketball isn't tough.
Becoming great is.
Lon Kruger is about to enter his seventh season as UNLV coach. The Rebels have been good to very good under him.
They have not been great.
Not in a way he and those who cheer and support his program desire. Not in the way UNLV once was.
"If changing the culture is the first step, that's maybe easier because you're not so limited on players' ability," Kruger said. "We have to continue getting good players, better players. Our roster's depth in regards to talent is better than at any point in our time here, but to become a top-10 or top-20 program consistently, it takes more players.
"Our kids have performed pretty close to their ability level, but it doesn't get us to the Elite Eight or Final Four because it hasn't yet. To take that next step, we have to continue to play at a maximum level with better players. I like the talent we have, but other than maybe five programs in the country, everyone needs to continue improving their talent level."
It is a vital time for the Rebels, a team picked fourth in the Mountain West Conference this season and a coaching staff chasing valuable local recruits for the coming ones.
There is in prep gyms around Las Vegas today a group of players in the 2012 recruiting class with the talent to potentially raise UNLV's stature beyond consistently good. The hard part is getting them to stay home.
They are juniors at Bishop Gorman (Shabazz Muhammad, Rosco Allen and Demetris Morant) and Findlay Prep (Anthony Bennett and Landen Lucas). Nigel Williams-Goss is a sophomore at Findlay and also squarely on the minds of UNLV coaches and many others.
You never sign locals just for the sake of doing so. Basketball isn't like football, where you can miss a few times in recruiting and still find success when annually handing out 25 scholarships. Basketball is more about filling immediate needs, about perhaps passing on a good player simply because you need help elsewhere.
Johnathan Loyd is a good example. UNLV thought highly of the former Bishop Gorman standout, but his was a position (point guard) where the Rebels weren't terribly lacking. Loyd went to Oregon, where he will play more this season as a freshman than he would have at UNLV. Timing. It's all timing.
But the six prep players mentioned above are different. Nevada has more Division I prospects today than 10 years ago, and the best ones of this junior class and a solid sophomore in Williams-Goss have the potential to be special. One or two or more of them could make the difference UNLV has chased under Kruger.
Again, it's a vital time.
"If you would have said seven years ago that we would have (gone to three NCAA Tournaments, including one Sweet 16) and been on as solid foundation as we are now with our roster today, I would have taken it in a heartbeat," Kruger said. "When you combine that with our fans and the atmosphere now at the Thomas & Mack, that's a huge key. If there wasn't that relationship with the community, I wouldn't be as excited, but we have it.
"I think a consistent goal for everyone is getting to the Sweet 16, because at that point, anything can happen. A break here or there, an injury, foul trouble. The best teams don't always make the Final Four. But to consistently compete for the Sweet 16 should be a goal here. I don't know if at this point we are quite there.
"We've got good players right now.
"Everyone wants great players."
Timing is a wonderful thing if it works in your favor.
UNLV basketball over the next year or so will discover whether it is good enough to take that next step, the one from good to great.
Maybe this is it.
Or almost it.
Time will tell, but doesn't it always?
Las Vegas Review-Journal sports columnist Ed Graney can be reached at egraney@reviewjournal.com or 702-383-4618. He can be heard from 2 to 4 p.m. Monday and 2 to 3 p.m. Thursday on "Monsters of the Midday," FOX Sports Radio 920 AM.