Kruger, Williams-Goss link altered course of UNLV basketball
Updated April 3, 2017 - 8:10 am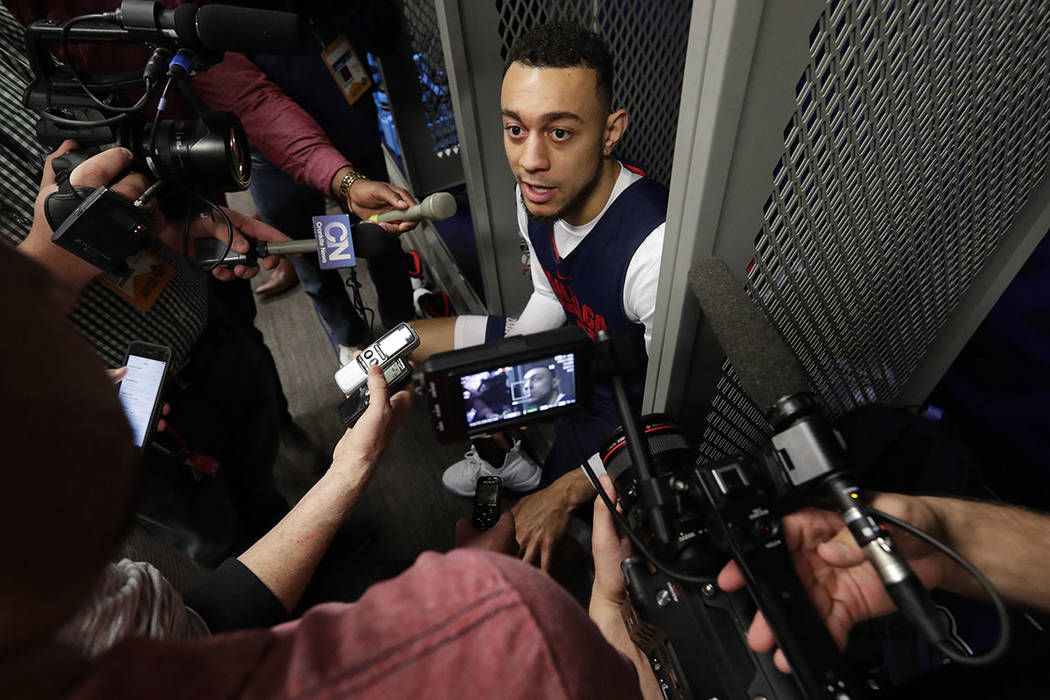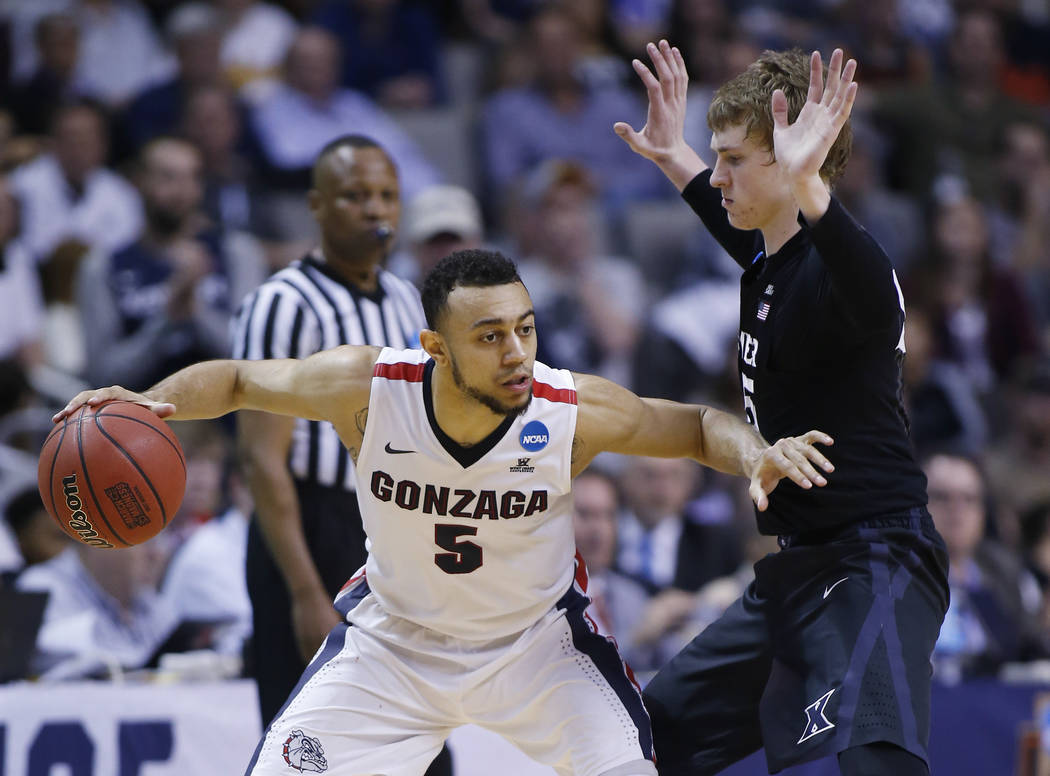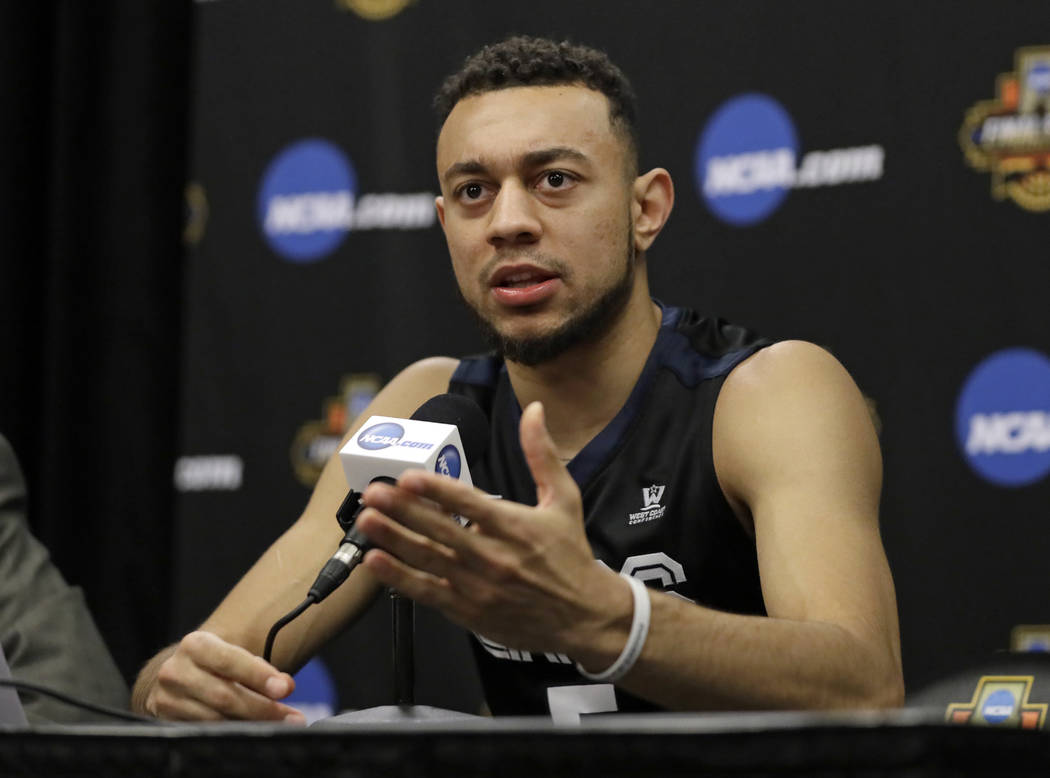 "UNLV was always at the top of my list. I didn't want to lead on other schools that were recruiting me. I want to go somewhere I was genuinely wanted, and no one gave me that feeling better than UNLV."
— Nigel Williams-Goss, Dec. 2010
GLENDALE, Ariz. — The last seconds ticked away in a Final Four game Saturday evening, and not a few hundred feet from one another were two figures that, as much as anything the past eight years, shaped the current state of UNLV basketball.
On the court, Nigel Williams-Goss was being interviewed by CBS after the junior point guard led Gonzaga past South Carolina and into Monday night's title game against North Carolina at University of Phoenix Stadium.
Just off it, standing in the front row alone and watching, was Oklahoma coach Lon Kruger.
It's an obvious question for all those who follow and support the Rebels.
What if?
Some believe hindsight a useless instrument, that our current place in life is more about an incalculable number of situations than understanding something only after it has occurred.
But hindsight is really cruel to the Rebels in this particular sense.
The opening chapter of how UNLV went from a team under Kruger that made four NCAA fields his last five years to one that just concluded the worst season in program history begins at this time of year in 2011. That's when Williams-Goss was a sophomore at Findlay Prep who had verbally committed to Kruger before a Big 12 school with a blank check came calling.
"We were in Washington, D.C., playing in a national tournament," Williams-Goss said. "Someone told me Coach Kruger left for Oklahoma. It was April Fool's, so I thought it was a joke. I didn't believe it. But then it came across the ticker that he left. I was shocked. He and I had a great relationship. But my parents and I talk every day about things happening for a reason, that God works in mysterious ways.
"I'm sitting here about to play for a national championship. Obviously, I couldn't be more pleased with how my career has worked out."
UNLV was never going to compete with the contract — seven years for $16 million — with which Oklahoma lured Kruger to Norman. Once the coach departed, Williams-Goss reopened his recruitment and immediately pointed his focus on Washington, having grown up in the Pacific Northwest and being close with then-Huskies coach Lorenzo Romar.
Williams-Goss listened to Dave Rice when the former UNLV player replaced Kruger, but said Sunday that once the Oklahoma deal was done, no one came close to beating Washington.
He would sign with the Pac-12 school, start two years and then transfer to Gonzaga, where he averaged 16.9 points and has the Zags 40 minutes from cutting down the one historic net most believed the West Coast Conference power never could.
Kruger has also delivered immense success since leaving Las Vegas. He has led the Sooners to four NCAA fields, including a Sweet 16 in 2015 and last year's Final Four.
It's easy to say things that can't be proven, but had Kruger stayed and Williams-Goss become a Rebel and other top names followed, because great players want to play with other great ones, the ceiling for UNLV could have been limitless.
That's how much of a difference a point guard of this caliber can make.
"Nigel is a great kid, a gym rat," Kruger said Saturday. "He was really good early on, but it's hard to project ever doing all this. It's really hard to get to this point. But he just makes great basketball plays. Finishes. Midrange. Can draw and kick. A really intelligent player and leader."
Eight years later, UNLV has fired one coach (Rice), eventually hired another (Marvin Menzies), missed the last four NCAA Tournaments and just concluded an 11-21 season that saw it finish dead last in a bad Mountain West.
Meanwhile, Williams-Goss this season saved a screen shot on his cellphone — before losing it recently — with certain goals: conference championship, conference tournament championship, conference Player of the Year, first-team All-American for academics and basketball … and winning a national championship.
He has achieved all but the biggest one, from which he and the Zags sit 40 minutes away.
"For us to be 37-1 and playing the last game of the season against North Carolina, it's just a blessing," Williams-Goss said. "No one's here by accident. We're here to win it. This might be David versus Goliath in a historical sense, but come Monday night, it's just two No. 1 seeds going at it.
"My parents still live in Las Vegas. UNLV is a great school with great fans. I watch them a lot. Obviously, they had struggles this year. But I think UNLV is a special place and I would love to see them get back on top and get that thing going again."
What if, is right.
Contact columnist Ed Graney at egraney@reviewjournal.com or 702-383-4618. He can be heard on "Seat and Ed" on Fox Sports 1340 from 2 to 4 p.m. Monday through Friday. Follow @edgraney on Twitter.