Lack of defense dooms Aces with WNBA playoff berth at stake
Updated August 17, 2018 - 9:43 pm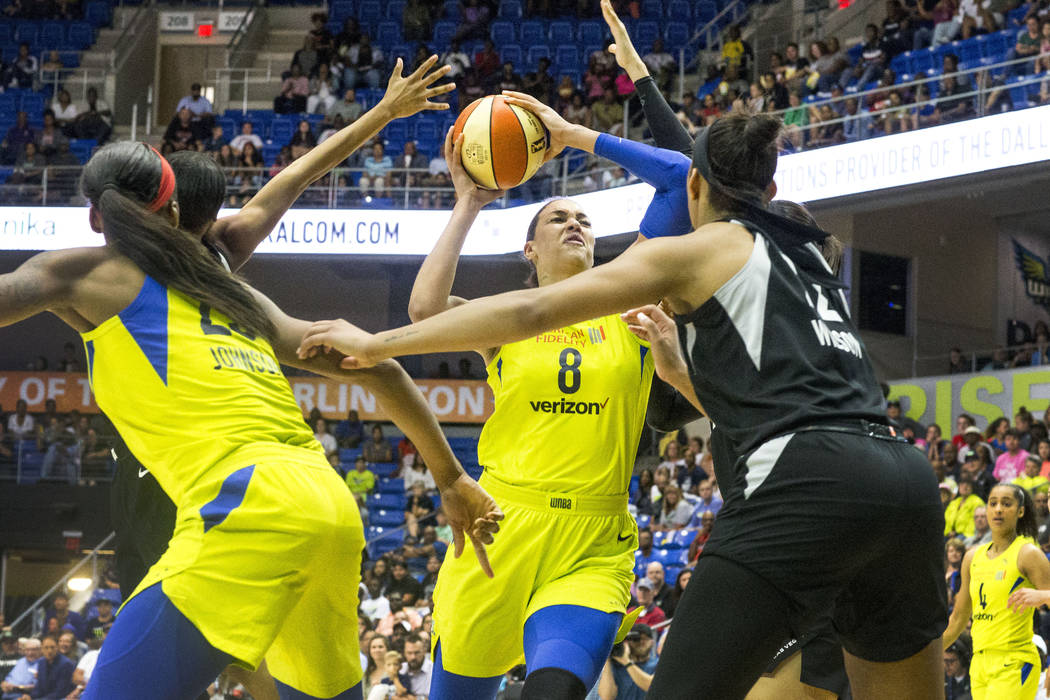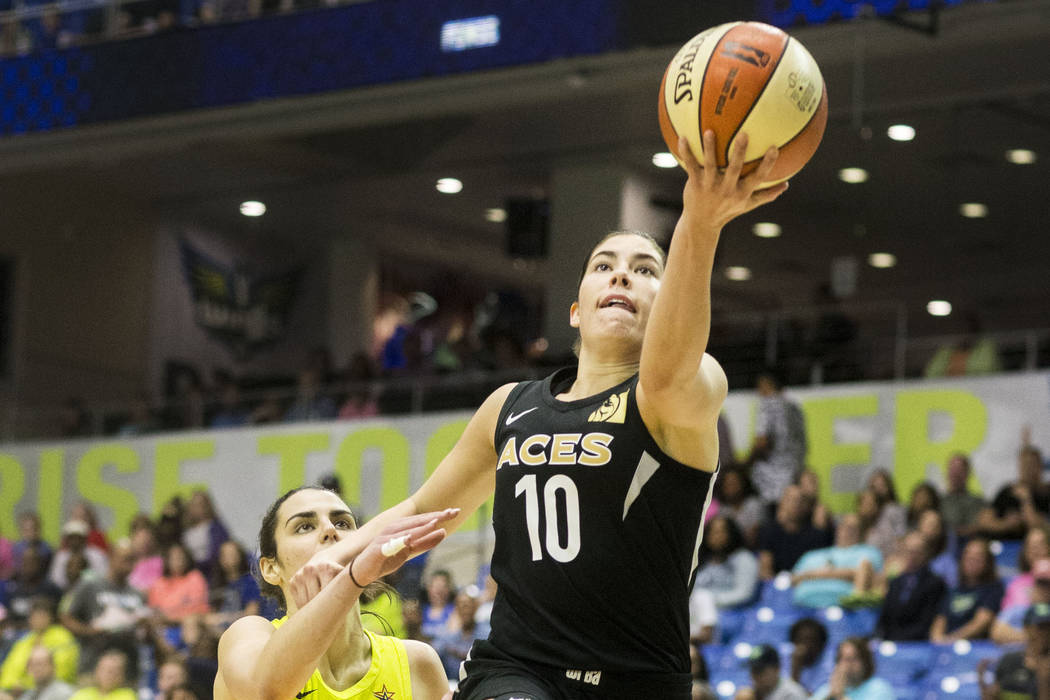 ARLINGTON, Texas
When it was over, and the fellow in a pink shirt with a white towel draped around his neck in Section 105 of the College Park Center proclaimed at his loudest pitch that the Dallas Wings were indeed headed to the WNBA playoffs, reality arrived for the Aces with the force of a Liz Cambage post move.
Which is sort of like when those in Cambage's hometown of Melbourne, Australia, awake to a few tremors rattling the ol' barbie out back.
In a season during which low expectations were instead met with vast improvement over 33 games, Las Vegas won't see such promise end with a postseason berth because of the most basic of reasons: When they needed to most these past few weeks, the Aces couldn't get a stop.
I mean, not to save their lives.
The Wings on Friday night snapped a nine-game losing streak and clinched the league's eighth and final playoff spot all over 40 minutes, beating Las Vegas 107-102 before a raucous gathering that included the excited fellow in a pink shirt with a white towel draped around his neck who never sat down.
The growth from May until now, from losing seven of its first eight to fighting for a playoff berth in its inaugural Las Vegas season, was obvious on numerous levels for the Aces.
Bill Laimbeer might not have known those players on his roster to begin things, but the coach understands now that his team has enough skill to compete nightly in the league. And it starts with A'ja Wilson, who should be a unanimous selection for Rookie of the Year.
"We gave it our best shot and came up short," said Laimbeer, whose team plays its season finale at home against Atlanta on Sunday. "We know that we can't get the start of the season back, when Games 3, 4 and 5 mean the same thing as Game (33). We learned a good lesson there this year that they all count … I told (the players) this is a business. Nobody expected us to make the playoffs. We had a chance, and we learned from it. Now, we're all excited about next year."
They need to defend better.
They need to stop people more.
It wasn't just one game, although the fact that Las Vegas failed miserably at controlling a player (Cambage) few really can — she went for 43 points and 13 rebounds in 34 minutes — defined those issues that never allowed the Aces to surpass a Dallas side that before Friday seemingly hadn't won since J.R. Ewing ruled this state.
Stats don't lie
Think about it: The Aces have lost six of their past eight games (including a forfeit at Washington), and in those defeats, they allowed opponents an average of 103 points while watching them shoot 52 percent from the field and 41 percent on 3s.
And there is this: Only one team (Chicago) has allowed a higher scoring average than the Aces, and only three are worse defending the 3. That's a whole lot more about can't-stop-anyone than any travel mishaps from Las Vegas to the nation's capital.
The Aces didn't miss the playoffs because of a forfeit that the league had every right to impose.
They missed because they weren't good enough.
"I have to start with what I can do better," point guard Kelsey Plum said. "We're a young team, but who cares? Wins are wins, losses are losses, but I do think that to be good defensively as a unit, it takes time. It's something that I think you will see a big improvement next year."
They arrived in Las Vegas as Golden Knights fever was at a season-high octave, a basketball team bought by MGM Resorts International and relocated from San Antonio to the Mandalay Bay Events Center and a city that had fallen head over heels with an NHL expansion franchise.
But the Aces carved out their own niche of interested fans — they sure caught the eye of Raiders owner Mark Davis — and feature a nucleus capable of making a postseason push next season far less dramatic and tenuous.
"The sky is the limit," said Wilson, not fazed at all by the significance of Friday's game, finishing with 34 points and seven rebounds. "We came together and played hard. People are excited to watch next year."
You know who else is excited?
The excited fellow in a pink shirt with a white towel draped around his neck in Section 105 of the College Park Center.
"We're going to the playoffs, baby!" he screamed as the final horn sounded.
Not so for the Aces, a team of much promise still searching for that critical stop.
Contact columnist Ed Graney at egraney@reviewjournal.com or 702-383-4618. He can be heard on "The Press Box," ESPN Radio 100.9 FM and 1100 AM, from 11 a.m. to 2 p.m. Monday through Friday. Follow @edgraney on Twitter.