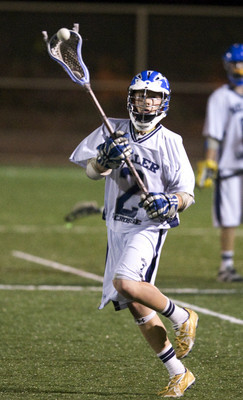 Five seconds. Maybe.
The two players squatted, a ball was placed between their crosses, Kieran Eissler controlled the faceoff, sprinted down field, dodged this way and that, treated defenders as if they were air and fired a shot from 15 yards that the goalie had no chance to stop.
Reason: He likely never saw it.
Five seconds. Man among boys.
The man is 14, stands 5 feet 5 inches tall and shoots a ball at an unheard-of-for-his-age 91 mph. He is an eighth-grader at Bob Miller Middle School and might weigh 120 pounds.
He is a fantastic lacrosse player.
Get used to it around these parts. America's first sport, founded by the North American Indian, baptized by the French, nurtured by the Canadians, played so expertly for decades on the East Coast, has carved itself an ever-expanding niche in the desert.
One of the fastest growing team sports nationally for youth is making its impact here one cross check at a time. It has been a tough battle for recognition. The campaign rages on.
Think about it. The mainstream view of lacrosse probably centers on two things. First, it is that college game played on ESPN each May in which everyone west of the Mississippi learns all sorts of interesting facts about Johns Hopkins; also, it is that game those young men at Duke played when wrongly accused of sexual assault.
It is so much more. It is football and soccer and hockey rolled into one. It is a game in which a player the stature of Eissler, born with a stick in his hand back in Long Island before moving here in the fourth grade, can dominate peers and those older and bigger and stronger. It is a smart man's game, in which speed is the great equalizer to size and those perhaps shunned by other sports discover a home.
"We take kids and turn them into athletes," said Chris Eissler, Kieran's father and coach of the Bob Miller team that won the Division I Middle School championship this week. "The quality of play here has grown leaps and bounds. I think eyes have to open more to realize how big the sport is here and how many kids are playing in this town. That's not counting the little ones, the next generation of players watching."
Some numbers: More than 1,000 boys and girls are playing lacrosse in Las Vegas at the middle school and high school levels. Five years ago, there were maybe 250. Since 1999, youth participation has grown 500 percent nationally. There are an estimated 250,000 high school players and 500 college club programs.
It's blowing up everywhere.
Twelve high schools locally — with more to surely come — annually play for a state title under the umbrella of the Southern Nevada Lacrosse Association, a championship won for the third straight year by Bonanza in an 11-9 victory over Palo Verde on Friday night at Bishop Gorman.
Madison Fiore is a former Faith Lutheran standout now playing at Maryland, the first Las Vegas product to compete at the Division I level. Conner White is an attackman at Palo Verde who inspires others with Tourette's syndrome. There are lacrosse stories like this throughout the valley.
It also is a sport that the Nevada Interscholastic Activities Association does not sanction, for whatever reason, but be it budgetary concern or those of participation levels, an organization seemingly always concerned with adhering to Title IX guidelines would be smart to take a more serious glance in the direction of lacrosse.
"We're just not on the radar enough yet," said Don Krueger of the Southern Nevada Lacrosse Association. "But when you look across the country at television coverage and sponsorship and merchandise sales, the sport keeps growing and growing."
Krueger makes a great point as to why so many kids embrace lacrosse, especially out West. It is a sport where most fathers have little to no base of experience, where Dad can't impart his often overbearing opinions as he might football or baseball or basketball, sports he grew up playing. The kid feels less pressure.
What has helped the game's advancement here are coaches like Eissler, East Coast transplants who arrive to impart knowledge and nurture skill. What has helped put Las Vegas lacrosse on the map are players like his son, an engaging, well-spoken, honors student who dreams of playing for Johns Hopkins and pursuing a career in medicine. Who is up early to run before school and often takes more than 500 practice shots a day.
Who seems to have more on the ball at 14 than most at 40.
"I didn't think at first the lacrosse here could be as good as it was in New York, where every school has a team and kids grow up with it," said Kieran, who will play football and lacrosse at Coronado High in the fall. "But the past few years … kids here have learned to love it. If you like contact and running and mixing it up and being disciplined, it's a great sport. It's the best. Hands down."
Five years ago in Las Vegas, lacrosse was coming.
Today, it has more than arrived.
Las Vegas Review-Journal sports columnist Ed Graney can be reached at 702-383-4618 or egraney@reviewjournal.com.