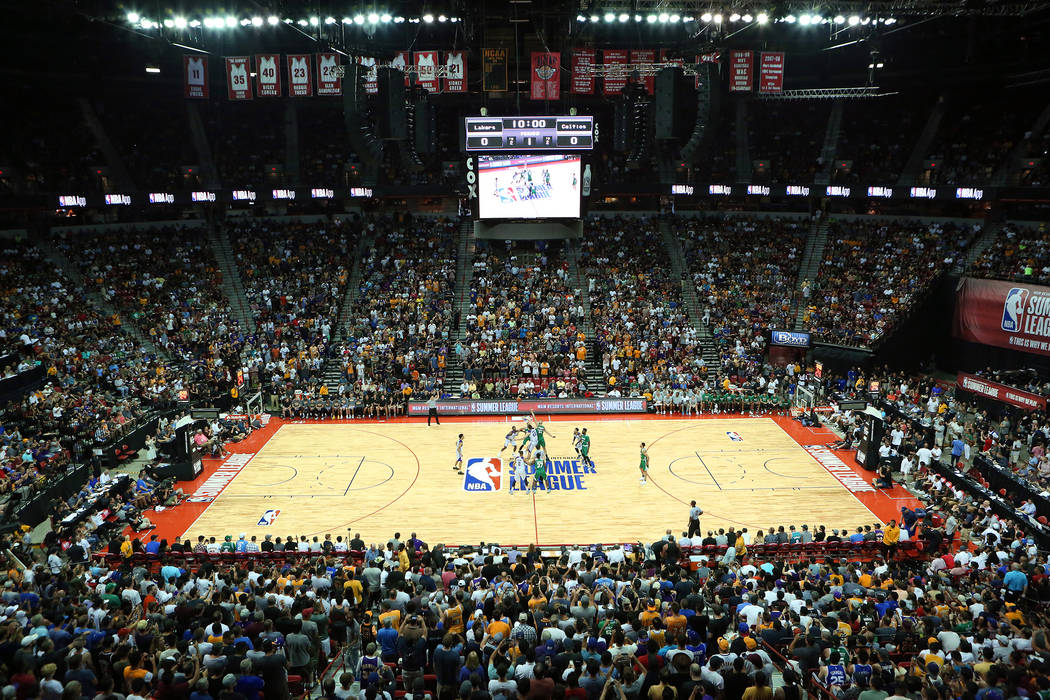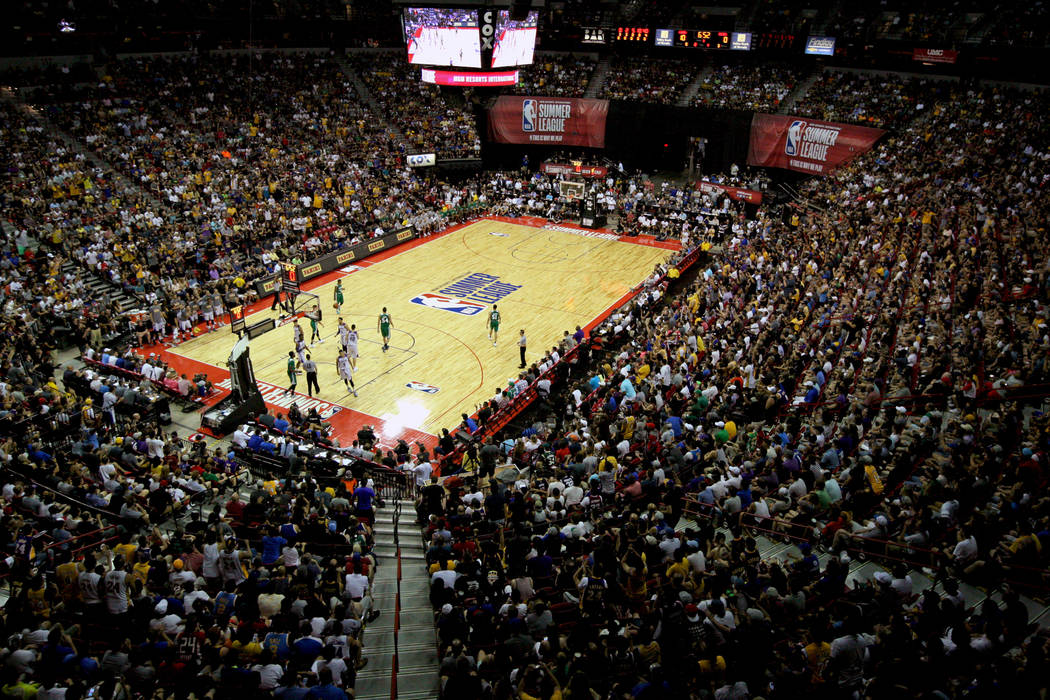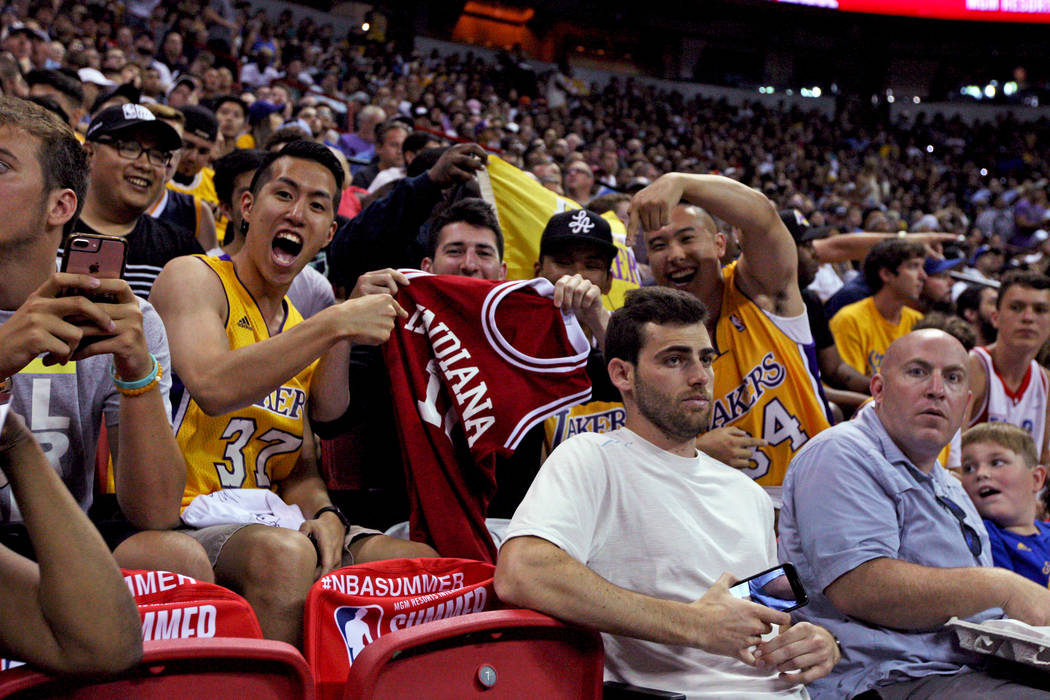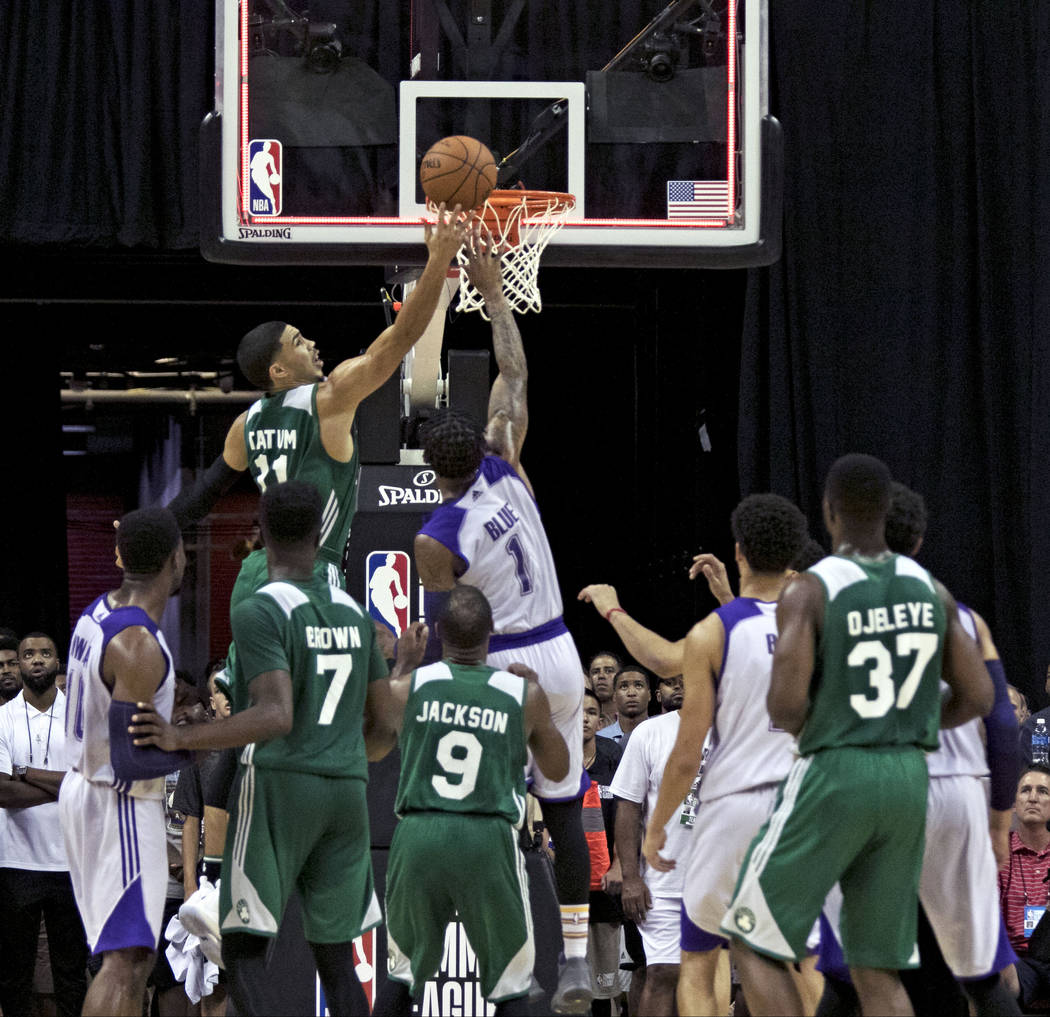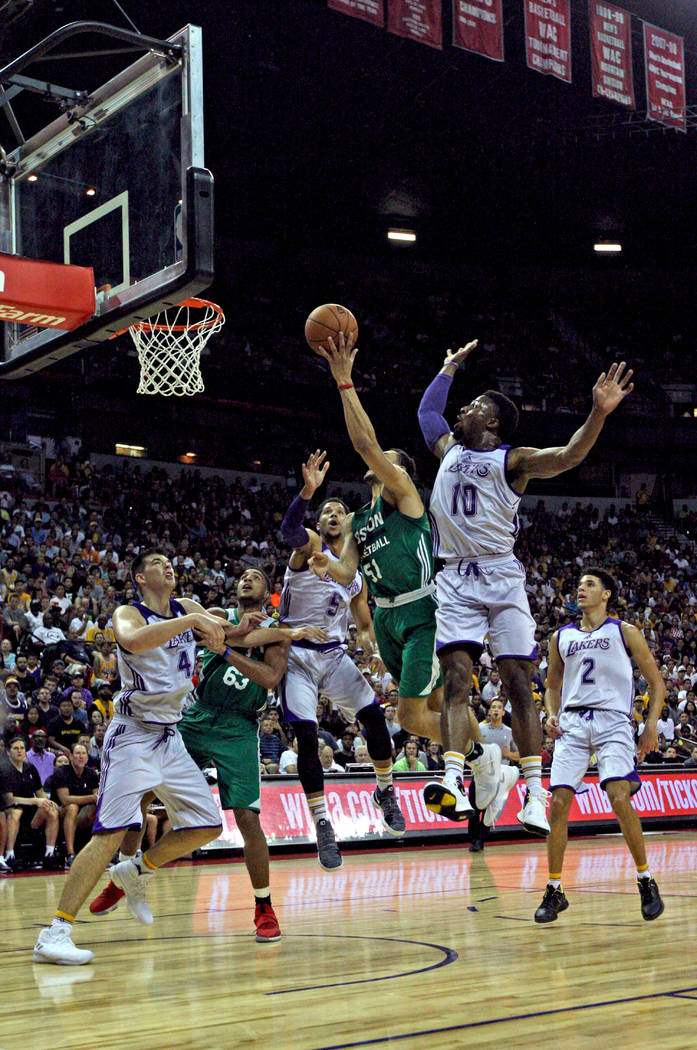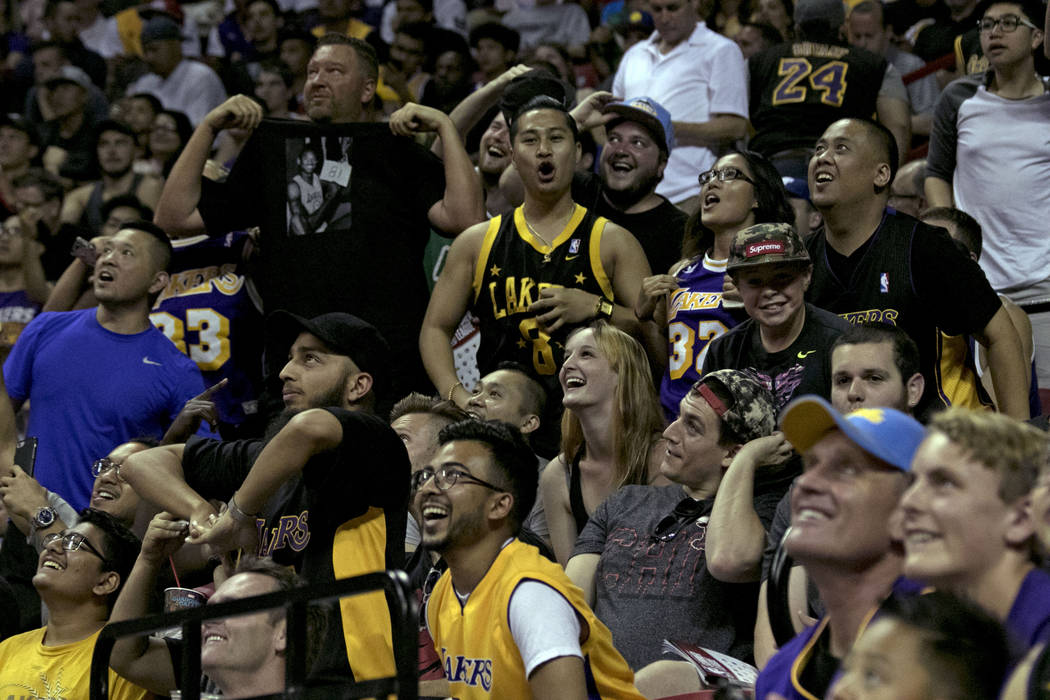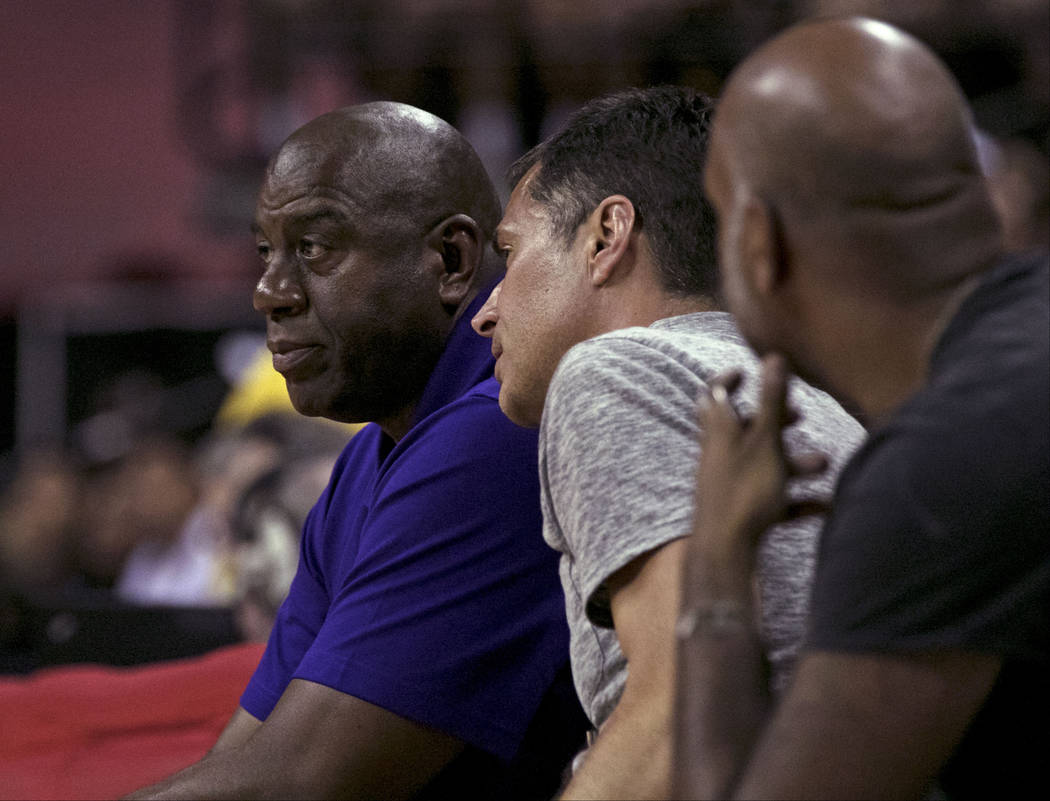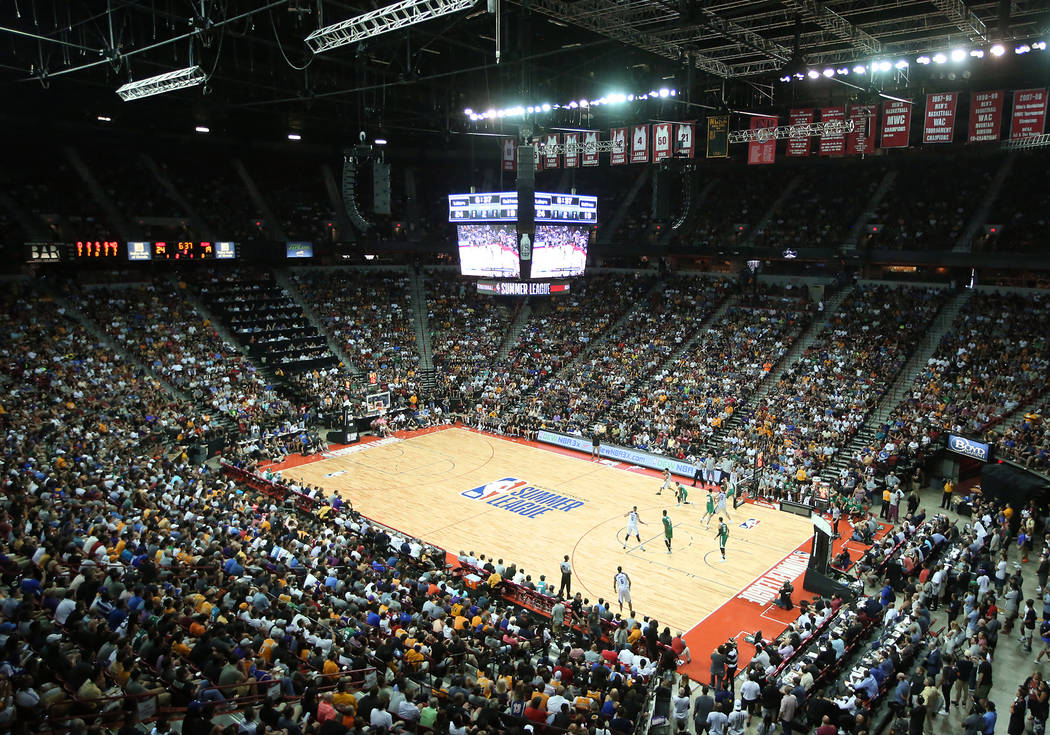 The basketball game, another on a long list of NBA Summer League matchups, was a good six hours from tipping off Saturday at the Thomas & Mack Center.
But as the temperature rose well past 100 degrees and the sun began its slow and deliberate and senseless melting of those below, a sea of purple and gold and green withstood the elements while awaiting doors to open.
Heatstroke, you see, has nothing on a little hoops nostalgia.
I understand the whole idea about those who look too much into the past are certain to miss the future, but understand I was the nutcase running and screaming up and down a neighborhood street in Southern California when Magic Johnson's junior sky hook fell in Game 4.
I was the raving lunatic.
That's what makes this so regrettable: There never again will be an NBA rivalry like the Lakers and Celtics of the mid-1980s, a truth that has been dead and buried for years now.
So it is that fans grab onto any taste of what was once so memorable and compelling, an example being the announced sellout of Saturday's game.
The venue holds 15,000 for summer league and it was, other than a few upper sections, packed.
The Celtics beat Los Angeles 86-81, which meant I was at least saved from running around the Thomas & Mack screaming. Although the last I saw of colleague Mark Anderson, a lifetime Celtics honk, he was sprinting toward Boston rookie Jayson Tatum for a hug and selfie.
If the immediate snapshot is a few hours of recalling how the rivalry shaped and defined far more important elements of society other than basketball, the long-term portrait is how vast and significant the summer league has become in Las Vegas.
This is as close to basketball's answer to spring training as you can get without, you know, most of the guys we actually see playing during a season.
It's not just games anymore. It's an event, and the atmosphere Saturday — there were a whole lot more folks in purple and gold than green — proved true the idea this annual gathering has grown to heights not otherwise imagined.
"It was awesome that many people would come out here to see these teams play," said Walter McCarty, Boston's summer league coach. "Some of these guys might never play in front of this type of atmosphere."
This isn't a get-off-my-lawn take on rivalries. Time passes. Things changed when the amount of zeros did on paychecks. There are more teams now and a lot more fouls. The game is vastly different.
I don't for a second believe those rosters back then could beat the Warriors of now, that Magic or Bird and either of their supporting casts could overcome Curry and Durant and Klay and Draymond and Andre and the rest over seven games.
I'm not one of those guys. Players are too athletic now, too versatile, too explosive.
But what a recent three-part documentary on the Lakers and Celtics of the 1980s showed, more than anything else, was how one rivalry and the characters that defined it can create a sense of passion and hatred and spirit only witnessed in sports.
Nobody despises anyone these days.
Well, expect for maybe LaVar Ball, but that's more about all his buffoonery.
What you hope is for younger generations to at least know what it was like back when rivalries in the NBA were about teams and not players, about West Coast vs. East Coast and not Max Contract vs. Super Max.
The future might be about players like Tatum and fellow rookie Lonzo Ball of the Lakers, but the past never should be discarded. At least not the one that gave us Magic and Bird.
My son is 19 and attends college in Washington, D.C., and his obsession is all-John-Wall-all-the-time, while also debating with roommates if Otto Porter really is worth $100 million.
But one night recently, he watched an episode of the Lakers-Celtics documentary, walked into my office and offered this astute appraisal: "Dad, Larry Bird was really good."
Ya think?
There is too much player movement for team rivalries now, too little contact allowed for any real dust-ups to occur and payback to be rendered later in a season or playoff, too much political correctness and fear of fines for speaking one's mind.
But perhaps all those parents sitting in the stands Saturday spent at least a few minutes telling their kids about another time, when two teams over a handful of seasons in the 1980s rekindled a rivalry nearly as old as the league, one whose history is littered with Hall-of-Fame players and cultural impacts seen far beyond a court.
Back when hating the other guys was not only cool but encouraged.
"It felt like I was in college and we were playing North Carolina," said Tatum, the former Duke player who was terrific in scoring a game-high 27 points, of the pro-Lakers crowd Saturday. "I don't think it's necessarily about a (rivalry) between me and Lonzo. The Celtics and Lakers, that's always going to be a rivalry."
Not like before it won't be.
Not ever again.
Contact columnist Ed Graney at egraney@reviewjournal.com or 702-383-4618. He can be heard on ESPN Radio 100.9 FM and 1100 AM from 11 a.m. to 2 p.m. Monday through Friday. Follow @edgraney on Twitter.