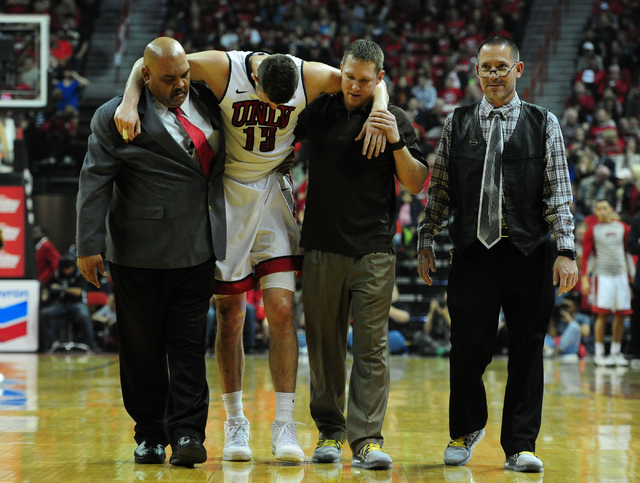 Have you heard the one about bias in commentary being a violation of journalistic ethics?
When it comes to Ben Carter, consider me a blatant offender.
Years pass and all levels of sports are chronicled through words, and yet certain people and images stick with you.
That night in Fort Collins, Colorado, is one.
It's why learning Carter was granted a sixth year of eligibility by the NCAA last week and will finish his college basketball career on his terms was so gratifying.
It's how things should be.
He sat outside a locker room sobbing in January 2016, UNLV having blown a five-point lead with less than a minute remaining at Colorado State.
Carter would face reporters minutes later, eyes red and watery, voice cracking, aware of the intense pressure on a coach (Dave Rice) who would be fired days later, and accepted blame for a defeat despite it being him who carried the Rebels to the brink of victory.
That's the Ben Carter those at Michigan State will finally get to experience as a player and, more important, a man.
He transferred to the Spartans and yet never saw the court, suffering what would be a second blown ACL in his left knee during preseason workouts, the first ending his UNLV career just weeks after that night in Fort Collins.
A sixth year is incredibly difficult to receive, the NCAA demanding more paperwork and evidence of hardship or injury than your average corporate lawsuit might generate for the courts.
But through the darkness and depression that often accompanies being faced with the possibility of losing that which you love most came perspective.
"It was nerve-wracking and really difficult in the beginning," Carter said. "The first time I did it, I was home in Las Vegas surrounded by family and friends. This time, I was far away. But I had no control over it, so I looked at it like whatever happened was meant to be. I'm very thankful for this sixth year.
"It has been very physically and mentally challenging, but I still feel like I have a lot of basketball left in my career. I still see myself as someone who can impact a team and help it win."
So here he is, from Bishop Gorman High to Oregon to UNLV to Michigan State, an unending spirit of determination no doubt inherited from his father.
Mike Carter's list of injuries and ailments suffered during a 17-year professional playing career overseas reads like something out of a medical school journal. He knows all about facing and conquering adversity, from kidney cancer to being almost blind in one eye to double hernias to back surgery to broken arms and wrists and ankles and scoped knees and staph infections.
But even the toughest of sorts will break down in tears when his son calls via Facetime from college to relay news that his knee had again turned the wrong way at the wrong time, that he had again heard that excruciating, forgettable sound.
"I told him not to worry, that he had been through it before and would come back again," Mike Carter said. "That's what this family does. It perseveres and overcomes. Nobody has seen the real Ben Carter as a player yet. People have just seen glimpses. I can't wait to watch him play next season."
The rehab timetable has been overly cautious this time, the schedule meticulous in its patience as doctors and trainers and Michigan State coaches want to be sure Carter is physically ready.
The Spartans have top-five talent returning for coach Tom Izzo, and the presence of the 6-foot-8-inch Carter will add needed quality depth to a frontcourt that was thin because of injuries last season.
Michigan State could be Final Four good in 2017-18.
It's a major reason Carter chose the Spartans, to chase a national championship and finish his college career by climbing a ladder and cutting away a piece of net. In 1979, his father did so by helping lead Drury University (Missouri) to an NAIA title.
The son wants to share what the father has.
It's also likely Carter, born in Tel Aviv, will play for the Israeli national team with, among others, former UCLA standout T.J. Leaf.
First, though, there is more rehab, more weights, more shooting, more patience.
"Even if there have been times where I have been defeated physically throughout all this, I'll never lose the battle mentally," said Carter, pursuing a master's degree in kinesiology at Michigan State. "I've learned a lot about life and myself. I learned life doesn't always point you in the direction you want, so you adapt and keep moving forward. Take things head on and never give up."
I also learned something last week when word was announced he received a sixth year.
It's true. Good things really do happen to good people.
Contact columnist Ed Graney at egraney@reviewjournal.com or 702-383-4618. He can be heard on ESPN Radio 100.9 FM and 1100 AM from 11 a.m. to 2 p.m. Monday through Friday. Follow @edgraney on Twitter.
Ben Carter file
* School: Michigan State graduate senior
* Height/position: 6-foot-8-inch forward
* High school: Bishop Gorman
* College career:
— Oregon (2012-2014): 11.5 mpg, 2.5 ppg, 2.4 rpg
— UNLV (2015-16): 24.0 mpg, 8.6 ppg, 6.0 rpg
Carter redshirted at UNLV in 2014-15 and sat out last season at Michigan State with a torn left ACL. He also missed the final 11 games of the 2015-16 season in Las Vegas with the same injury.