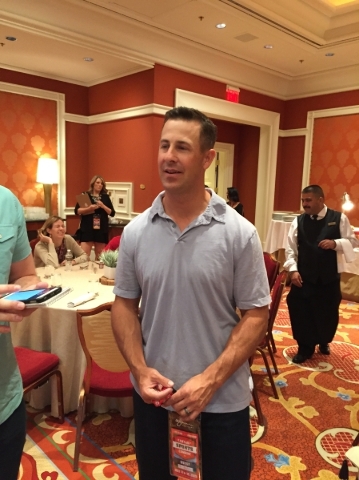 Brandon Stokley played wide receiver in the NFL for 15 years and won Super Bowls with Baltimore and Indianapolis. He also had stints with the Broncos (twice), Giants and Seahawks.
You figure he could impart some serious wisdom about the game to those seeking it.
In 2012, his son Cameron was 9.
This was Stokley'€™s advice: "I told him, 'Whatever you do, don'€™t draft me. I don'€™t want to hear it on the car ride home after winning a game that you'€™re mad at me for not getting you those extra couple points. Don'€™t draft me."
"Now, he thinks he knows more than me."
Here'€™s the thing: When it comes to fantasy football, he just might.
It has brought millions of eyeballs to the game that might otherwise glance elsewhere to be entertained and billions of dollars along with such interest, a market that seemingly owns no ceiling to its potential size and reach.
It's a freaking monster.
Bo Brownstein knew this in 2014. He is a former college football player and now entrepreneur who saw a need to educate and entertain the sports community, creating a Fantasy Sports Combine that had its inaugural event at Wynn Las Vegas and Encore on Friday and Saturday.
It brought together former NFL coach Mike Shanahan and players such as Stokley and Terrell Davis and Daunte Culpepper and Todd Heap and Matt Leinart and Kyle Orton and more, but those 600 or so fantasy players who paid just under $1,000 each to attend probably were more excited to see the likes of Matthew Berry and John Hansen.
Fantasy football has made massive celebrities out of ordinary folks, those who host weekly TV and radio shows focused on lineups and injuries and trends and how best to maximize your team'€™s financial worth.
"People ask me all the time if this was my dream job," said Berry, an Emmy winner for his work on ESPN2'€™s Fantasy Football Now. "I say no, because who would have thought they could make a living talking about fake sports?
"I'€™m not surprised about its popularity because I don't think I'm weird. I like Springsteen. I like superhero movies. I like pizza. I like coming to Vegas. Stuff millions and millions of people like, mainstream stuff. I also love fantasy sports, particularly football. Obviously, there are a lot of like-minded people."
Berry has more than 700,000 followers on Twitter.
Adam Schefter, the NFL Insider for ESPN who also participated in the combine, has almost 4 million.
A. Freaking. Monster.
There wasn'€™t an NFL logo in sight at the combine, not on the large pictures of current players outside meeting rooms or any other display. This was much different from the fantasy convention that was to be hosted by the Venetian last week but was canceled because Tony Romo and Dez Bryant and Rob Gronkowski and DeMarco Murray and others being scheduled to participate.
The NFL kept a straight face yet again in standing behind its hypocritical policy that "players and NFL personnel may not participate in promotional activities or other appearances in connection with events that are held at or sponsored by casinos."
Brownstein had approached current players about attending his event, but plans changed once the NFL brought the threat of possible suspensions to those who would attend the Venetian convention.
It didn'€™t change the combine's mission, which offered seminars on everything from strategy for winning season-long and daily fantasy tournaments to identifying the most important players and sleepers for 2015 to learning what the most significant statistics are when drafting a team to sessions with Shanahan breaking down film and Davis ranking his top five all-time quarterbacks.
Peyton Manning and Tom Brady didn'€™t make the list, but Dan Fouts did.
It wasn'€™t a convention or trade show or time to seek autographs and selfies.
It was different. Unique. Personal. Virtual.
"I just really felt there is so much enthusiasm for fantasy sports and obviously a lot happens on the digital side, but where was the live experience?" Brownstein said. "Where could people get this kind of access to the best fantasy experts in the country? We'€™re trying to facilitate a dialogue of content that is exciting to people. The best part is our ability to create the landscape. This has never been done before. So we will keep trying to find new ways for people to be engaged and excited about participating in the combine."
It will only get larger in scope and already is scheduled to return here next year. Berry said one of the biggest differences in fantasy football besides the obvious advancements in technology and an overload of information being a click away is the demographics.
He could just as easily be approached today by a 65-year-old grandmother seeking advice on which quarterback to draft than a 21-year-old college student.
Phat Ta is a U.S. Marine who was born in Vietnam, lives in Las Vegas and is somewhat of a fantasy football novice.
His friend convinced him to attend the combine.
"I'€™m not very good at fantasy football," Phat said. "To be honest, I'€™ve never heard of such an event. Hopefully, I learn a lot here."
If not, he could always call Brandon Stokley'€™s son.
The kid is 11 now, a fantasy veteran who supposedly never did draft the old man.
Las Vegas Review-Journal sports columnist Ed Graney can be reached at egraney@reviewjournal.com or 702-383-4618. He can be a heard on "Seat and Ed" on Fox Sports 1340 from 2 p.m. to 4 p.m. Monday through Friday. Follow @edgraney on Twitter.