Las Vegas products lift Lady Rebels to MW tournament final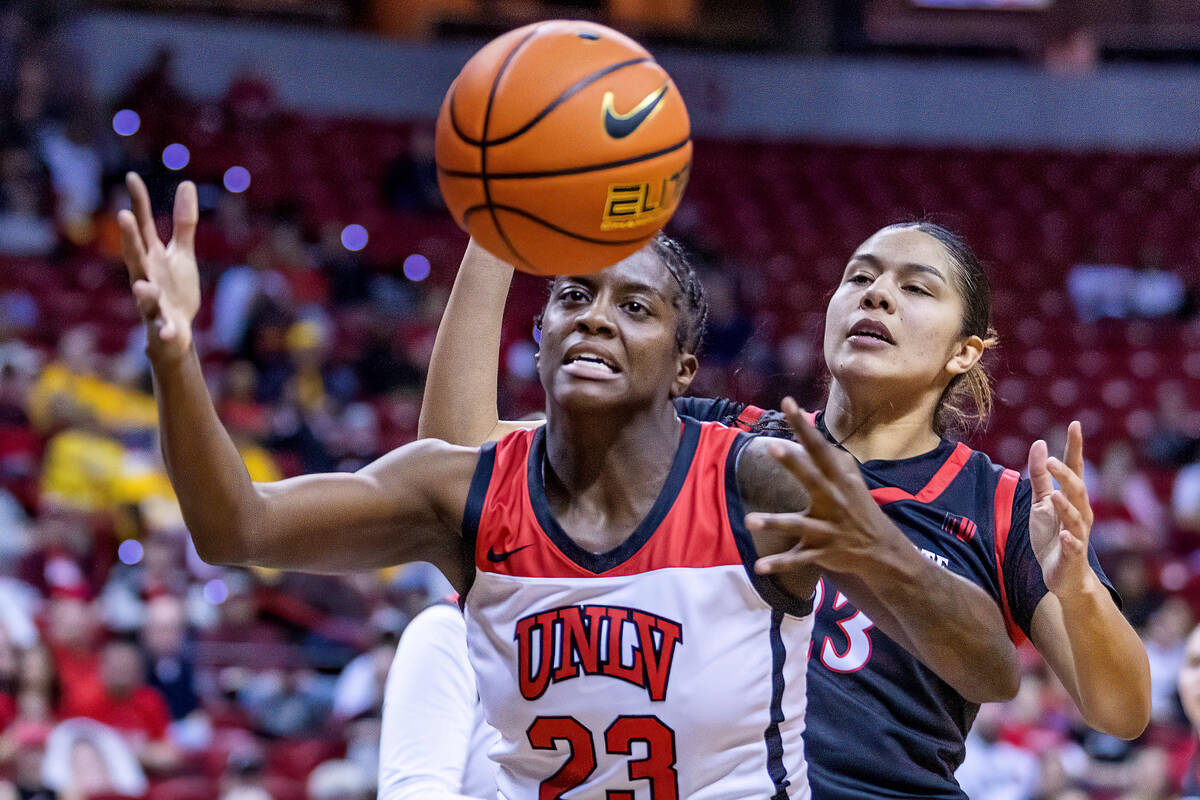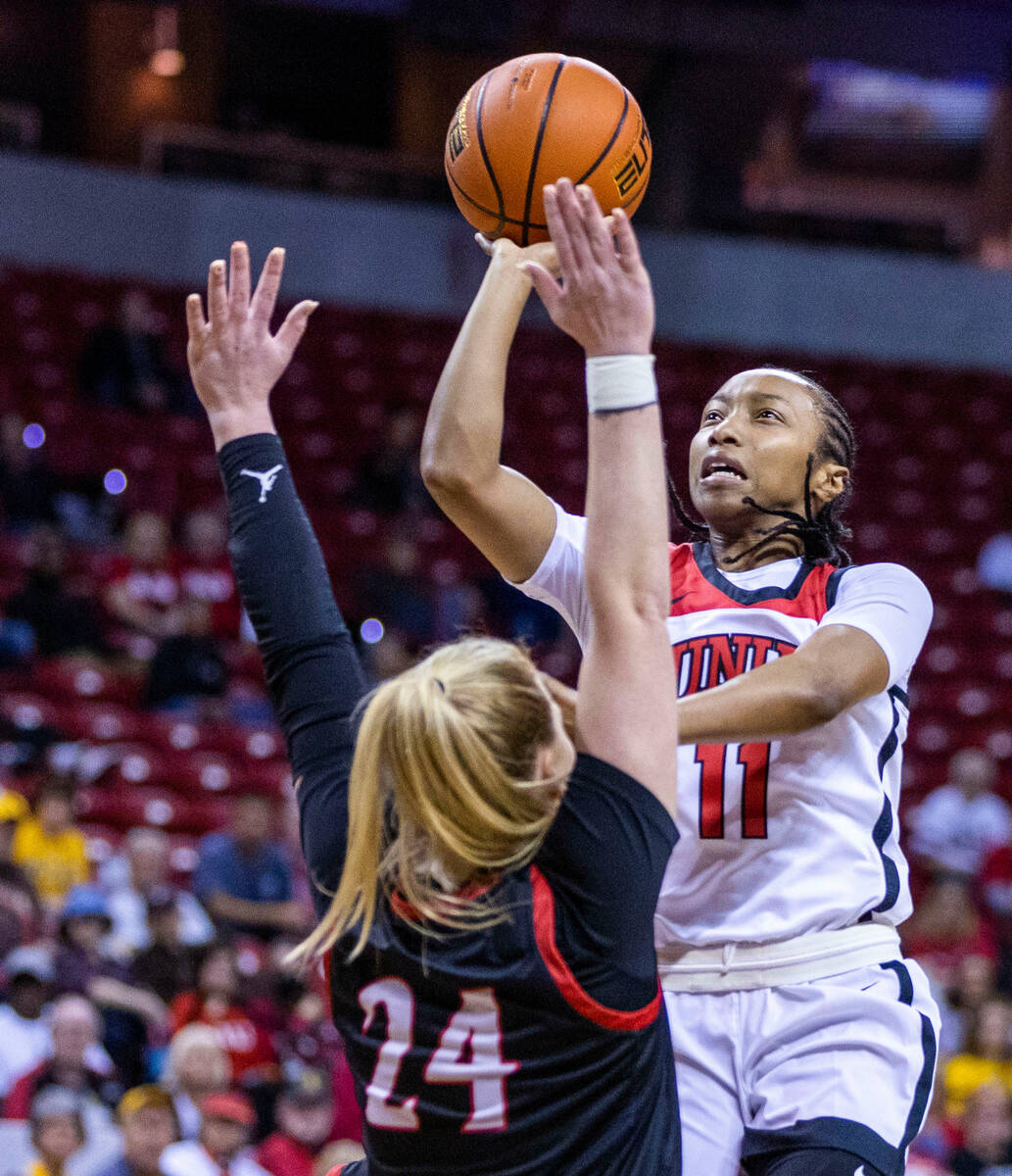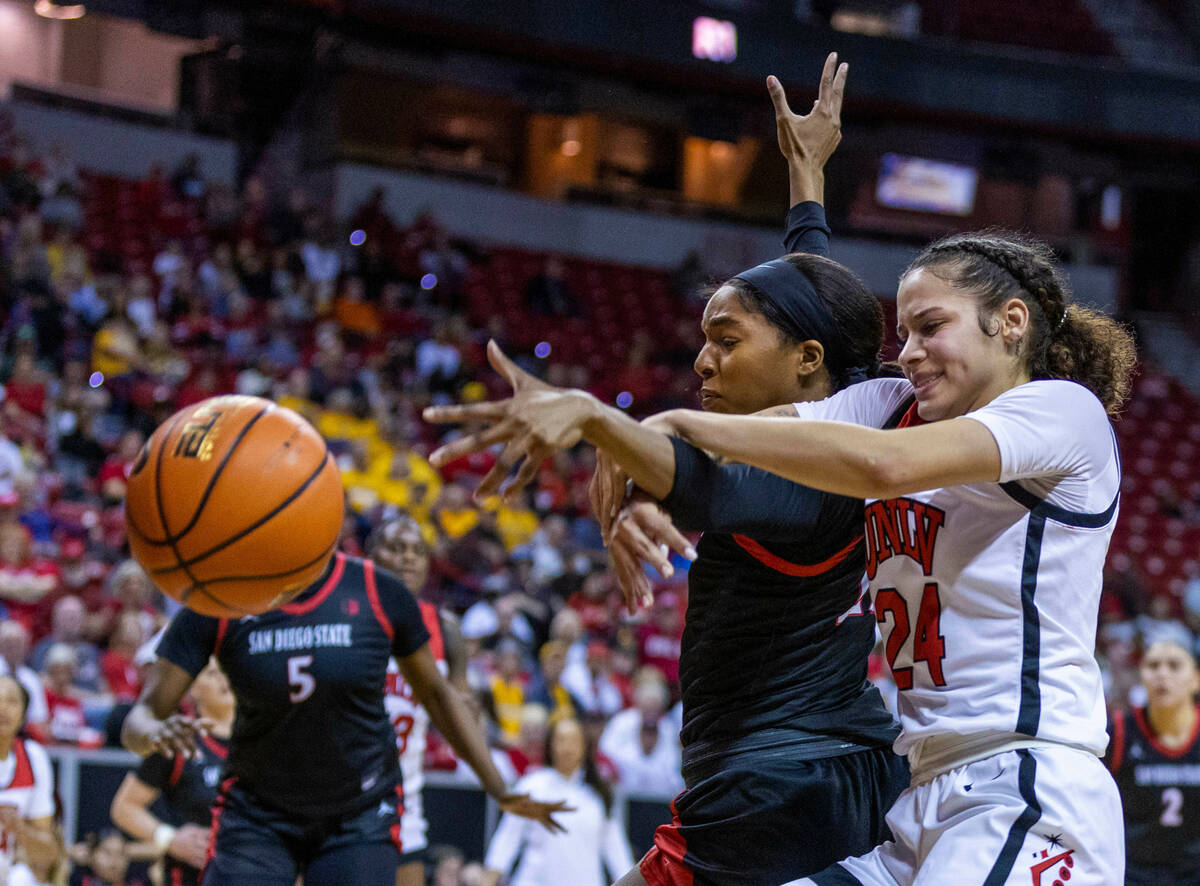 They needed all three of them, all products of Las Vegas high schools, all leaders of a team that hasn't lost now in 21 games.
UNLV women's basketball team plays on in the Mountain West tournament, victors in a nail-biter that could have ended any hopes of an NCAA Tournament berth.
But this is March. You have to win games like this along the journey. Your best players have to show up.
They did for the Lady Rebels in a 71-68 victory against San Diego State in a conference tournament semifinal Tuesday at Thomas &Mack Center. Did in the most impressive of ways.
Did while carrying the Las Vegas flag atop their collective shoulders.
Desi-Rae Young from Desert Oasis. Justice Ethridge from Centennial. Essence Booker from Spring Valley.
A junior center and two senior guards.
Coming up huge
"I think it's pretty dang cool," said Rebels coach Lindy La Rocque, herself a Las Vegas native who starred at Durango High. "I think we've got a special team, we've got a special story.
"I think, you know, they infuse the pride of Las Vegas throughout the rest of our team, even the ones that aren't from here. I'm really proud of them. They carry that responsibility throughout town, and, you know, again, Las Vegas has showed the love back to us. We want to keep playing for (the city) and for us."
Consider: The three on Tuesday combined for 57 points, 20 rebounds and seven assists. And they came up huge when needed most.
When the Aztecs just wouldn't go away.
The trio would score 15 of their team's 17 third-quarter points, when the Lady Rebels turned a 33-33 game at halftime into a 50-41 lead.
Then, in a fourth quarter that saw San Diego State make 5 of 6 3-pointers to climb within one point with 7.4 seconds remaining, it was Booker who scored 12 of UNLV's final 15 points.
Who was 8-of-8 from the line down the stretch, including the final two to push the margin to three.
Who was the only UNLV player to score a field goal over the final 6:19.
"I was just trying not to look stressed," Booker said. "But I just knew I had to hold it together for my team, walk to the line with confidence, make the free throws, and keep it together. Stay poised.
"I feel like Desi, Justice, and I, we all take pride in it. Especially Lindy. Just putting our mark on Las Vegas, us trying to carry the momentum for people coming behind us, you know, freshmen coming in. Just kind of exposing that Vegas does have talent. It's underrated. So, I mean, we definitely all take pride in that."
They needed such contributions from all three to survive and, well, advance.
Yeah. It's March.
Sterling resume
UNLV is now 30-2 overall — the first 30-win season in program history — and ranked 21st nationally. It hasn't lost since Dec. 18.
But it plays in a conference that was last bestowed an NCAA at-large berth in 2010. History says — probably demands — that the Lady Rebels win the conference tournament Wednesday night to secure an automatic bid and not leave anything up to a selection committee.
Not have to sit and wait and sweat out whether or not they make the field.
It's borderline crazy to believe their résumé isn't yet good enough, no matter what occurs in the championship game against Wyoming.
But that could be the truth of it.
And that's amazing.
"I think we're focused on winning because we want to win," La Rocque said. "That's why we play. We want to win. We want to control our own destiny, and that's what we're excited to do."
Bank it: A certain three players will have a big say in whether or not the Lady Rebels are cutting down nets come Wednesday evening.
Three big-time talents.
Locals and all.
Ed Graney is a Sigma Delta Chi Award winner for sports column writing and be reached at egraney@reviewjournal.com. He can be heard on "The Press Box," ESPN Radio 100.9 FM and 1100 AM, from 7 a.m. to 10 a.m. Monday through Friday. Follow @edgraney on Twitter