Las Vegas soccer player tries to move on after friend's death
Updated September 12, 2018 - 8:27 pm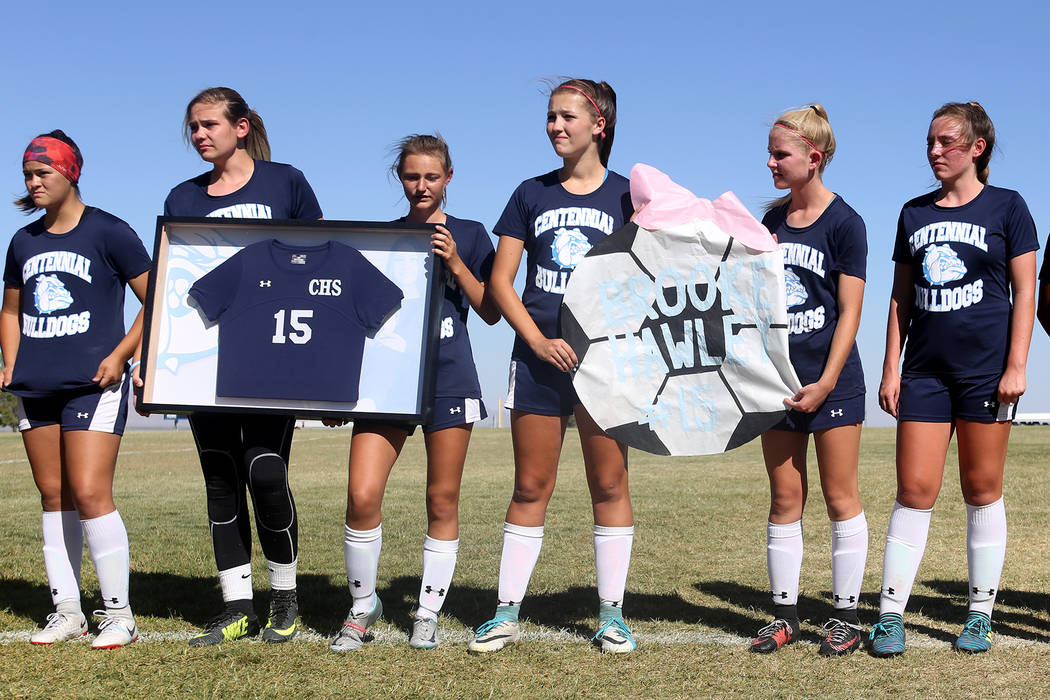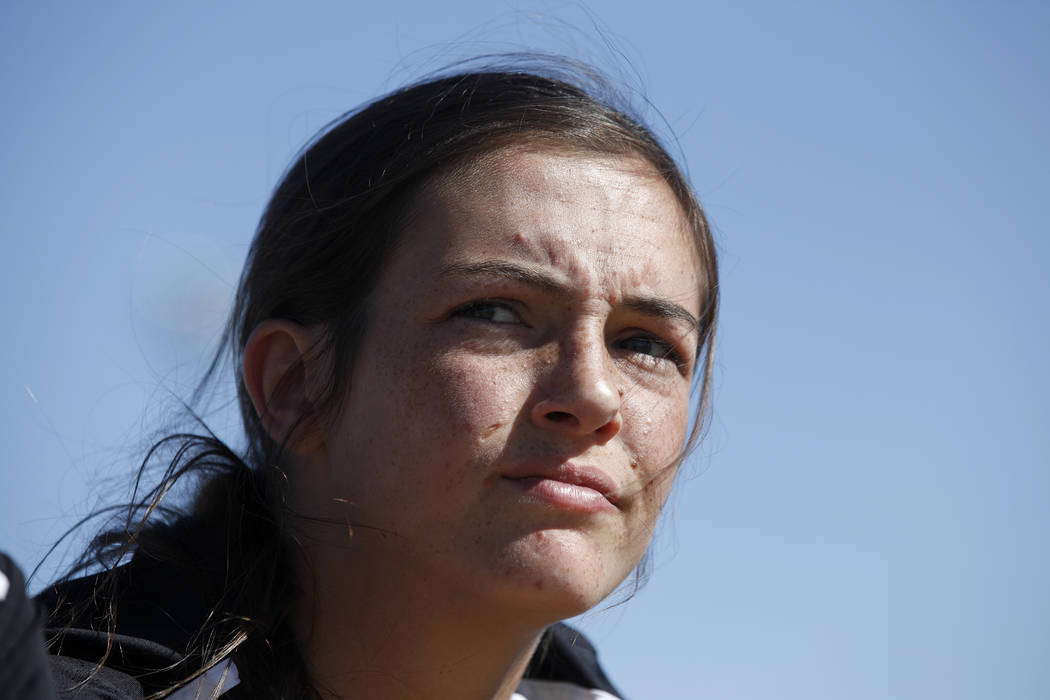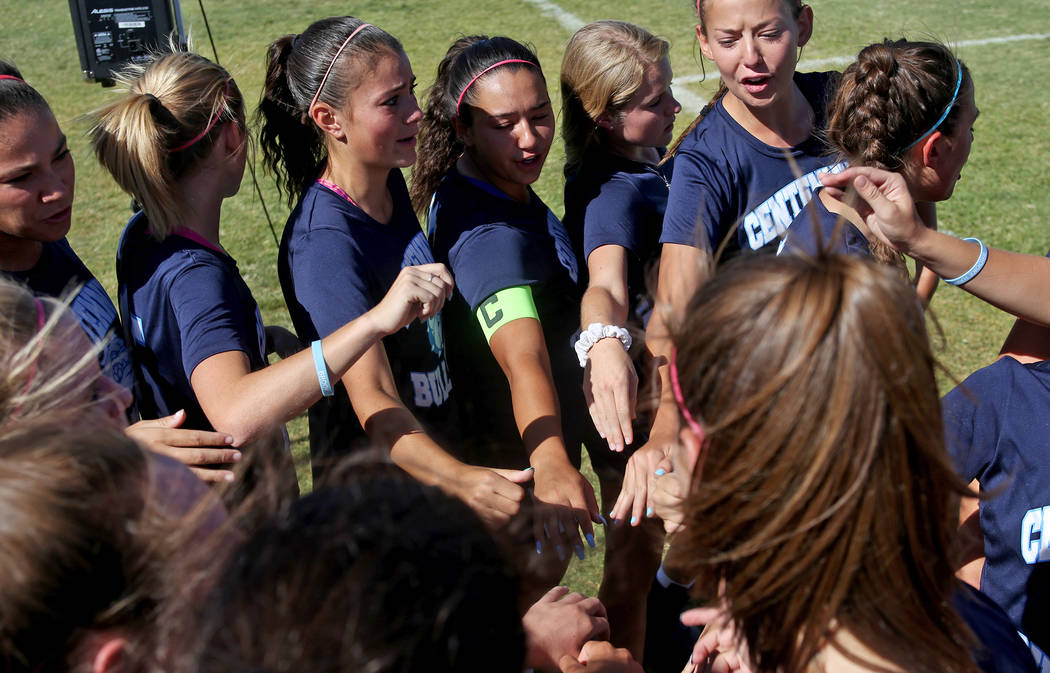 The room hasn't changed. It's still the kind every teenage girl dreams of having.
It still has the beautiful vanity with the bright lightbulbs where you sit and apply makeup. It still has the paisley printed bedspread and the shelves holding stuffed animals and those trophies and medals won in a sport loved so dearly. It still has the majestic sunflower hanging above.
One of the walls is still made of a reusable writing surface in which colored chalks have been used to draw pictures, sign names and leave messages.
One reads: Positive Vibes.
In front of it, on one Instagram post, Brooke Hawley is there, staring back.
"I still go there and sit and we just hang out," Holly Lindholm said. "The first time was the hardest … She loved that room so much. She loved writing on that wall. We could fit 15 people in that tiny room … I still talk to her all the time there."
Lindholm is a senior soccer player at Palo Verde High School who joined her teammates Wednesday for a game at Centennial, a moment that before the reckless actions of one person tragically altered the lives of so many would have matched her against Hawley, her best friend since the two met at a Halloween party in the seventh grade.
They were social butterflies, goofballs to the very last laugh.
They bonded over giggles.
In a pregame ceremony Wednesday, both teams lined one part of the field, where Centennial players spoke about Hawley through tears and cracked voices. They presented Aaron and Rhonda Hawley their daughter's framed No. 15 jersey. The Bulldogs will wear the number, now retired, on their warmup tops before each game.
Many offered short messages.
Including this: Don't drink and drive.
During spring break in March, Hawley and Centennial classmates Dylan Mack and A.J. Rossi were killed in a fiery crash in Huntington Beach, California.
Police said Bani Duarte, 27, of San Clemente, California, rear-ended Mack's car while it was stopped at a light. The impact pushed the car through an intersection, forcing it onto a sidewalk and into a pole.
A fourth Centennial student, Alexis Vargas, survived the crash.
Duarte has pleaded not guilty to three counts of murder and one count of driving under the influence causing injury.
That fateful night
Is it true no one gets left behind, that by living in the hearts of those still here, it really isn't dying?
If so, here is the sense of such unfathomable sadness through the eyes of Lindholm, almost 18 and her entire life in front of her, making plans for college and yet never more than a thought away from her friend.
Never too far from this truth: She easily could have been in the car.
They all had spent the day at a beach, and at some point, groups split with the plan of reuniting that evening. Brooke Hawley returned to where she and the other Centennial students were staying. Lindholm and Brooke's older sister, Ashlee, went to a house Lindholm's mother had rented.
Our lives are defined by fateful decisions, intentional or not, some seemingly inconsequential and yet carrying the significance of living or dying.
Lindholm and Ashlee Hawley grew tired that evening. Instead of following up and heading out with Brooke and the others, they fell asleep.
"I woke up at about 4:45 a.m. to a bunch of texts," Lindholm said. "There had been an accident, and we needed to go to the hospital. But once Ashlee and I got there, no one could tell us anything. We looked everywhere. We couldn't find her."
Brooke Hawley, Mack and Rossi, of course, never made it.
They say an important part of dealing with survivor's guilt is to not let such a loss keep you from living your life, and while Lindholm and Ashlee Hawley understand how close they were to perhaps a similar fate, they know Brooke wouldn't stand for them not moving on, not living, not chasing those dreams the three had always talked about.
"I feel guilty, and I'm angry and I'm so mad at times," Lindholm said. "But you also have to understand Brooke wasn't your normal teenager. Do you know when others say to live life to the fullest? Well, she actually did. She savored every second. She loved life. She would be so pissed at me if I stayed mad and didn't do the same. So I will. I will appreciate every moment more. I miss her smile. I miss her laugh. I miss the fact she made me laugh harder than anyone."
She couldn't play
Palo Verde and Centennial tied 2-2 on Wednesday — another of Hawley's close friends, Quincy Bonds, scored the equalizer for the Bulldogs in the final minute — and yet Lindholm never saw action.
It was too difficult, the idea of playing on this day, at this place, after that ceremony.
"I thought I would be able to," she said. "It was too much."
She ran across the field beforehand and embraced the Hawley family, her pain hidden behind a wide smile for those she knows are still hurting so profoundly.
Aaron Hawley, joined by his wife and daughters Ashlee and Heather, said it would be the final high school soccer game he attends. He just can't do it anymore.
He slowly walked with Bonds — "(Brooke) was definitely here with us and on the back post for me for the (tying goal)," she said — and others toward the parking lot afterward, family and friends and teammates unable to hold back tears.
On the other side, a best friend since the seventh grade, a fellow goofball, a young woman who hopes one day to counsel others through such grief as a therapist, tried to keep putting one cleat in front of the other.
"We Snapchatted every day, and millions of times I called her and said, 'Let's go hang out,' " Lindholm said. "And millions of times since the accident, I have picked up my phone to call her. And then I remember.
"Most days, it still just feels like we haven't talked or texted or Snapchatted in a while. And then something like this makes it real again. So then I cry when I'm alone. But that's OK, because I want to be reminded of her all the time. She will have a great impact in how I live my life.
"That's why I love going into her room and hanging with Ashlee. We get to talk to her all the time in there. I think we're all going to be OK one day.
"I just think it's going to take a very, very long time."
Contact columnist Ed Graney at egraney@reviewjournal.com or 702-383-4618. He can be heard on "The Press Box," ESPN Radio 100.9 FM and 1100 AM, from 11 a.m. to 2 p.m. Monday through Friday. Follow @edgraney on Twitter.