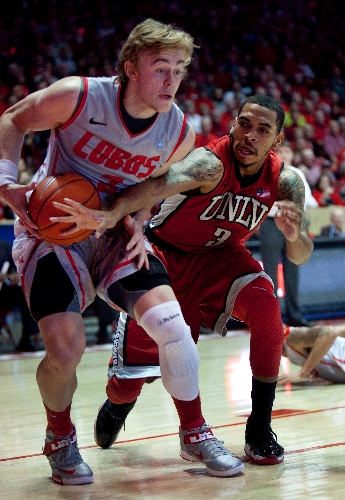 ALBUQUERQUE, N.M. – It's like watching a television rerun, where you know how things will end, but you sit through the entire show anyway. That's what UNLV basketball has become on the road against quality opponents.
There is an easy fix, unless you wear UNLV colors.
A big game away from home arrives, and the Rebels go soft.
It happened against Colorado in the NCAA Tournament in March and against North Carolina a few weeks ago and against San Diego State most every time the teams have played the last three years and again Wednesday night.
Mountain West play opened and the Rebels let a golden opportunity slide through their weak hands, the same ones that couldn't corral key defensive rebounds in the closing minutes of a 65-60 loss to New Mexico before a rowdy 15,411 at The Pit.
"Toughness can be instilled in a person, but at the same time, it is up to each individual," UNLV senior guard Justin Hawkins said. "Are you willing to sacrifice yourself for the betterment of the team? I know we have guys willing to do so, but some are young and figuring out how. So it needs to start with us seniors. We need to show them the way.
"I knew (New Mexico) Coach (Steve) Alford would have his guys ready. We knew what conference play meant. Things aren't going to go your way on the road, but you still have to fight through all that and find a way to win."
The Rebels couldn't because they gave the Lobos chance after chance when the game was there to be won, a UNLV side that was hardly the smartest over the final three minutes or so. The Rebels didn't win many IQ battles on Wednesday, either.
They weren't good at all with their post defense, allowing Lobos sophomore center Alex Kirk (23 points, nine rebounds in 31 minutes) the sort of first-half inside positioning that coaches dream about. If he had been any deeper in the post most trips, Kirk would have been standing with cheerleaders.
Talk all you want about UNLV being in early foul trouble and only getting 26 minutes from freshman Anthony Bennett, who learned firsthand that with conference play comes physical double-teams and opposing players who aren't impressed in the least by one's hype and press clippings.
Where, then, was the depth UNLV coaches consistently speak of?
The Rebels didn't front Kirk. They left him open countless times on pick-and-pops. They got nothing from their four-man at the offensive end, nothing that attacked either Chad Adams or Cameron Bairstow when Bennett was on the bench, nothing but more jumpers.
There are reasons New Mexico shot 29 free throws to only five for UNLV, and many had to do with the fact the Rebels again struggled to create anything in half-court sets, left to shoot jumpers at one end as the Lobos attacked the basket at the other.
Alford knew well UNLV's weakness to create and his defense exposed it; it also didn't help UNLV's cause that it began fouling late, continually putting New Mexico at the line to rack up attempts, many of which the Lobos missed.
Yes, it was still there to win for UNLV.
But over the final 3:06, New Mexico accounted for five offensive rebounds while the Rebels turned it over three times and took ill-advised shots. They should have tried to extend the game by going inside down three points with 25.4 seconds left after a timeout, but instead settled for a Katin Reinhardt missed 3-pointer.
UNLV coach Dave Rice said point guard Anthony Marshall looked inside first, but if so, he did it faster than Houdini might have.
Bennett touched the ball one time those closing minutes, turned it over and took only 10 shots. Even when plagued by fouls, he has to get more touches.
Marshall then made a bad decision with his team down three and under 13.5 seconds left, choosing not to pull up for a 3 or find another open shooter for a 3, instead driving into a lane occupied by three Lobos and turning over the ball.
That was UNLV on Wednesday.
Not tough at all.
Not smart when it counted most.
"I have to do a better job making us tougher," Rice said. "We're going to have 15 more games like this and it's going to come down to loose balls or defensive rebounds or 50-50 balls. We have to win more of those battles. It's a huge issue for us moving forward."
Oh, it's been an issue for a while now.
This is yesterday's news, a television rerun to sit through, all along knowing how things will end.
Las Vegas Review-Journal sports columnist Ed Graney can be reached at egraney@reviewjournal.com or 702-383-4618. He can be heard from 11 a.m. to 2 p.m. Monday through Friday on "Gridlock," ESPN 1100 and 98.9 FM. Follow him on Twitter: @edgraney.