Lesnar's shtick uncouth, effective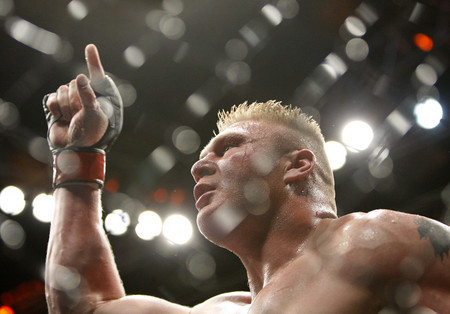 This really does make perfect sense, that the new, big (really big) thing in the Ultimate Fighting Championship is our very own version of Ivan Drago.
UFC 100: slide show of fights
I suppose the only thing missing is Brigitte Nielsen in her prime.
We'll have to settle for Brock Lesnar's entourage, which after Saturday night likely will add at least three more bodies to its public relations arm alone.
I'm not sure why someone who apparently doesn't enjoy talking needs such protection, but I suppose you never can have enough attorneys and nervous 5-foot-4-inch guys holding back lumpy and aging media members as if there might be one of us insane enough to breathe on the behemoth heavyweight champion.
Hype and controversy played significant roles in the UFC reaching a 100th show, and a little of both now exists with Lesnar firmly holding his title.
Or perhaps you missed him addressing the Mandalay Bay crowd with both middle fingers following his second-round knockout of Frank Mir.
Let's not kid ourselves. Lesnar arrived from World Wrestling Entertainment, which is as real as an artificial Christmas tree. His postfight rant amid a loud and consistent chorus of boos was a sly combination of raw emotion and staged theatrics. Storming out of interviews for him has also reached the point of cliche.
In other words, Lesnar's act already needs updating.
But it can ultimately work to the UFC's advantage. Played correctly — and the company has made it a habit of intelligently promoting their sport at all levels — having Lesnar as a hated champion probably owns serious mileage.
He is a mountain of a human being whose power and size and speed combines with a resume that includes a national championship in wrestling. The guy is special.
There are many ways to market a champion. You don't promote Lesnar as you would Lyoto Machida, unless the former begins to also drink his own urine, but I have a feeling Lesnar would make the 5-4 guy do that for him.
Point being, the heavyweight journey with Lesnar driving could be a long one. Boo him. Hate him. Hope he gets whacked by an errant microphone.
It seems as though he's here to stay for a spell.
And that's not all bad.
"I'm going to go home tonight and sit down with my friends and family," Lesnar said over the jeers Saturday night. "I might even get on top of my wife."
Yep. The UFC could do some big things with this guy.
Other thoughts on UFC Cien:
• The great tacticians in history …
Genghis Khan …
George Patton …
Georges St. Pierre.
Most of us would pull an adductor muscle (see groin area) and be limited to crawling for a few months. St. Pierre injures his in the third round of a welterweight title bout against a monster like Thiago Alves, continues on and wins a unanimous decision to retain his belt.
The more St. Pierre fights, the more skilled he appears. If he isn't the world's best UFC fighter, he is standing about 6 inches behind middleweight champion Anderson Silva.
The most amazing part: St. Pierre didn't begin learning how to wrestle until after he was competing in mixed martial arts. The guy now has more ways to rack up points than LeBron James against air.
Few are truly born to do something.
Brando to act. Bocelli to sing. St. Pierre to fight MMA.
• What is it about British fighters walking into right hands while in Las Vegas?
Amazing. It took fewer than three months to witness a more overwhelming knockout than the one Manny Pacquiao delivered to Ricky Hatton here in May.
This time, 38-year old Dan Henderson punished Michael Bisping at 3:20 into the second round of their middleweight bout. For good measure, Henderson, after flooring Bisping, followed with another blast to the temple as he jumped atop the talkative Brit.
"That second one was just to shut him up a little bit," Henderson said.
Classic, although it's usually pretty tough for the unconscious to speak.
You have to think the UFC brass might have quietly been pulling for Bisping, what with rumors that the winner of Saturday's fight would next meet Silva in Manchester, England in November.
No matter. Bisping proved all talk and, well, the tune of "Walking along, singing a song, walking in a Bisping wonderland" just isn't the same.
• Line of the night: It belonged to Review-Journal MMA beat writer Adam Hill as Yoshihiro Akiyama departed the Octagon following his split-decision lightweight win against Alan Belcher.
The poor Akiyama kid made his UFC debut and looked like he just scaled Everest through a driving snowstorm while getting pelted with large rocks. One eye was shut closed and he couldn't walk without the assistance of two cornermen.
Said Hill: "There goes your winner."
Las Vegas Review-Journal sports columnist Ed Graney can be reached at 702-383-4618 or egraney@reviewjournal.com.
UFC 100: slide show of fights