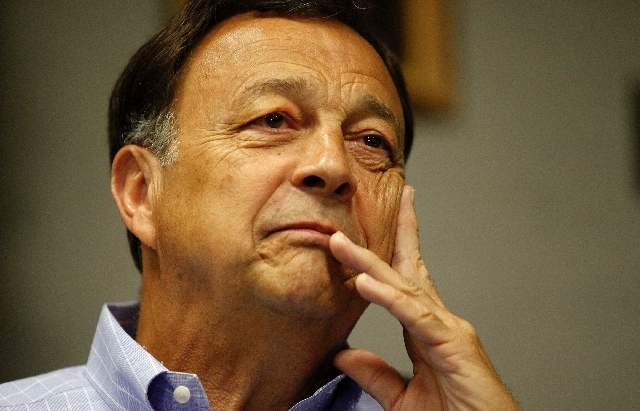 DALLAS — In the depths of failure, Jim Livengood still believed.
He fought for his choice in the beginning and again when things got bad and again when they really got bad. He understood that if Rome wasn't built in a day, well, all the concrete and sand and gravel in the world might not produce a winning UNLV football team for years.
He saw first in Bobby Hauck a recruiter, a guy who as an assistant at Washington and Colorado and UCLA knew what good players looked like and how best to pursue and sign them.
Livengood also knew the Rebels needed good players like Algeria does more rainfall.
He will smile on Wednesday a prideful grin, knowing that the decision he made as UNLV's athletic director in December of 2009 has paid off with the school's first bowl appearance in 13 years.
He will know that when others above him wanted to make a change at head coach, wanted to kick Hauck to the curb depending on how the Rebels began this season, he stood his ground and behind the man he entrusted to do the heavy lifting.
"More than anything, we needed a coach who could convince players this was a program, that even though it hadn't been successful in a long time, had a chance to be good," Livengood said. "From the moment he arrived, Bobby was a beacon of hope. He was so excited to get started.
"This wasn't just a job to him. He could have had a lot of jobs. This was the job he wanted, and that made a huge difference. We both knew there would be tough years, but I knew that if we just hung in there, things would work out."
Livengood resigned his position in May, which was how the university officially spun the fact president Neal Smatresk made the decision to change athletic directors and not state his reason publicly.
So while Smatresk — soon to assume the president's chair at North Texas — stands at midfield Wednesday and flips the ceremonial pregame coin for a Heart of Dallas Bowl game between UNLV and the Mean Green at the Cotton Bowl, Livengood will be watching from afar.
And that is a shame.
Here is how these things often go: A coach goes 6-32 his first three seasons in a program that is so void of Division I talent when he arrives, his journey literally begins with trying to reconstruct one of the nation's worst teams.
High-ranking officials like university presidents and certain regents insist that if the coach's fourth season reaches three or four games and no improvement has been made, the athletic director needs to fire him and begin to search for a replacement.
How. Things. Went.
Livengood won't comment on any pressure he received to remove Hauck if the Rebels didn't discover wins during nonconference play, but know this: He was adamant UNLV play this fourth season out under the former Montana head coach, the man he chose to lead the Rebels over former Texas A&M and Alabama boss Dennis Franchione.
Livengood refused to even consider firing Hauck.
Today, you won't find a president or regent or any other soul around UNLV who would claim to having their doubts about Hauck. Suits don't admit when they're wrong.
"I have watched all season and know this might sound corny, but I've had goose bumps seeing how it has played out," Livengood said. "I'm more than proud. I'm so happy for Bobby and (his wife) Stacey and their kids and the coaching staff and all the players. Watching them beat Reno up there and win in such cold weather at Air Force and then how they ended the season by dominating San Diego State …
"I've tried communicating with Bobby weekly. I love the guy. I truly care about him. I can't tell you how happy I am that this thing is getting turned around and that Bobby Hauck is the architect. I've told him, 'You make sure you take the credit because there will be a lot of people around the university with no problem doing so.'
"But this was all him. Whether people like him or not, Bobby is a stand-up guy who took all the criticism for losing and now deserves to be recognized for what this team has accomplished. I was incredibly worried that because of other influences, he wouldn't be given the opportunity to see it through."
That didn't happen, and for it, UNLV has gone bowling.
Jim Livengood will be smiling Wednesday. He never stopped believing.
Good for him.
He deserves an "I told you so" moment.
Las Vegas Review-Journal sports columnist Ed Graney can be reached at egraney@reviewjournal.com or 702-383-4618. He can be heard from 11 a.m. to 2 p.m. Monday through Friday on "Gridlock," ESPN 1100 and 98.9 FM. Follow him on Twitter: @edgraney.
WHERE: Cotton Bowl, Dallas
WHEN: January 1
TV: ESPNU