Llamas and a crazy goalkeeper: Welcome to Las Vegas, Lights FC
February 10, 2018 - 11:16 pm
Updated February 11, 2018 - 2:41 am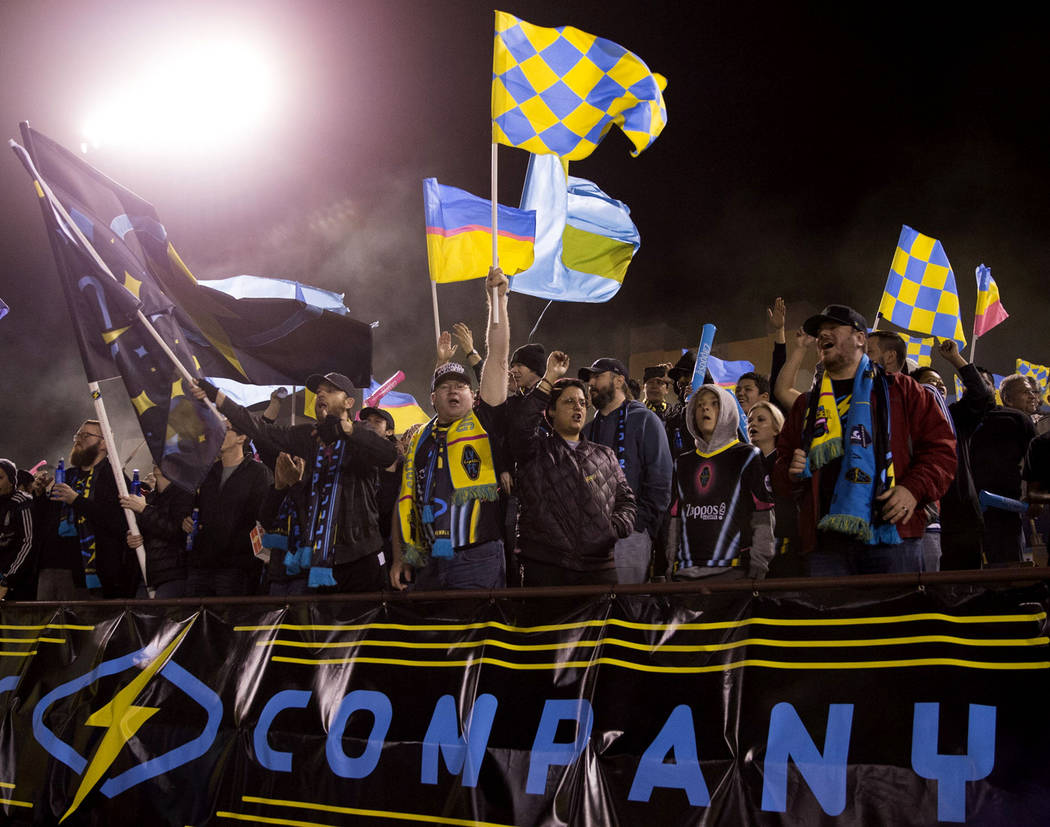 When you glanced below, 90 or so minutes before Las Vegas officially welcomed its next professional sports team Saturday night, gathered on every inch of a Cashman Field parking lot, amid the food trucks and bouncy houses and mariachi band, this was the scene: Festive. Joyful. Animated.
And that doesn't even include two llamas tied to a tree.
Or the play of goalkeeper Ricardo Ferrino, who is completely out of his mind in the best possible way.
Suspecting and knowing might not be the same, but I'm guessing there is a place for the Las Vegas Lights FC to be embraced by a portion of the community that loves both soccer and an inexpensive option to get crazy in a way only setting off blue and yellow smoke bombs to begin a match can offer.
Brett Lashbrook seemingly thinks of everything — although it might have made a better story had the llamas been wearing Lights scarves like pretty much everyone else in attendance — and because of this, the team owner has in this time of Golden Knights mania and The Raiders Are Really Coming crafted another sporting alternative for Las Vegas to adopt.
The Lights played their first of three exhibition matches against MLS teams, falling to the Montreal Impact 2-0 before a raucous sellout of 10,387.
The outcome, of course, was the least important thing.
The Lights are a United Soccer League team, which means you shouldn't be waiting for anyone to introduce the next Champions League player.
It's not a level of soccer observed on the world stage, unable to provide the types of resources to foreign players that allows MLS sides to at times be on par with second division teams in countries like England and Spain and Germany.
This isn't about the soccer first, and there's nothing wrong with that, not when season tickets start at $200.
I wouldn't be shocked if most dancing and singing and cheering Saturday believe the Lights are an MLS team.
I know Carolyn Goodman wishes they were.
"There just hasn't been that unifying event here that the working-class family from North Las Vegas and the soccer mom from Summerlin and the hipster from downtown, people from all points of the valley, can come together for a sport everyone universally likes," Lashbrook said. "People are going to come because there were goals and the beer was cold and they don't go broke and it reminds them of a sport their family loves.
"Where else can you bring your smoke and flags and drums and trumpets and banners and it's affordable for the whole family?"
Fact: The Lights have promoted their product better than anyone could have imagined, embracing the creaky old bones of Cashman as a welcoming home advantage and engaging the community in countless ways since announcing the team's formation.
They have left no stone unturned, no marketing strategy dormant, no scarf unworn.
They even figured out a way to get folks to come watch a group of players unveil team shorts while shirtless, immediately creating two huge soccer fans in the wife and teenage daughter at home.
It's not the Golden Knights. It's not in the same stratosphere as the NFL.
It's not supposed to be.
It's a crazy goalkeeper in Ferrino who constantly leaves the box and apologizes to fans for poor kicks and, after making a basic save, wags his finger like Dikembe Mutombo and makes an eating motion as if he just hit a big 3-pointer.
He's sort of a glorious mix between a professional goalie and a 12U kid just learning the position, being sent off with a red card at the 69th minute Saturday shortly after causing an own goal by blasting a kick off his own defender.
He's perfect for this level and in this city.
Ricardo Ferrino: Total loon, and my new favorite athlete.
It's 10,000-plus strong singing, "Ole, Ole, Ole," and following that with a certain offensive P-word Mexican chant during goal kicks. It's flags and banners and drums and smoke bombs.
It's people like Joey Aragon of Summerlin and his 8-year old son, Jude.
"This is a great way for the community to come together and support another team," said Joey, wearing a Knights sweater. "We're evolving as a sports city and having a pro soccer team now will only add to that atmosphere."
What an atmosphere it was.
The Lights dropped their first of three exhibtion matches.
It was the least important thing.
This isn't about the soccer first, and there's nothing wrong with that.
For an opening act, it was a terrific party that lacked only scarves for the llamas.
Contact columnist Ed Graney at egraney@reviewjournal.com or 702-383-4618. He can be heard on "The Press Box," ESPN Radio 100.9 FM and 1100 AM, from 11 a.m. to 2 p.m. Monday through Friday. Follow @edgraney on Twitter.