Lois Tarkanian the face of strength in her family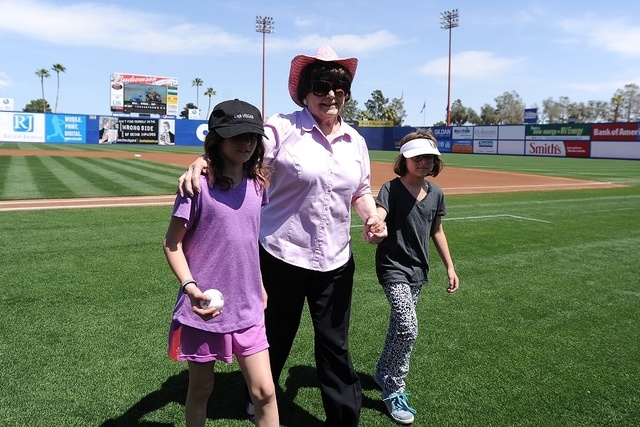 She clutched the hand of each little girl and pulled them close, because it's true that a garden of love grows in a grandmother's heart. Lois Tarkanian admits that she needs some good news, that the heartache has become overwhelming, that there are more questions than answers, that prayer can be an invaluable mechanism to embrace in such times.
The most steadiest of rocks is family, and there is no more constant figure among the Tarkanians than the matriarch that is Lois.
She is the strength by which others draw support and comfort.
"It's getting tougher and tougher," said the longtime city councilwoman. "But we have a lot of Tarkanians, and that's how we're going to get through all of this. We are going to work hard to get past it and have lots of prayer."
The 51s and Fresno Grizzlies on Sunday at Cashman Field honored the late Jerry Tarkanian and two of his college basketball coaching stops, with Las Vegas players wearing UNLV jerseys and the Grizzlies those of Fresno State.
REBELS and BULLDOGS were scrawled across the chest of the respective teams.
TARK was written across the back of all.
The plan was for Tarkanian's 5-year old grandson, Jerry, to throw out a ceremonial first pitch. The plan went terribly awry.
The son of Danny and Amy Tarkanian suffered a stroke this week, an agonizing occurrence for any parent and one that brought a similar reaction from Las Vegas to all parts of the country that have reached out with messages of concern.
How in the world could this happen to someone so young?
"He's hanging on right now, but we haven't yet found out what caused it," Lois said. "This was a very healthy, strong little boy who never had any health issues. But one thing I have learned is that this is not as uncommon in children as many believe. The doctors said there were two other children in the hospital this week that had the same thing happen. That's why we need to get young Jerry to a place where those questions can be answered."
She said the family is working on transporting him to a medical facility at Stanford University, where doctors can better diagnose the cause. In his place Sunday, 10-year old twin sisters Ashley and Ava joined their grandmother in throwing out the first pitch.
Lois wore a pink cowboy hat, because Fresno has cowboys and Las Vegas in May will again host Helldorado Days, because of the love and warmth and loyalty those towns have shown her family over the passing of her husband on Feb. 11 and now the situation with her grandson.
"Lois has been there through it all," 51s president Don Logan said. "She's a great lady. She's so sharp and has always put the family first. She was Jerry's mother as much as the kids. Jerry always acquiesced to her when it came to the family. He followed her lead. He would tell you that all the time. He respected and loved her so much. That was a special relationship.
"For the family, what they went through with him passing and the fact it was high-profile news and so emotional every day for so long, and now for this to happen with a child. … It's tough. Forget a (baseball game). Any time a child gets sick like this … just a really, really, hard time."
There is irony in such sadness: Lois Tarkanian won another four-year term out of Ward 1 earlier this month, and one of the main reasons she sought re-election was her desire to see the proposed UNLV Medical School through to fruition.
It would be built in her ward and ensure Las Vegas would no longer be the largest city nationally not to house a public medical school.
"Cases such as the one young Jerry is going through is why I am working so hard for this medical school," she said. "We need that for everybody in Las Vegas. The doctors will tell you the same thing, that we need a hospital that does research into these zebra cases, where you don't have any answers. We need that closer to home."
The 51s beat Fresno 10-5 on Sunday, having taken two of three on a four-game set that concludes tonight at 7:05. But there wasn't a more special sight than minutes before the first pitch, when a grandmother clutched the hands of two little girls and they made their way out to the field and stood on the grass in front of a mound.
More than anyone, Lois Tarkanian has been the face of strength when it comes to her family.
The rock. The matriarch.
But these are tough times. Heartbreaking ones.
"We will take it one day at a time," Lois said. "From the bottom of our hearts, we want to thank the people of Las Vegas and Fresno for all the love and kindness they have shown. I know how much (husband) Jerry loved baseball and would have been very happy and proud of a day like this.
"But I need some good news for a change. It's time for good news."
Las Vegas Review-Journal sports columnist Ed Graney can be reached at egraney@reviewjournal.com or 702-383-4618. He can be heard from 11 a.m. to 2 p.m. Monday through Friday on "Gridlock," ESPN 1100 and 100.9 FM. Follow him on Twitter: @edgraney.