London debacle puts Raiders in full rebuild mode for Las Vegas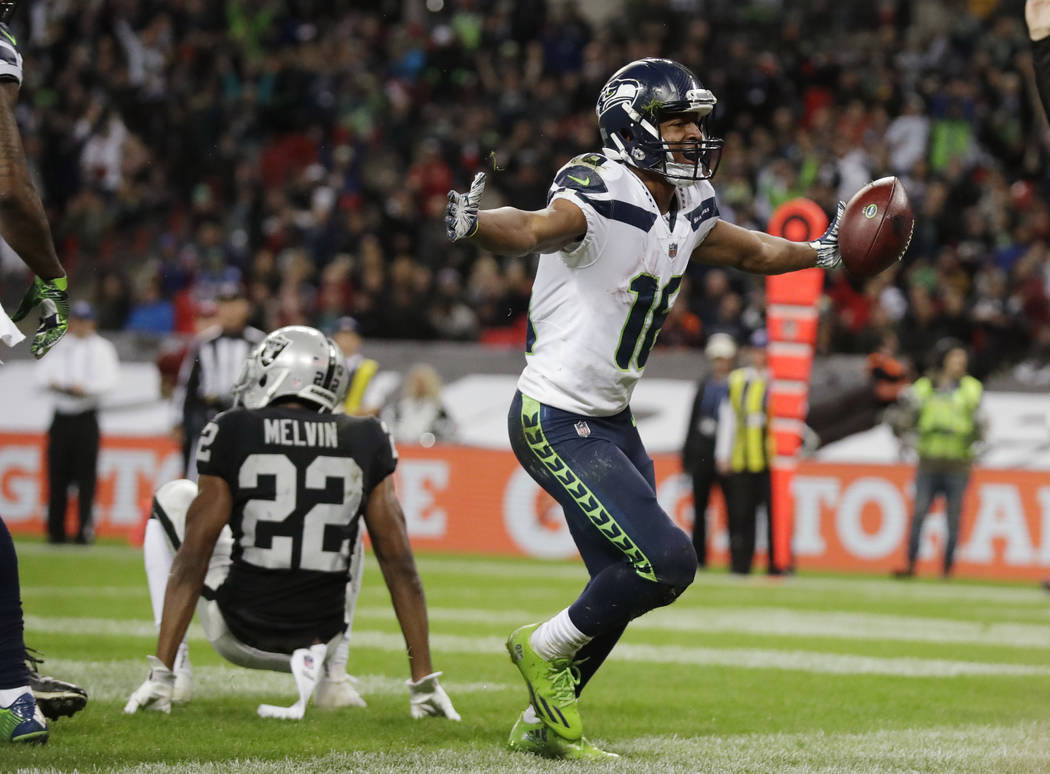 LONDON — It can happen quickly in college football, a few stellar recruiting classes and you're off and winning again. Not so in a world where coaches and players are paid millions of dollars annually to perform, where contracts and free agency are part of reality, where fans are asked to pay a ransom's share to feel part of the experience.
It might not be the last word a veteran NFL player wants to hear, but it's close, and the Raiders are absolutely defined by it right now.
They're rebuilding for Las Vegas.
From the most recent loss up.
Seattle arrived in the capital city of the United Kingdom a day earlier than the Raiders and obviously had a much easier time acclimating itself, the Seahawks having spent nearly three hours Sunday coasting to a 27-3 victory before 84,922 at Wembley Stadium.
That, or the Raiders are as bad as their 1-5 record suggests.
Yeah. It's probably more of that.
The announced attendance was an all-time high for the league's International Series, which dates to 2007 and has seen its share of blowouts. This was another. The Raiders were overmatched in all phases.
They're injured in several key spots and lost a few more important pieces Sunday, but this is about more than those being tended to by trainers.
The Raiders have reached their bye week with this truth: How far coach Jon Gruden believed his team was to contending for a playoff spot at the season's outset is unknown, but six games has unquestionably shown him such a goal hardly exists with the team's Alameda zip code.
"I'm not going to get real deep right now talking about (rebuilding)," Gruden said. "We know what we have to do here. We know we have a ways to go. We're going to continue to build the team. I've only been here for 6-7 months. I'm not going to say anything other than that."
He said a whole lot right there.
I suppose it shouldn't come as a surprise that the day began with reports Gruden was shopping several players as trade bait, including former first-round picks in wide receiver Amari Cooper (2015) and safety Karl Joseph (2016).
To which I say … OK … I suppose.
Look. Gruden is obviously in the process of totally dismantling the roster and trying to construct it in his image, whatever that's going to ultimately be, one he thinks will have an opportunity to win.
Probably not by next year.
Perhaps by 2020, when the Raiders land in Southern Nevada.
But once owner Mark Davis handed Gruden a 10-year contract to return as Raiders coach, he had to also be afforded the freedom to cut and sign and trade as he wanted.
The Raiders have made the playoffs once since 2003.
What, something crazy might happen with Gruden completely in charge and overhauling the franchise?
Like, they lose?
They do that most seasons, anyway.
Gruden traded Khalil Mack. He can certainly trade Cooper, even though the coach denied knowing of such reports Sunday and said he cared only about the health of the wide receiver, lost early in the game with a concussion.
Vets fight, rebuild
It doesn't mean everything or, really, anything Gruden is doing — dealing the league's best defensive player for draft picks, signing several veterans, playing lots of rookies, pretty much dismantling all moves general manager Reggie McKenzie made in recent years — is going to produce a winner soon or even ever.
But you know who is in charge. Gruden owns all the power.
It also doesn't mean those who play for him now want to admit what's happening.
Or, as professional athletes, should.
"I hope it's not (rebuilding)," quarterback Derek Carr said. "It's my fifth year. I feel like we've (rebuilt) a little bit and nobody likes to do that. But at the same time, I'm going to lead the heck out of this team. There is no game I go into thinking we're out-manned or can't win.
"You want it now. You want everything now. Our fans want it now, our players, our coaches. Trust me — we are trying to do it now. We understand where we are at. It's so easy in this league to let something like this happen, with how the year has gone and people beating down on you, to just go in the tank and say, 'We're done.' That's not what we do. I know that's not how we do things."
You can hate the contract Gruden received, what he has done and is likely in the process of doing to the roster, how the team has performed, how far it likely exists from being a playoff side, the idea this is a total rebuild.
But that's where the Raiders stand.
That's what this is, as bad or worse as 1-5 might suggest, trying to be as competitive as they can once making Las Vegas home.
Until then: As night descended on historic Wembley Stadium, a hard rain fell from the heavens.
It's going to be a while before the Raiders team blown out here Sunday isn't part of such a gloomy forecast.
More Raiders: Follow all of our Raiders coverage online at reviewjournal.com/Raiders and @NFLinVegas on Twitter.
Contact columnist Ed Graney at egraney@reviewjournal.com or 702-383-4618. He can be heard on "The Press Box," ESPN Radio 100.9 FM and 1100 AM, from 7 a.m. to 10 a.m. Monday through Friday. Follow @edgraney on Twitter.