Lucky Viola triumphs over heartaches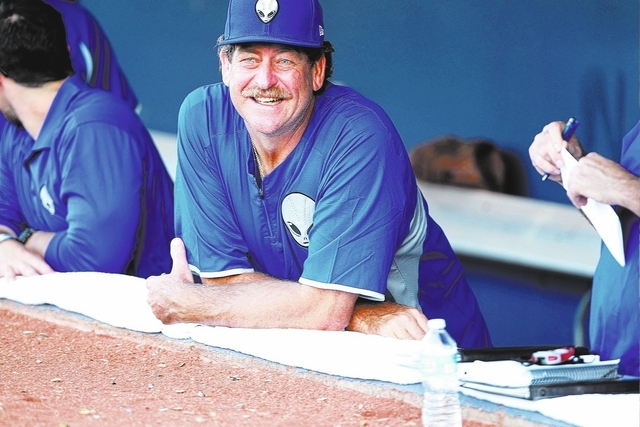 Funny, the thoughts that run through your head when the telephone rings one spring Saturday morning.
Funny, how you react to the news that your own mortality is at risk.
"My very first thought was that I was going to be letting down the team in Las Vegas," Frank Viola said. "Then, I took a breath and thought, 'I might die.' I was petrified."
It has been said that the challenged life might be the best therapist, that it is good when our faith is tested, that every adversity carries with it a greater benefit, that nothing makes us stronger than overcoming obstacles.
No one should have to confront such theories as often as Viola did the past several months.
But he did. Life is cruel sometimes.
Viola is now where he expected to be when the baseball season began, a former World Series champion and Cy Young Award winner with the Minnesota Twins serving as pitching coach for the 51s. He debuted in Las Vegas on Friday and was again on the bench Saturday night, when the 51s lost to the Fresno Grizzlies 7-2 at Cashman Field.
It has been the toughest of journeys here, mentally and physically.
His father died in February at age 86, and shortly after, his mother stood at a casket and clutched the hand of her husband of 64 years and told him to behave himself and that she would be with him soon.
Twenty-six days later, she died at 85.
A short while later, on that spring Saturday morning in late March, the telephone rang and Viola was told that something terribly dangerous had been discovered during his preseason physical. He had an enlarged aorta and needed open-heart surgery immediately.
"The doctors said it was something I could have lived with the next 10 to 15 years or I could have been throwing batting practice the next day, keeled over, had an aneurysm and died," Viola said. "I think it was God's way of saying, 'Don't ever let yourself get to this point again.'
"I was 40 pounds overweight, doing and eating all the wrong things. I also think there was a little divine intervention. I don't think Mom and Dad wanted to see me up there just yet."
Viola is 54 and 30 pounds lighter following surgery, mostly because his wife, Kathy, demanded a new diet and healthier lifestyle. The worst thing for any athlete is not owning control of a situation, on the field, off it, in a clubhouse, in life, and Viola had none as his parents died within a month of each other and his heart needed an overhaul.
Invincible. Athletes all hold the same belief, that nothing can touch them, nothing is stronger. Not grief. Not illness.
So you can appreciate the smile on Viola's face today, the embrace of a second chance at life, the thankfulness for an opportunity to instruct and encourage and mold those Triple-A pitchers trying to make a major league roster with the Mets, one of five teams for which Viola pitched over 14 seasons.
He also had this going for him: Dr. Leonard Girardi performed the surgery at New York Presbyterian-Weill Cornell Medical Center.
Should he ever need heart surgery, President Obama's first call would be to Girardi.
That's some serious juice in the operating room.
"The only thing we were worried about was Frankie's health," 51s manager Wally Backman said. "Had he not been given the sort of extensive physical we all get at spring training, the whole thing could have blown up on him. I think adversity is a lot different when it involves family than anything to do with baseball. Frankie is a baseball guy. He will fall right into the mix with us as well as anyone could. Frankie will be fine."
The Grizzlies led 5-1 and had the bases loaded with two outs in the second inning Saturday when Viola made his first appearance of the season, strolling to the mound to counsel starter Joel Carreno, who retired the next batter on a short fly to left.
It was just one visit and yet a huge step for Viola on the road to a full recovery, to some normalcy, to overcoming all the adversity, to gaining more strength.
"I had my time," he said. "This is all about these kids and giving them the best chance to succeed. I'll spend the next couple of days doing some catch-up and really getting to know all of them, their psyches, their makeup. I'm not afraid to talk and get to know people.
"This game is so beautiful in so many ways. So many positives come out if it, whether you get to the big leagues or not. But once you get this close, you can taste it. You want it. I'm here for these kids."
That he is here is enough.
Life tests some more than others.
Frank Viola passed the exam more than a few times these past several months.
He is alive, jogging back to a dugout after counseling a pitcher.
He just arrived a little late is all.
Las Vegas Review-Journal sports columnist Ed Graney can be reached at egraney@reviewjournal.com or 702-383-4618. He can be heard from 11 a.m. to 2 p.m. Monday through Friday on "Gridlock," ESPN 1100 and 98.9 FM. Follow him on Twitter: @edgraney.