Marc-Andre Fleury's smile tells the story as Golden Knights advance
Updated May 7, 2018 - 12:02 am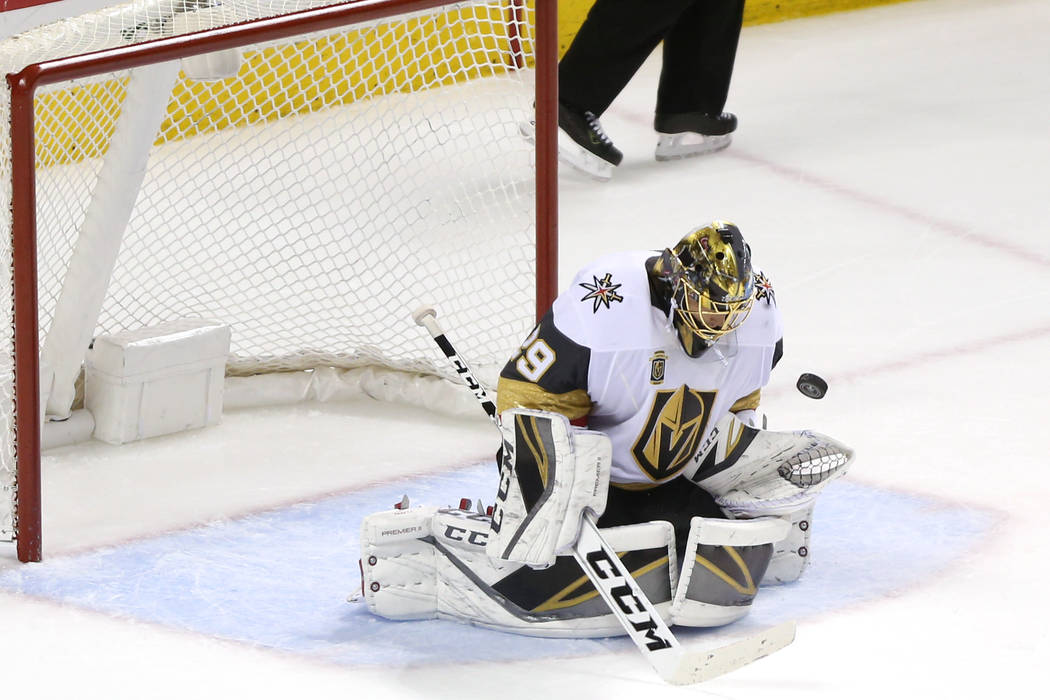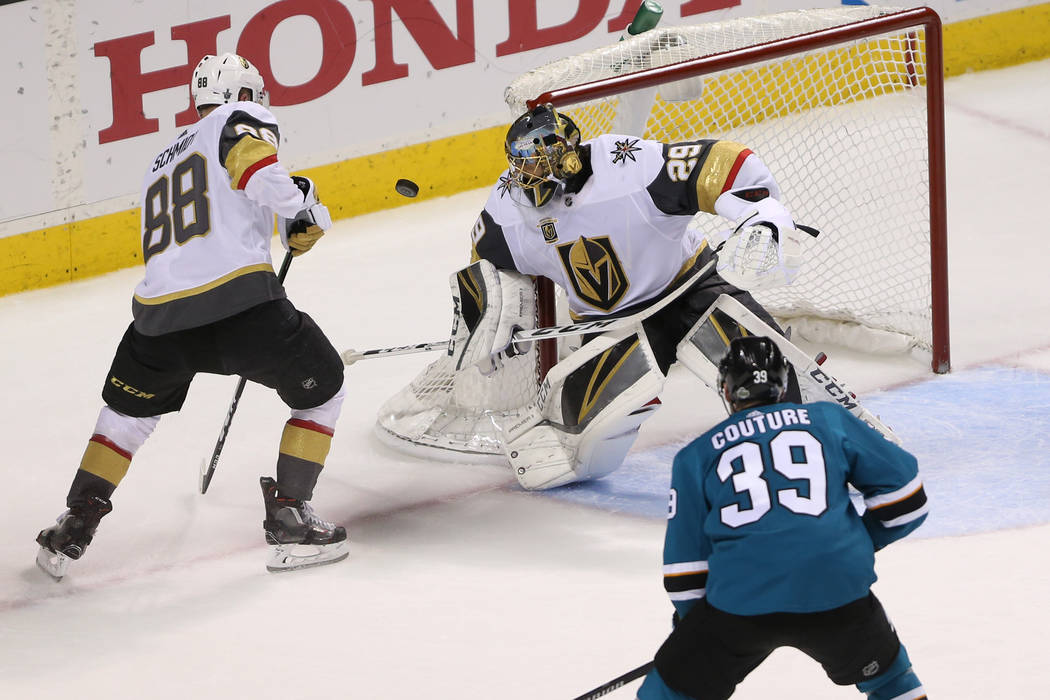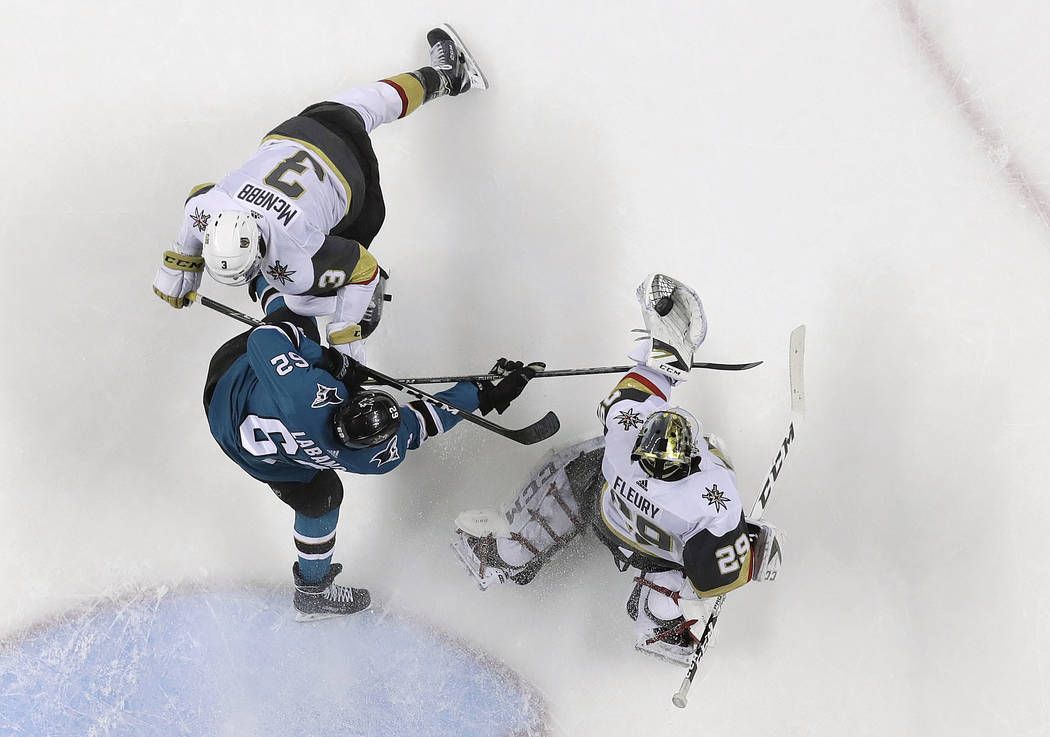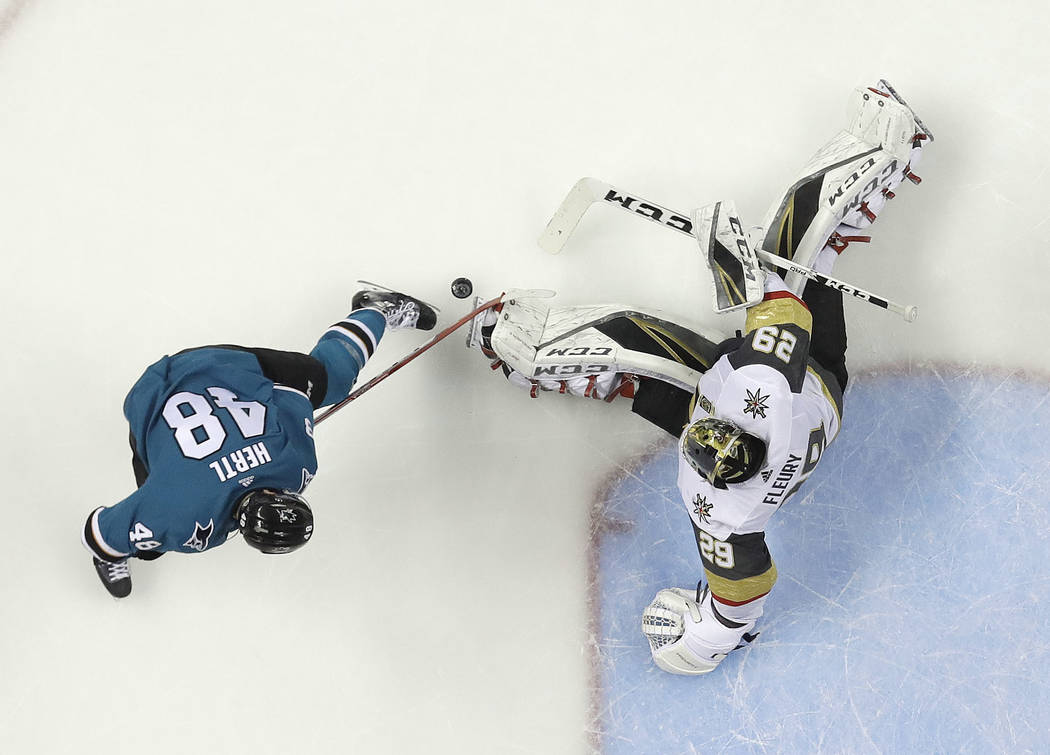 SAN JOSE, Calif. — He was smiling that June evening also, and yet the emotions behind his grin had to be swirling like winter storm clouds in Pittsburgh, because 14 years to the day of being drafted by the team on which he would enjoy so much glory and success, Marc-Andre Fleury was being asked to embrace and lead another franchise.
He said all the right things once introduced as the final selection of an expansion draft, acted in a most generous and appreciative manner, hugged the team owner and slipped on a new NHL sweater, this one with the crest of a Knight.
No matter how he might have felt inside, his exterior was a picture of thankfulness.
"I can share my experiences, my playoff experiences, with my teammates here," Fleury said that night at T-Mobile Arena. "We can be good right away. We can win games right away.
"I never wore (another jersey). It's a little different. I will wear it with pride."
History in no conceivable manner could have bestowed this truth on the Golden Knights — having advanced Sunday night to the Western Conference finals of the Stanley Cup playoffs by beating San Jose 3-0 — without the play and, perhaps more important, presence of a goaltender and person like Fleury.
The Knights finished this best-of-seven conference semifinal in six games, getting a second shutout of the series before 17,652 at SAP Center, where Fleury stopped all 28 shots and proved that the Irish might not be the only ones where luck shines its countenance of good fortune.
Sometimes, the French-Canadians get a dose or three.
'He played unbelievable'
San Jose shots hit the post at least three times in between another masterful effort from Fleury, and he responded in a typical grateful and relieved way.
He kissed and rubbed the post. Some nights, it really is a goalie's best friend.
"He played unbelievable," said Knights forward James Neal of his once teammate in Pittsburgh and now Vegas. "His smile describes him best. You look in his mask and see all his teeth, that ear-to-ear smile.
"He's a great guy. You talk more about the person than the goalie, and he's an unbelievable goalie. So athletic, battles for every puck. He deserves everything he gets. I'm proud of him. He's awesome."
What the Knights and Fleury get now is a conference final against the winner of Winnipeg-Nashville, a series the Jets lead 3-2 and host Game 6 on Monday night.
Whichever team advances will host Vegas for Games 1 and 2, meaning the Knights will for the first time these playoffs enter a series as an underdog.
And they could be a substantial one.
But the time has long past when anyone should question how far Vegas might take this, an implausible notion that June evening when selecting Fleury and his resume of three Stanley Cup rings from the Penguins was more about adding a famous face on which to build a foundation than ever imagining a conference final and perhaps more this inaugural season.
Early Conn Smythe candidate
Fleury has never won the Vezina Trophy — given to the league's top goalie in a given season — and has really never come close, but if there is an early leader for the Conn Smythe Trophy, the player judged most valuable to his team during the playoffs, he would certainly be at the top of most lists.
It would likely take eight more wins to secure, because those who win it all usually reap such awards, but merely discussing such a possibility gives you an idea how good Fleury has been.
"I think sometimes you have to give credit to the other guy," San Jose defenseman Brent Burns said. "The enemy's got a vote. This series, the enemy was Fleury. I don't know what his numbers were, but he played unbelievable."
Those numbers: Fleury against the Sharks had a 2.33 goals against average and stopped 200 of 214 shots.
He also had bookend shutouts — 7-0 to begin the series and 3-0 to end it.
He seems to be having more fun than any time of his career, smiling more than Buddy the Elf, tapping teammates on the helmet, another chapter to a fairy tale that changed so dramatically last June.
That was the night one part of his life said goodbye — do you remember the Instagram post Pittsburgh star Evgeni Malkin had wearing a Penguins jersey backward with Fleury's No. 29 and MY MVP across it? — and another welcomed him to a new city, a new team, a new adventure, a new opportunity.
"It's still the same goal, the same game, right?" Fleury said Sunday. "It would have been a little bit of a long shot for this (to happen), but here we are. We just kept improving throughout the season and had great chemistry from the beginning. I'm proud of our team, our organization, to be where we are right now."
He was smiling, of course, the emotions behind his grin far easier to read 11 months later.
More Golden Knights: Follow all of our Golden Knights coverage online at reviewjournal.com/GoldenKnights and @HockeyinVegas on Twitter.
Contact columnist Ed Graney at egraney@reviewjournal.com or 702-383-4618. He can be heard on "The Press Box," ESPN Radio 100.9 FM and 1100 AM, from 11 a.m. to 2 p.m. Monday through Friday. Follow @edgraney on Twitter.