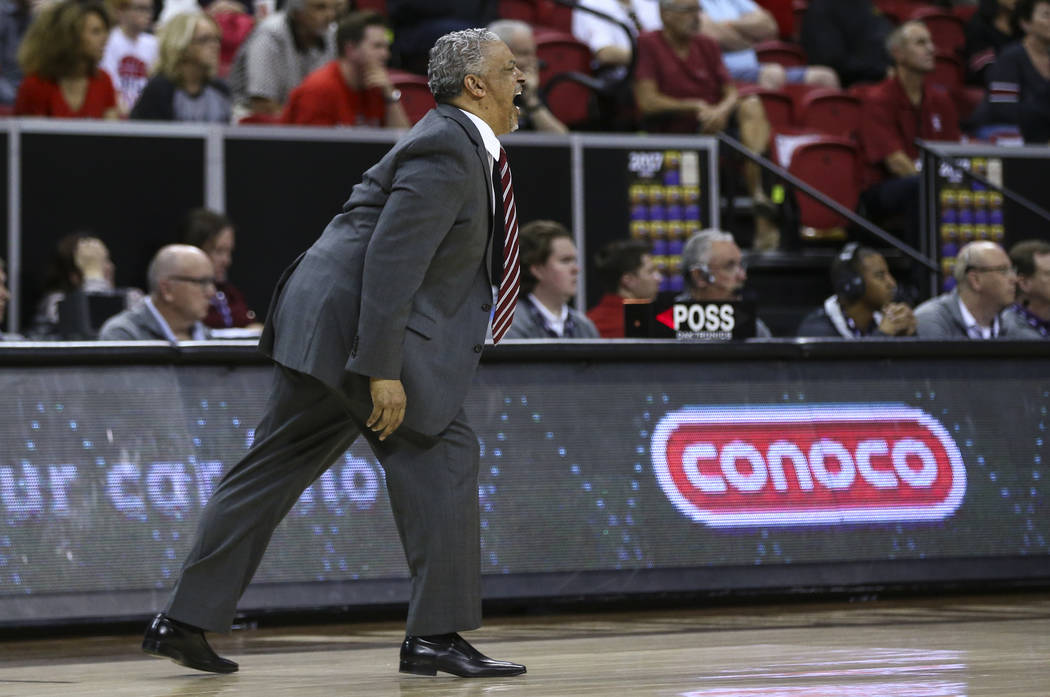 PHOENIX — On those nights when they were close, when he felt winning or losing was separated by a few plays his UNLV basketball team didn't — or couldn't — make, Marvin Menzies struggled falling asleep. On those when the opponent had more talent, which was more often than not, he still tossed and turned before eventually dozing off.
Menzies hadn't been hired at this time last year, a few days removed from the national championship, and inheriting a program with three scholarship players generated predictable results: UNLV had its worst season in history, finishing 11-21 overall and last in the 11-team Mountain West.
"I learned that whenever you're going through tough times to keep going," Menzies said Saturday before attending Final Four games at University of Phoenix Stadium. "I learned that when you're surrounded by good people, ethical and strong and loyal people, and you insulate yourself with great chemistry and a family atmosphere, getting through those times is easier.
"I learned that until we win at a level I anticipate us winning — and we have the ingredients to be really successful at UNLV — I'm going to work harder than I ever have in my life.
And that's saying something, because I work hard. But that's OK. I'm ready. I'm willing, and I have the support to do so."
The predicted movement in these times has already begun with the announcement that three players — Jalen Poyser, Troy Baxter Jr. and Zion Morgan — are departing. A few more are likely to follow in the coming weeks.
When you turn over a roster at this level, a difficult but needed process in the early rebuilding stages of a coach's tenure, an eye must be kept squarely on the Academic Progress Rate, the tool that holds institutions accountable for the academic progress of their student-athletes. You need those kids going elsewhere to be in good standing and the ones staying to remain on track for graduation.
Menzies can't yet clean house to a level he probably needs until he is sure the team's APR won't dip to dangerous levels, ones that can bring penalties such as lost practice time and scholarship reductions and coaching suspensions and, in the worst cases, being banned from postseason play.
There is a delicate balance to navigating the formula.
"Obviously, the (APR) is a big deal for which you need a cushion in terms of your numbers," Menzies said. "The bigger the cushion, the better. There are a lot of moving parts in this that have to be analyzed strategically before decisions are made about a kid, whether they're mutually exclusive or collaborative."
Translation: More roster moves are coming, meaning the number of scholarships UNLV has available (two) could rise. Transfers, junior-college players, decommits from other programs. Menzies will look to any area that might produce the sort of upgraded talent his program needs.
Future relevance also matters for the Rebels when talking support at the box office, given an NFL team in the Raiders will eventually make Las Vegas home alongside the Golden Knights of the NHL.
Discretionary dollars soon will be tested in ways they never have for sports in Las Vegas and, while attending a UNLV game hardly won't stretch a wallet as far as NFL and NHL games, the thousands and thousands of empty seats at the Thomas & Mack Center this season clearly defined what fans think about a below-average product.
Menzies is taking an aggressive approach to coexisting with major league sports, already suggesting things like the Rebels playing a national power at T-Mobile Arena (such as when Duke visited this season) on the same weekend as a Raiders home game so as to draw fans to both events.
"I was coaching at Louisville when, while there might not have been pro sports, football and men's basketball were both in the top 25," Menzies said. "There is a general sense of pride and feel-good emotions in the air that trickles over to other events. Having the Golden Knights and eventually the Raiders is going to be good for us, especially if we're good. I grew up in Los Angeles, and when the Kings were good, you had a very positive environment in the city.
"Now, we as a staff need to do what we get paid to do and hold up our end. We need to make sure we are relevant when the time comes the Raiders are here with the hockey team. Losing isn't fun. It's not what we signed up to do. We signed up to take care of and give back to these young men, but at the same time, you don't have much of a program if you're not winning."
His goal is to fix that sooner rather than later.
And, in the process, lose less sleep.
Contact columnist Ed Graney at egraney@reviewjournal.com or 702-383-4618. He can be heard on "Seat and Ed" on Fox Sports 1340 from 2 to 4 p.m. Monday through Friday. Follow @edgraney on Twitter.