Mayweather a workout warrior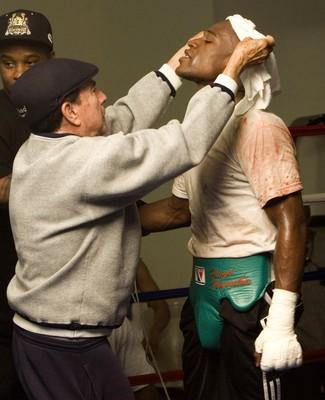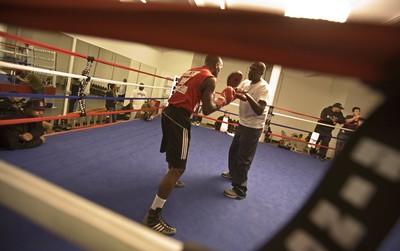 A cutman in boxing is all about equipment. Cotton swabs. Enswell. Ice packs. Vaseline. Gauze. Latex gloves.
Rafael Garcia will have all of it when working Floyd Mayweather Jr.'s corner for next week's fight against Oscar De La Hoya. But for now, Garcia wraps hands and pushes the button on a tally counter each time Mayweather throws a punch while training.
Don't laugh about the last part. It's tougher than you might imagine.
"Of course," Garcia said, "I lose track."
It's like trying to count the rotations on a NASCAR tire for one lap. Forget about it.
Much is open for debate about what might happen May 5 at the MGM Grand Garden: Is 154 pounds too much for Mayweather to carry and still keep his speed? Can a bigger and stronger De La Hoya tempt Mayweather into trading punches? Is it true De La Hoya will be able to purchase Monaco and the Bahamas once pay-per-view numbers are totaled?
This isn't arguable: Mayweather will be the better-conditioned fighter. He always is.
There is training for a fight, and there is the lunacy of how hard he works. The best job in Mayweather's camp has to be the guy holding water and a towel for breaks. There never seems to be any.
You can spend forever looking to dispense credit for why one fighter is able to train harder than the rest, why one guy — Mayweather — can follow hours of running several miles and jumping rope and crunching abs and hitting the mitts and speed bag and heavy bag and sparring with pickup basketball games.
In this case, Roger and Floyd Mayweather Sr. are all too delighted to accept most of the recognition (at separate ends of the gym, of course). Genetics plays a major role, just not the most important one.
The reason Mayweather Jr. has such limitless energy is also why only a select few can go for long swims off Antarctica or conquer the world's highest mountains. Some are unique in this way, built capable of surpassing what most humans would estimate their physical limits.
To this, Mayweather insists he owns no such boundary.
Watch him train, and you're apt to believe it. The experience is grueling, and that's just the sensation you get reclining in a chair.
"It is like he is from another planet," said Garcia, who has worked with 36 world champions and includes none in the same class as Mayweather for training exertion. "I try to figure out where it comes from. I can't. I have seen many great fighters train but none like this guy."
He can land the jab blindfolded, hit the mitts blindfolded, throw thousands and thousands of punches over a 20-minute span with Garcia punching that little tally counter like some movie theater usher counting passing patrons, only a whole lot faster.
Eventually, he loses track.
"I'm not here to disrespect Sugar Ray Leonard or Muhammad Ali," Mayweather said. "I'm not here to disrespect Sugar Ray Robinson. But I haven't put 20 years into this sport to say there has ever been a better fighter than me. When I get into that ring, no man can match me mentally or physically. Thirty-seven have tried, and 37 have failed.
"Oscar will get tired and lay down. Those are two things we know about him. He always says he is in the best shape of his life. Damn, if you're always in the best shape, why are you always getting tired? At the end of the day, no one is in better shape than me. No one."
A story: The way Sam Watson tells it, drinks were flowing that night sometime back, and the music was blaring and the club rocking and the clock pushing 1 a.m. It was then Mayweather summoned his group of around 14 to three separate cars and led the caravan to a nearby park.
He got out and began to run.
Everyone else just sort of stood there.
"He loves his body, loves being in shape, loves everything about it," said Watson, a self-proclaimed friend of the world's best fighter. "He took off running that night while we waited for him to come back. He wasn't in training for a fight or anything like that. He went for a few miles, came back and said, 'OK, let's go back and party.'
"This is just a different kind of guy when it comes to working out."
It's just that way. Some can swim in freezing waters. Some can scale Everest. Mayweather can follow a boxing workout that would send most of us to the hospital by playing basketball for a few hours.
From another planet might not be that far off.
Ed Graney's column is published Wednesday, Thursday, Saturday and Sunday. He can be reached at 383-4618 or egraney@reviewjournal.com.
ED GRANEYMORE COLUMNS
ON THE WEB Audio slideshow of Floyd Mayweather Jr.'s workout