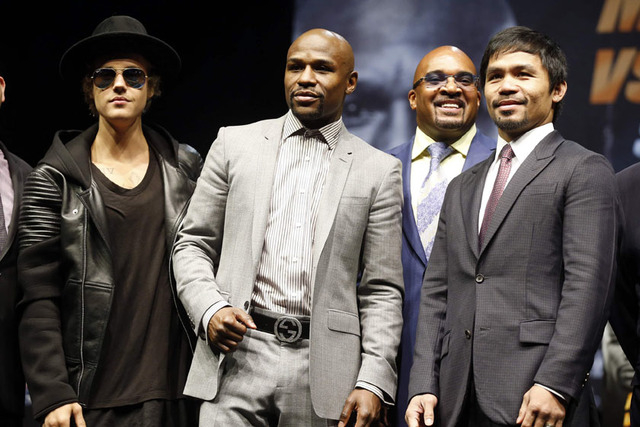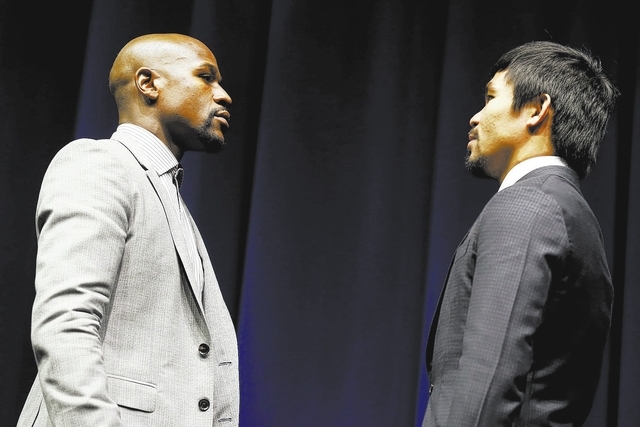 I'm thinking the Wizard of Oz fellow might be the smartest of all.
Al Haymon might have been pulling the strings as most suggested. He might be the world's best puppeteer, out there in the boxing stratosphere manipulating the mouths and actions of those in the camp of Floyd Mayweather Jr.
He might be Geppetto in a fancy suit.
But at least we don't have to hear him blame the other side.
The last thing we need is another talking head.
Maybe everyone should take a vow of silence until fight night, although that probably would cause irreparable physical harm to some in both parties.
Better yet, set a mandate that only trainers Freddie Roach and Floyd Mayweather Sr. can be quoted. At least they would bring some humor to all the nonsense.
It took this, the megafight of megafights, the one sure to shatter all sorts of financial records at the gate and on your pay-per-view screens, the supposed biggest night in the sport's history, to confirm what we already knew:
It's not about the fans.
It was never about the fans.
It never will be about the fans.
Mayweather and Manny Pacquiao will indeed meet May 2 at the MGM Grand Garden and, shock of shocks, it didn't take the attorney general or governor to step in and make it happen. That's because there always has been too much at stake for both camps, too much cash to line their pockets.
I hope if you are one with designs on purchasing tickets to the fight, your trigger finger when refreshing the Internet is quicker than Billy the Kid's.
Both camps finally made nice, and those public tickets — reportedly around 500 — are expected to be put on sale online at noon today.
I actually found a wonderful pair around 4 p.m. on Wednesday.
They were at the top of the arena and going for almost $9,000.
Problem: It was a bogus website. Those tickets didn't exist … yet.
Either way, the wife would vote against dipping into the son's college fund on the chance we might resell them for a sweet profit. Yes, even her.
Bob Arum is right about one thing. The whole fiasco was a damn shame. But neither his Top Rank company nor Mayweather Promotions was directly harmed by the fact that 11 days from the fight the world has been waiting years to see, a contract had not been signed for the MGM to host the event and public tickets had not been put up for sale.
The fans were.
The ridiculous waiting game only made it tougher, impossible in many cases, for those with the means to purchase tickets and afford traveling to Las Vegas and paying embarrassingly exorbitant hotel costs, to make the dream of attending a reality.
But the tickets will be gobbled up within seconds of going on sale.
That was always going to happen.
The pockets of suits were always going to be lined with more cash.
Be sure of that.
Arum joked recently that the smartest thing the MGM could have done is handle any public tickets as some Major League Baseball teams did in the old days. Have those interested in purchasing them simply line up the day of the event.
First come, first served.
"That would cause a bit of a stir," he said.
Yeah. I'm not even sure the FBI and Department of Homeland Security — which will be in charge of keeping things safe on fight night — could have handled the irate mob such a scene would have produced.
More than anything else, the entire lead-up to a fight that really has zero chance to meet the incredible hype that has preceded it has confirmed that in no sport do egos run amok more than in boxing.
Arum blamed the Mayweather camp and the MGM for all the business missteps. Mayweather CEO Leonard Ellerbe said Arum was jealous and craved attention, that he couldn't handle not being the lead face of such a momentous fight. The MGM said nothing. The Wizard of Oz said even less.
In the end, it was best for all that CBS CEO Les Moonves took time away from celebrating the fact that so many Americans still believe "Survivor" is a show worth watching to finally help break the impasse between camps.
Moonves reportedly got all the important voices on a conference call, likely began by asking why everyone had been such spoiled brats during the process, and sealed the deal yet again. It's not known if Haymon actually spoke or sent his thoughts via text pictures while wearing a Phantom of the Opera mask.
But it's done. The fight is on. Tickets soon will be out.
The suits are a lot richer today and will only gain more wealth as fight night approaches.
"The publicity and interest has been there all along," Arum said. "But there will be business issues right up until the bell rings."
Of course there will be, because if there is one thing this mess has taught us yet again, it's that it's all about the bottom line.
And not about the fans.
Never has been.
Never will be.
Las Vegas Review-Journal sports columnist Ed Graney can be reached at egraney@reviewjournal.com or 702-383-4618. He can be heard from 11 a.m. to 2 p.m. Monday through Friday on "Gridlock," ESPN 1100 and 100.9 FM. Follow him on Twitter: @edgraney.