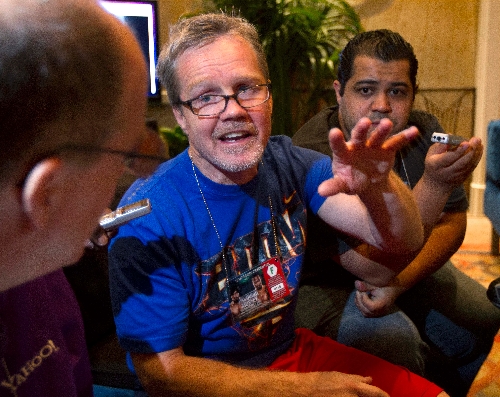 The elephant in the room is shrinking.
He is news only when others boo him at sporting events or the next story about his legal issues hits the Internet or he tweets a picture of a winning sports gaming ticket for amounts that many people don't earn in a year.
He doesn't tweet pictures of losing tickets. But you know they exist.
Floyd Mayweather Jr. is becoming less and less of a topic of discussion in boxing. He hasn't fought in more than a year and has been dropped from the sport's pound-for-pound rankings, more a symbolic gesture of inactivity than any real estimate of his skill.
He is still 41-0.
Still perfect as a pro.
Just not nearly as relevant.
He makes headlines now not for extending a spotless record but for being charged with different crimes, including domestic violence. On Thursday, the district attorney's office charged him with two counts of misdemeanor harassment in another confrontation with Southern Highland security guards.
What is it with Mayweather and security types?
Why can't he just park his car (or all 29 of them) like the rest of us?
Say this for his attorneys: They seem really good at delaying court cases.
And yet it's impossible to ignore Mayweather this week.
Manny Pacquiao is fighting.
His opponent Saturday night at the MGM Grand for the WBO welterweight title is Shane Mosley, a former five-time champion who might still own just enough steel in his aging hands to concern Pacquiao about getting caught.
Mosley on Wednesday included Mayweather in his remarks of thanks to those responsible for the opportunity, meaning had the guy who beat Mosley silly in a unanimous decision last May finally taken the fight the world wants to see, Mosley would be a mere spectator this week.
But that's the thing.
How much does the world care any more about Mayweather-Pacquiao?
"A year ago, I was getting asked every day by people, 'Make that fight, make that fight,' " said Freddie Roach, trainer to Pacquiao. "Now, only here and there. People aren't as hungry for it. I think as time goes on, the chance gets smaller and smaller.
"Mayweather isn't fighting. He isn't showing his skills. The good part is he isn't boring people, because he's a boring fighter but a great boxer. Every day he stays away, the duller his tools get. We're staying active. That's a huge advantage for us.
"It seems like eventually he will need the money. I hope he does. Whatever gets him in the ring with us."
Lend your opinion. Everyone has. Boxing is this or that, hurting or healthy, dead or alive, back in a flurry faster than a Pacquiao combination or on the way out quicker than a profanity-laced tirade from the mouth of Mayweather's uncle and trainer.
Roger Mayweather recently claimed his nephew was returning to the ring, suggesting he could encounter Miguel Cotto or Victor Ortiz later this year in Dallas as a way to prepare for Pacquiao. In other reports, Mayweather Jr. said he doesn't speak to Roger regularly.
Translation: No one knows anything other than Mayweather can't get along with glorified mall cops.
Of course boxing needs a Mayweather-Pacquiao fight. Of course it would break pay-per-view records and be one of the biggest moments in the sport's history.
But the NFL also needs to end its lockout and college football needs a playoff and Rashard Mendenhall needs a clue.
It would have been great to see the run-and-shoot Houston Oilers take on the ferocious defense of Dallas in the 1992 Super Bowl. Didn't work out. Neither advanced. The planet didn't disintegrate.
One fight won't either save boxing or sound its death knell, but what the sport has today is the type of star in Pacquiao not seen before, a humanitarian of unimaginable lengths.
He is a congressman in the Philippines, a man who helps feed and clothe thousands, responsible for building hospitals and saving lives.
He isn't retiring from the ring today or tomorrow or later this year. He fights on, and whether Mayweather ever agrees to oppose him, Pacquiao has brought to boxing the sort of universal attention few athletes in any sport can fathom.
"Out of sight, out of mind," Top Rank promoter Bob Arum said this week when asked about Mayweather. "Nobody regards him seriously anymore in their plans when making fights. It seems like a losing cause.
"It would be great if he came back and we did the fight, no question. But boxing doesn't need it to survive. Pacquiao has taken the sport to another level beyond the ring. Everyone around the world knows Manny Pacquiao."
Most in the world also know the elephant in the room.
But he is shrinking, becoming less relevant with each passing day.
Unless it's a matter of parking and there is a security guard involved.
Then, apparently, all hell breaks loose.
Las Vegas Review-Journal sports columnist Ed Graney can be reached at egraney@reviewjournal.com or 702-383-4618. He can be heard from 3 to 5 p.m. Monday and Thursday on "Monsters of the Midday," Fox Sports Radio 920 AM. Follow him on Twitter: @edgraney.