Mayweather's final fight in September? Don't believe it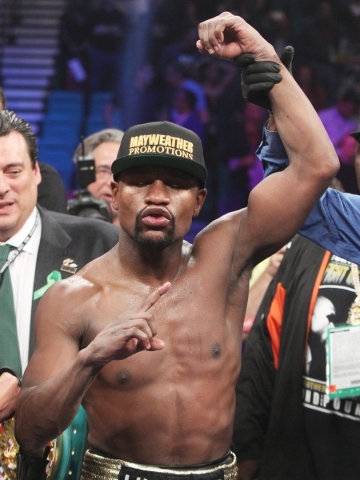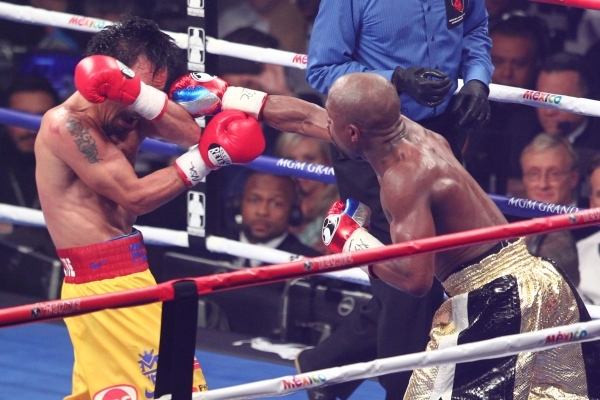 I suppose nothing is official until we hear the news via Shots or whatever social media application Floyd Mayweather Jr. prefers nowadays.
He might have even invented a new one since announcing his last fight.
Enabler-gram.
Say it ain't so, Andre Berto?
It is being reported across the boxing world that Mayweather has chosen Berto as his next opponent and will meet him Sept. 12 at the MGM Grand Garden, that the fight will be offered free on CBS as a goodwill gesture to fans for the colossal disappointment that was Mayweather against Manny Pacquiao in May.
You know the Fight (Fraud) of the Century was a bust when almost as many lawsuits seeking a return on investment have been filed as there were pay-per-view buys.
Nothing has been confirmed by the Mayweather camp regarding the card, other than the pound-for-pound king has returned to training for what will be his 49th and final professional fight.
Which, of course, it won'€™t be.
If you didn'€™t believe Mayweather'€™s ultimate plan is to chase 50-0 and stage such a golden moment at the new MGM-AEG arena behind New York-New York come spring, the suggestion that Berto is next in line to get beat should all but guarantee it.
Mayweather picking Berto as his final challenge would be like Michael Phelps swimming for a record-breaking eighth gold medal at the 2008 Olympics against the Summerlin Seals, or the women'€™s national soccer team having to beat UNLV for the World Cup title.
It'€™s all sorts of silly.
Mayweather for years has been criticized for either ducking top opponents or waiting until they age enough to move past their best form so that his record would remain perfect.
Oscar De La Hoya. Shane Mosley. Miguel Cotto. Ricky Hatton at 147 pounds.
They all set up too old or slow or both.
This isn'€™t to suggest Mayweather'€™s placement among the all-time greats is undeserved. He is unquestionably one of the finest defensive fighters in history and undefeated for almost 20 years is Hall of Fame impressive.
But for as much news as he has made outside the ring in regards to the dark cloud of domestic violence charges that hangs over his career –€" thanks to Ronda Rousey for checking in with some smack talk on that end this week –€" his business acumen inside it has been the best boxing has seen.
Mayweather has surrounded himself with brilliant minds when it comes to maximizing the fighter's financial worth, and it makes zero sense to believe any of them think Berto is the right choice for a final curtain call in what will be the last of a six-fight contract with Showtime.
Don'€™t let Berto'™s 30-3 record fool you into thinking this would be any sort of competitive tussle. He might have won a few versions of the welterweight title and even today has an interim World Boxing Association belt, but the 31-year-old has lost two of his past four fights and three of six.
He lost a unanimous decision to Robert Guerrero, whom Mayweather easily outpointed for 12 rounds.
Berto lost a unanimous decision to Victor Ortiz, whom Mayweather knocked out in the fourth round.
How do you sell Berto in any believable sense?
He isn'€™t near the most deserving fighter to be a likely 49th victim. Amir Khan deserves more of a shot at Mayweather. So does Keith Thurman and Timothy Bradley. But all would pose more danger than Berto, which might explain why they reportedly have been passed over for now.
When they first put ceremonial shovels into the ground for the MGM-AEG arena in May 2014, Mayweather arrived atop a yellow construction tractor as a special guest while confetti rained down from above.
His relationship with MGM suits, the amount of money each has made the other, how incredibly dominant Mayweather continues to be even at age 38 and the opportunity to surpass Rocky Marciano's 49-0 record all sets up perfectly for his 50th fight to be the first sporting event in the new arena in May.
Mayweather likes the spotlight too much and understands the historical significance such a night would hold for it not to happen.
He likes money too much.
The idea that he would now offer a free fight on CBS after setting massive records with 13 straight pay-per-view shows again speaks to the intelligent sorts in Mayweather'€™s camp.
It might be a huge financial gamble for the network given the nearly nonexistent presence Mayweather has with corporate America, but it can do nothing but improve his public image, which can always use some massaging.
Nothing is official. Maybe someone in Mayweather'€™s camp awakes today and wonders aloud, "Has the world figured out this whole Andre Berto thing is a joke?" Maybe one of the enablers made the whole thing up while waxing the cars.
Or maybe this is the script Mayweather has planned all along, hyping this fight as his last, hoping that making it free will engage people to watch, cruising to victory No. 49, retiring again for a brief moment and then announcing what everyone has assumed since he rode in on that tractor.
He will go for 50-0 in the new arena, and maybe then Khan or Thurman or Bradley or even Pacquiao for a second time will get their shot.
Andre Berto as Mayweather's final opponent?
Yeah, and Michael Jordan'€™s last shot with the Chicago Bulls in those NBA Finals came against Bishop Gorman.
Las Vegas Review-Journal sports columnist Ed Graney can be reached at egraney@reviewjournal.com or 702-383-4618. He can be a heard on "Seat and Ed" on Fox Sports 1340 from 2 p.m. to 4 p.m. Monday through Friday. Follow  @edgraney on Twitter.