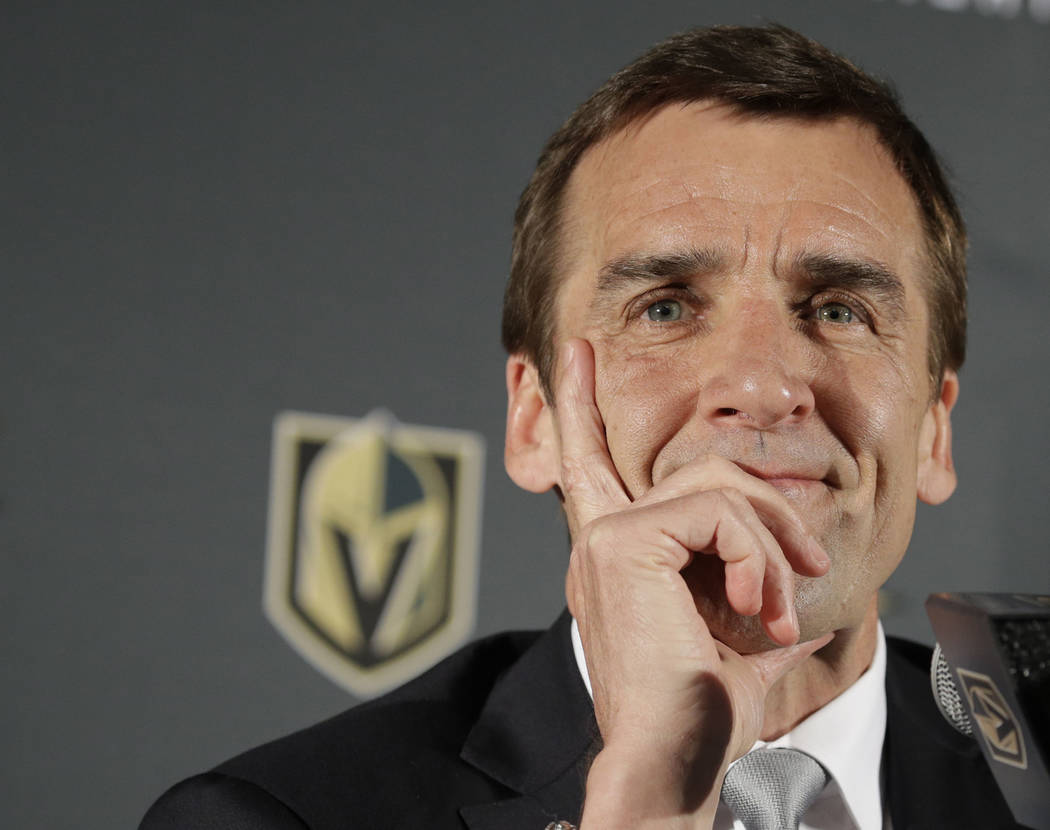 He has been here, done that, really prefers this way best.
George McPhee is no rookie when it comes to NHL expansion drafts, only this time is different.
This time, he's the one taking from others.
"This has been so much fun," McPhee said. "Doing all the prep on each team and all the players, going through the step-by-step process leading up to when everything happens. It has been a challenge. But that's what makes it so stimulating trying to build this team."
McPhee holds the brush that will ultimately paint the canvas of how the Vegas Golden Knights will look in their inaugural season come October, a general manager who figures he has waded through the expansion process at least eight times while working for Vancouver and then Washington.
Back then, it was about doing anything possible to maintain the strength of whatever roster he was helping to protect from expansion sides, but now it's his charge to fit one name from each team into a Las Vegas model.
McPhee and his staff of scouts and other team officials are scheduled to hold their final mock draft Monday, a process that began last October and officially concludes June 21 at T-Mobile Arena, where the league's annual awards will be held and the Knights will reveal their initial roster.
Two days later, the NHL's Entry Draft begins in Chicago, where the Knights are set to pick sixth.
Then, it's about free-agent signings and preparing for a summer conditioning program and counting the days before things begin for real.
"A lot of important stuff in a short amount of time," McPhee said.
He figures the team's expansion draft board has changed 60 or so percent since they first sat and discussed those players that might be available, part guessing game given teams have the option to protect seven forwards, three defensemen and one goaltender or eight skaters and one goaltender.
The Knights must select one player from each existing club for a total of 30, but teams have already begun moving players, specifically goalies, as a way to better protect certain roster positions.
In other words, the chess game is well underway and the Knights, for now, must sit and watch as others make their initial pawn movements while trying to seize control of the center — or at least keep McPhee from gaining too large an advantage.
You're probably not basing much of an expansion strategy on who might be available with the sixth pick in the entry draft. It's one thing to hit lottery gold and get the first pick, but not the sixth.
Does he prefer inexperienced and cheap to veterans owed more money? Does he desire more salary cap room to potentially entice free agents? How many unrestricted and restricted free agents might he pursue during the pre-expansion draft period the Knights will be granted?
"Free agency for us will not be about the typical reasoning of filling a hole," McPhee said. "It will be about growth and leadership and the right talent and people to build this organization around. We are going to have young players, and we're going to need some veterans to teach them how to be good pros and how to carry themselves on and off the ice."
There is no question the idea of playing in Las Vegas will attract free-agent interest, especially after the Knights signed Russian forward Vadim Shipachyov, the type of skilled scorer others would want to join.
But the allure probably isn't to the point many established names would waive no-move clauses for expansion availability.
Guys work years for that type of security, and nice year-round weather and countless entertainment options in Las Vegas probably wouldn't trump those roots already established within other communities.
So the Knights continue to pore over every possible scenario as June 21 approaches like Jimmie Johnson in a straightaway.
"I'm not sure how surprised I'm going to be at anything with the (expansion draft) given the conversations we've had with clubs and all the prep work we have done," McPhee said. "But one thing I have learned about expansion is that you can't prepare for everything. There is some unearthing of things during the process that you have to embrace and wade through.
"Some general managers are very straightforward. Some, maybe, a little more deceitful. We've told everyone that we are willing to listen and talk to see what can develop for us and them. But a team losing a player is part of the price of expansion."
Been here, done that, prefers this way best.
Contact columnist Ed Graney at egraney@reviewjournal.com or 702-383-4618. He can be heard on ESPN Radio 100.9 FM and 1100 AM from 11 a.m. to 2 p.m. Monday through Friday. Follow @edgraney on Twitter