Menzies solidifies recruiting rep in landing Brandon McCoy
April 25, 2017 - 10:35 pm
Updated April 25, 2017 - 11:39 pm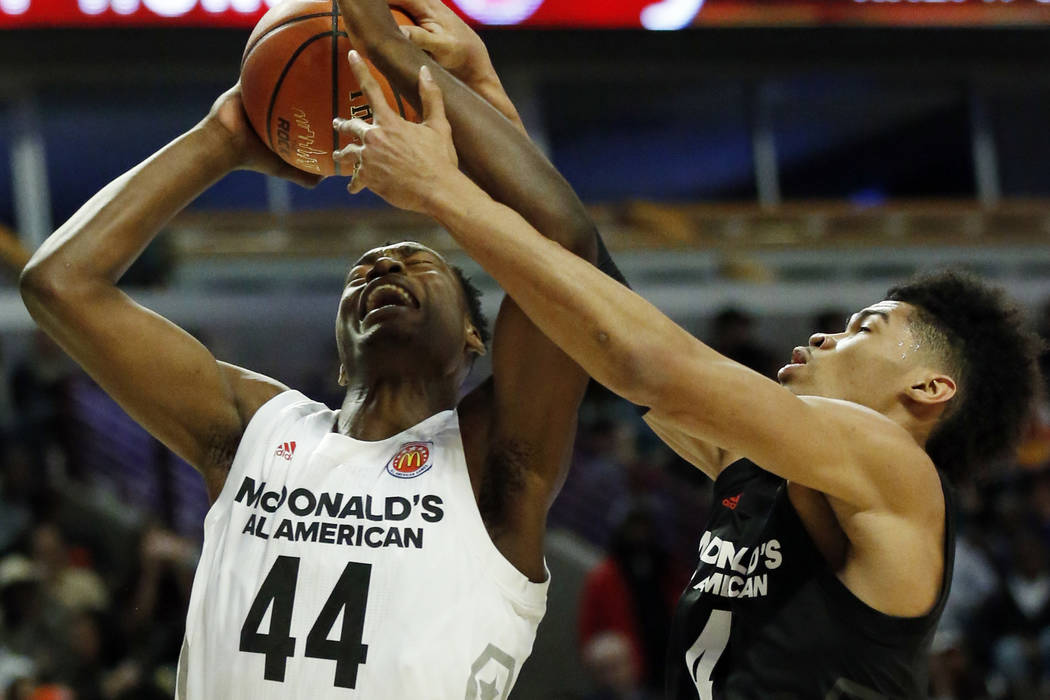 When he was an assistant basketball coach at San Diego State from 1999 to 2003, Marvin Menzies would often stroll onto the floor at then-Cox Arena and glance into the stands for whichever recruits might be attending that evening's game.
He would smile, wink, raise one hand, hold an index finger straight, raise his thumb and pull an imaginary trigger as a way of welcoming those players he hoped would sign with the Aztecs.
He also would often do this wearing a purple suit, but that's a completely different story.
One night, I glanced to a colleague and said, "We should call him 'The Gun.'"
The nickname has since stuck, and on Tuesday night, we discovered Menzies still has some pretty influential ammunition when it comes to placing him among the country's best recruiters.
UNLV received the sort of news not usually expected from a team coming off the worst season in program history, but the bright ray of light its faithful have been yearning for just might have appeared over the Thomas & Mack Center in the commitment of Brandon McCoy, a center from Cathedral Catholic High School in San Diego.
The five-star recruit and McDonald's All-American, ranked 15th nationally in the 2017 class, announced via his Twitter page that he would become a Rebel, choosing UNLV over Oregon, Michigan State, Arizona and San Diego State.
Blessd and truly thankful to say I've committed to UNLV !!! pic.twitter.com/w4aw8gFidU

— Brandon McCoy (@flyguyfreddyy) April 26, 2017
It's an incredibly significant victory for Menzies and his staff in the short run and yet could prove far more important a few years from now.
Reason being, while the 6-foot-11-inch McCoy will certainly make the Rebels better inside immediately — it's not a difficult level of production to match — this sort of commitment often pays off with others.
UNLV went 11-21 overall and 4-14 in the Mountain West last season, 11th place in a bad 11-team conference. McCoy, no matter how much of an upgrade he proves to be, isn't taking the Rebels from last to first.
He probably isn't even taking them to the NCAA Tournament next season, although I suppose the league is challenged enough that a veteran point guard in fifth-year senior Jordan Johnson combined with McCoy and perhaps another top recruit or two to be announced later are enough to believe the Rebels can avoid a play-in game in the Mountain West Tournament.
Who knows. It took UNR two years, the right coach and some impressive recruits to go from irrelevant to the league's best team, one that will be predicted to repeat as champion next season.
Crazier things have happened than a last-place team becoming a pertinent threat overnight.
It doesn't take much in this game and certainly in this conference.
But what the McCoy news really does is add a large layer of credibility to the vision Menzies and his assistants are selling recruits in the 2018 and 2019 and even 2020 classes.
For a coach who assumed direction of the program in April 2016, inheriting just three scholarship players and having no time to devise a legitimate recruiting plan for last season, the importance of landing a top-20 player this early in his tenure can't be overstated.
However long McCoy remains at UNLV — seldom does a player in today's world rated as highly as he is think he's staying in college more than one year — the idea that he chose the Rebels over such nationally recognized programs and ones of far more relevance the past 20 years should cause other top players to glance in the direction of Las Vegas.
The commitment of McCoy one week gets UNLV coaches in more living rooms the next. It allows top prospects to believe things are trending in the right direction and that whatever other programs are offering in terms of postseason play or NBA readiness soon might be found again with the Rebels.
Maybe such influence begins with the likes of Oklahoma State decommit point guard Amauri Hardy or national junior college player of the year Shakur Juiston following McCoy this week with commitments to UNLV.
Maybe both.
If that happens, you can absolutely forget about any play-in game next season.
Maybe the result of McCoy's commitment isn't felt within UNLV's recruiting until the next year or two. But it will happen. His pledge will draw the interest of others.
Tuesday night was a great one for UNLV basketball, a bright ray of light in what have otherwise been dire times lately, a commitment now that could lead to similar ones later.
Brandon McCoy chose the Rebels.
The Gun lives.
Contact columnist Ed Graney at egraney@reviewjournal.com or 702-383-4618. He can be heard on "Seat and Ed" on Fox Sports 98.9 FM and 1340 AM from 2 to 4 p.m. Monday through Friday. Follow @edgraney on Twitter.
Related
UNLV basketball lands 5-star prep recruit Brandon McCoy