Michigan's Beilein gets another shot at elusive national title
Updated April 1, 2018 - 7:57 pm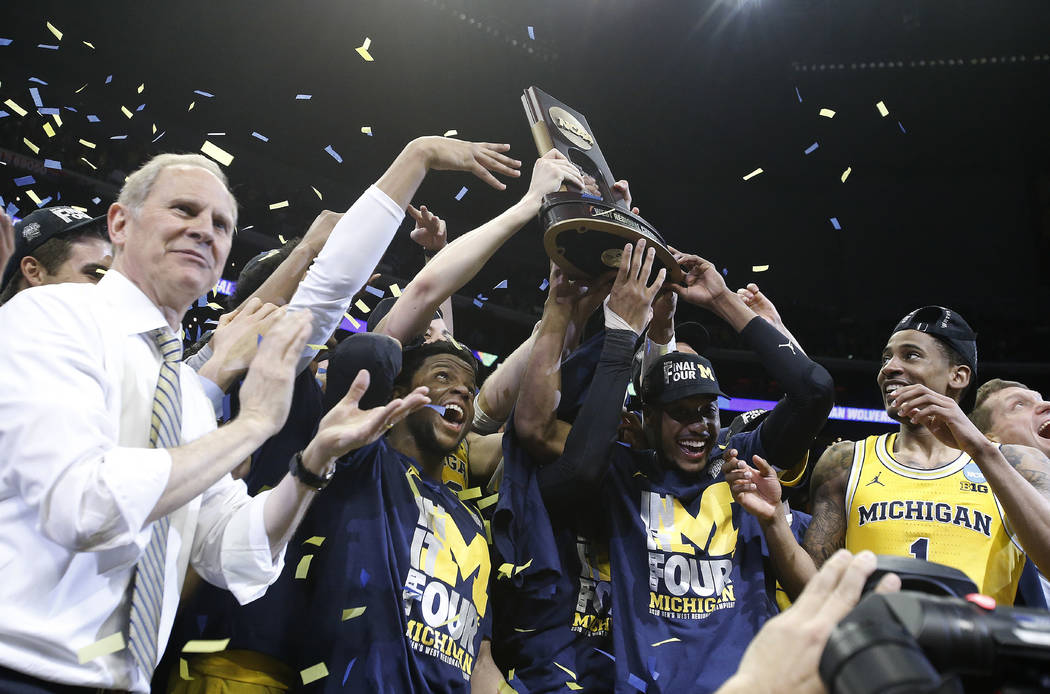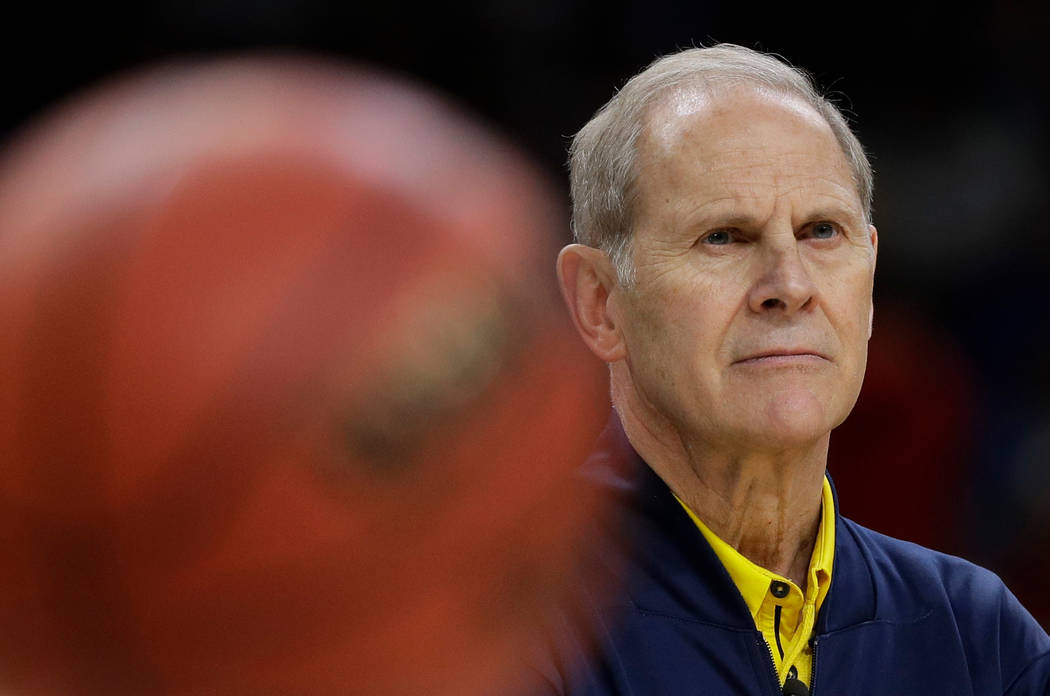 SAN ANTONIO — Duncan Robinson was a Division III basketball player at Williams College in the mountains of northwestern Massachusetts, talented enough as a freshman that he led the Ephs to a national championship game in 2013-14.
He was an All-American whose skill was at a higher level than that which he competed, so he did what every, um, no, player could in such a scenario: He transferred to Michigan, to the Big Ten and all its Power 5 glory, to the maize and blue, where he began to learn under the attentive eye of John Beilein.
Who liked what he saw on some tape and heard enough recommendations to give the kid a chance.
"When you come in, every newcomer goes through the same first month or so," Robinson said. "It's like, 'What are we doing? Why are we doing this?' You're out there doing the most fundamental drills you can imagine. And then you get into a season and you're not turning the ball over and it's all working.
"It's just how he does it. I don't think he's going to stop now, and I don't see why he would."
The basic principles of which Robinson speaks — jump stops, shot fakes, dribbling, shooting form, boxing out, passing angles, getting to the midline — are held as precious by Beilein now as when he was a 22-year-old high school coach in Newfane, New York, in 1975 with an annual salary of $12,000.
It just takes Michigan players a while to understand why they're running some of the same drills they did in grade school.
What such uniformity has done is produce one of the more successful college head-coaching resumes. And if you were to begin a list of the best active names who haven't yet won a national championship, you wouldn't write many — perhaps any — before coming to Beilein.
Lon Kruger would come to mind.
So would Tony Bennett and Bob Huggins and Mark Few and Sean Miller.
Beilein, 65, will be presented a second chance at removing himself from such company when the Wolverines meet the country's best and hottest team in Villanova on Monday night at the Alamodome, a national final few believe Michigan can win if the Wildcats continue what has been a ridiculously torrid offensive pace the past three weeks.
Michigan also advanced to the final under Beilein in 2013, losing to Louisville 82-76. That title by the Cardinals was vacated due to an NCAA scandal, and yet Beilein reiterated Sunday he never once believed Michigan should inherit it.
"We didn't win that one," he said. "It was fair and square. They didn't have six guys on the court. We lost. They won.
"I can honestly say I wouldn't look at (his career) differently if (Michigan wins Monday). I really wouldn't. Others may. You just hang in there and do the absolute best you can every day. Be the best coach, the best mentor, the best husband, the best father, the best grandfather every day. And then do it again. That's all I want to be."
Gets more out of less
He's also this: A guy who is one win shy of 800 as a college coach, who has made the NCAA field a combined 10 times with West Virginia and Michigan, who was just as respected at places like Erie Community College and Division III Nazareth and Division II Le Moyne and Canisius and Richmond as he is now.
He has most always succeeded with less talent and no one has won more at a higher level with under-radar recruits. He doesn't amass skill. He builds teams. He projects a player's future as much as he recruits the present.
He's not too stubborn or prideful that he won't adapt. His offense remains complex, and yet nobody is better at making sure the right guys get the right shots in the right places.
And yet all of it hasn't produced the one thing he swears isn't as important to him as it seems to be everyone else.
"There hasn't been a specific conversation about us wanting to win (a national championship) for him, but I guarantee everyone does," Robinson said. "I know, for myself, given the chance he took on me and the opportunity he gave me to come to Michigan, it would be the ultimate way for me to repay him as a senior.
"I can't imagine there is any other coach out there who works harder, prepares more, puts more into this."
I can't imagine there are many who run the same basic drills over and over.
All it has done for John Beilein, one of the best active coaches to have never won it all, is again deliver him to history's doorstep.
Contact columnist Ed Graney at egraney@reviewjournal.com or 702-383-4618. He can be heard on "The Press Box," ESPN Radio 100.9 FM and 1100 AM, from 11 a.m. to 2 p.m. Monday through Friday. Follow
@edgraney on Twitter.