Most deserving of Golden Knights snubbed as NHL All-Stars
January 10, 2018 - 6:55 pm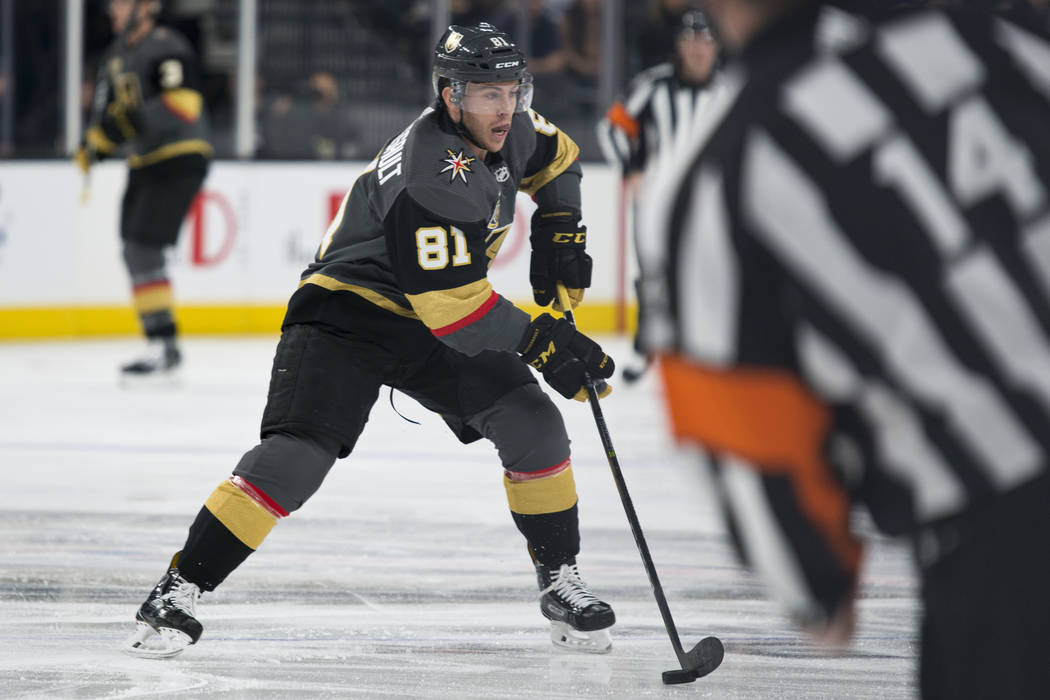 I'm not sure how serious any professional sports All-Star game should be taken, much less one that throughout its history has changed formats more than Apple does products.
There was a time when the NHL offered a Wales vs. Campbell game, which was either the names of conferences or a way to set up who would battle the eventual survivor between Houses Lannister and Targaryen.
But what we have now from hockey's midseason gala — a minitournament between four divisions that offers 20-minute 3-on-3 games and awards $1 million to the eventual winning side — is the best and most exciting option.
Which doesn't mean the most deserving players are always selected.
Eleven names were announced Wednesday as to who will represent the Pacific Division at this year's game in Tampa on Jan. 28, and among those chosen were two from the Golden Knights, a justified representation given Vegas leads the Western Conference with 60 points.
They just weren't the right two.
James Neal and Marc-Andre Fleury will be at Amalie Arena trying to help the Pacific claim and split that pot of gold among its players, and there are All-Star cases to be made for both.
But not as strong as those for William Karlsson and Jonathan Marchessault.
A few things: Eleven is a small number when you are choosing from eight Pacific teams and rules stipulate each one must be represented. There also has to be two goalies. You get to 11 really fast.
But while fans vote on each division's captain — Connor McDavid of Edmonton was an easier choice in the Pacific than the Knights as the league's biggest surprise — those on the NHL's operations staff choose the remainder of each roster.
I would hope those folks do their homework and watch film and ask questions and study statistics. I don't believe the selection of Neal and Fleury over Karlsson and Marchessault had anything to do with name recognition. The team has written an amazing story thus far, but as long as the All-Star game includes players like McDavid and Sidney Crosby and Auston Matthews and Alex Ovechkin, people across the globe who want to watch will.
The majority are not watching for anyone from Vegas.
Here is how I would have rated the most deserving of Knights:
1. Karlsson. He should have made it and is among the biggest All-Star snubs. He ranks fifth among league players with 22 goals and is second on the team with 36 points. The guy's career-best before this season was nine goals. Come on.
2. Marchessault. He leads the Western Conference's top team in points with 40 — 16 goals, 24 assists — and while he's a lot wealthier than when the season began, I'm not sure his overall game is as respected as it should be.
3. Neal. He was blazing hot to start with seven goals in October, but hasn't been overwhelming the last few months. His is a legitimate All-Star case … if the roster was 15.
4. Fleury. The most interesting of Vegas names. I get his selection. He is playing as well as any goalie in the NHL right now, every bit a three-time Stanley Cup champion. Lights out. But he also missed two months and 25 games with a concussion and — here's the most important part — the Knights still won big without him. They never slowed down, despite seemingly playing everyone in net except Review-Journal beat writer Steve Carp, and he was a defenseman in college.
Look, you can make arguments for all the Knights above and also names like David Perron and Nate Schmidt.
But, well, 11 off eight teams is 11 off eight teams. Tough roster to make.
I don't have an issue with the Kings being the only Western Conference team with three All-Stars — Jonathan Quick is one of the Pacific's top two goalies, Drew Doughty could win the Norris Trophy this year for best defenseman and Anze Kopitar is among the league leaders at center.
I do think Anaheim's representative should have been goalie John Gibson, who has played with a team ravaged by injuries in front of him, over winger/center Rickard Rakell.
That could have opened up a spot for Karlsson or Marchessault.
Who were, without question, the most deserving of Knights.
More Golden Knights: Follow all of our Golden Knights coverage online at reviewjournal.com/GoldenKnights and @HockeyinVegas on Twitter.
Contact columnist Ed Graney at egraney@reviewjournal.com or 702-383-4618. He can be heard on "The Press Box," ESPN Radio 100.9 FM and 1100 AM, from 11 a.m. to 2 p.m. Monday through Friday. Follow @edgraney on Twitter.