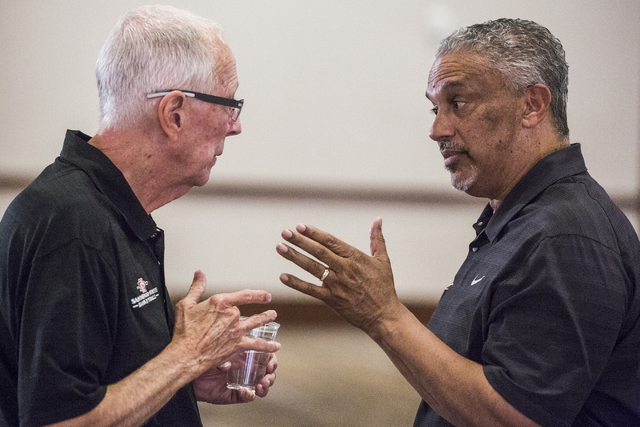 Marvin Menzies remembers another time, back when Viejas Arena was known as Cox Arena at Aztec Bowl, when 12,414 seats were mostly empty, when instead of expecting to win championships and hang banners, the home basketball team considered it a victory not to be out of games by halftime.
"Back then, Cher was a lot better draw to that arena than the Aztecs," Menzies said.
He reflects now on the program at which he became an assistant in 1999, when Steve Fisher was named coach at San Diego State.
He reflects as the leader of a UNLV program that, more than any other one, has developed a rivalry with the Aztecs that helped the Mountain West place itself among the better non-Power 5 leagues for basketball in the past decade.
But that reality has taken a serious hit the past few years, the current one in particular, and part of the reason is where two of its most celebrated programs sit this season.
Simply, the Mountain West needs UNLV and San Diego State to be good, and that's not the case right now for two of the three teams that have the most conference wins since the league was founded in July 1999.
The Aztecs have 166 league victories; UNLV and New Mexico are next with 161 apiece.
The Rebels and Aztecs meet Sunday afternoon in San Diego, where last-place UNLV arrives with a six-game losing streak and San Diego State enters in fifth place, lacking any reasonable chance of winning a fourth straight regular-season title. The Aztecs were favored to do so in overwhelming fashion by a preseason poll.
The state of both teams this season — UNLV is in a major rebuilding mode after Menzies was hired in April and inherited only three returning players, and San Diego State is seriously underachieving while coming off a 28-win season — coincides with the conference being at its lowest point in history.
The league is headed toward a second straight NCAA field with just the conference tournament champion being extended an invitation, a trend that is believed could become more commonplace.
Three years ago, the conference was rated No. 1 nationally, according to RPI (Ratings Percentage Index), and had five teams make the NCAA Tournament.
From the 2010 to 2015 seasons, the Mountain West had among its NCAA seeds a 2, three 3s, a 4 and a 5.
Last year, Fresno State was the lone bid as a 14.
Whichever of 11 teams ultimately secures this season's berth in March, it probably will range from a 13 to 15 seed.
That's not tumbling down some neighborhood hill.
That's free-falling off El Capitan at Yosemite.
"I hope it's a blip on the screen, but I fear that it might not be," CBS Sports college basketball analyst Gary Parrish said. "Talk to anyone in college athletics — the gap between the haves and have nots is growing all the time. It's not getting smaller. There is just so much more money in the Powers 5s, and it has a real intangible effect on basketball. That's the long-term problem for the Mountain West.
"The short-term problem is that the programs that are historically good aren't good right now, with UNLV being the most obvious. But also San Diego State and New Mexico. You look around that league and you say, 'You need UNLV to be relevant. You need San Diego State to be good. You need New Mexico to be good.' And the fact they aren't right now is a big, big problem for that league."
So while Menzies spends the next few years trying to recruit the Rebels back into a contender's role and San Diego State tries to figure out how a team that received 23 of 27 first-place votes in that preseason poll is 15-10 overall and 7-6 in conference, a mostly healthy rivalry attempts to avoid a defibrillator to maintain its intensity.
It has until now sparked countless jabs, some entertaining and creative, some not, between student sections, programs in UNLV and San Diego State that recruit against each other and still exist for Menzies close ties to the Aztecs that date to those days when Cher was more of a draw than the home team.
"Obviously, given how successful both programs have been over time, it's a benefit for the conference nationally when UNLV and San Diego State perform well," Menzies said. "No question, I want us to the point where we are competing with those guys for championships. Whether it's against good friends like they are or people you don't know and have no relationship with, that's a major reason we are in this profession — to win.
"It has been proven in the past that both teams being good is good for business."
The conference needs it.
One of many things.
Contact columnist Ed Graney at egraney@reviewjournal.com or 702-383-4618. He can be a heard on "Seat and Ed" on Fox Sports 1340 from 2 p.m. to 4 p.m. Monday through Friday. Follow @edgraney on Twitter.