MVP award validates Nationals' Bryce Harper
November 20, 2015 - 9:49 am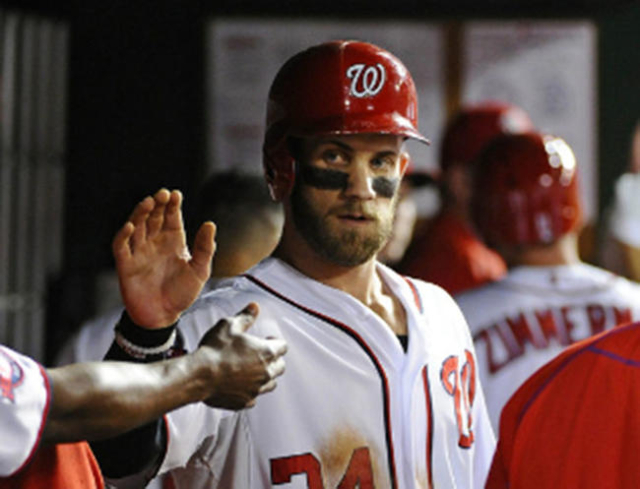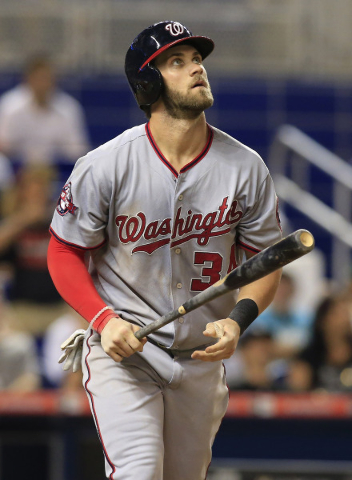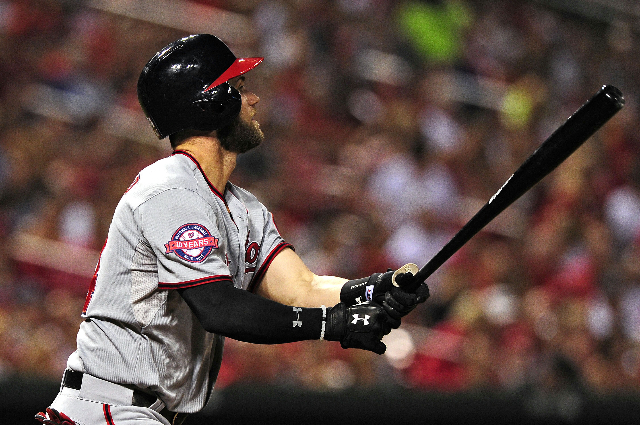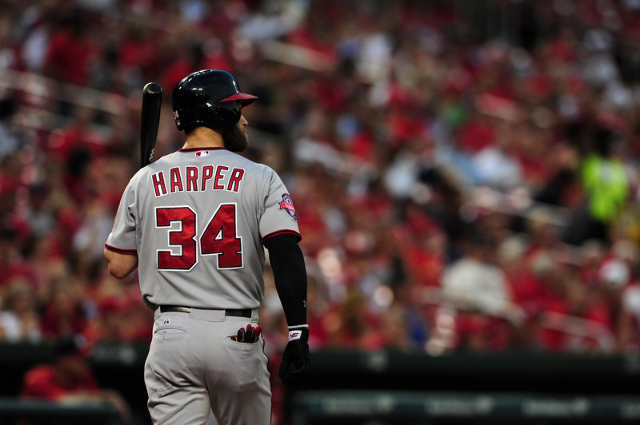 You could close your eyes and know by the sound of ball hitting bat.
You knew who was swinging. You knew it was him.
Rob Miech remembers those times, remembers sitting in a dugout at College of Southern Nevada during the 2010 baseball season and watching batting practice balls that were launched well beyond the right-center field fence land atop the tin roof of the school's bookstore, thinking those inside must have thought a hail storm had descended upon campus.
Nine straight home runs. Then 10 and 11 and 12 and 13.
People stopped to watch daily.
They had followed the sound.
"So many around that team saw this coming," Miech said. "They were damn certain of it, about what he was going to become. The scary thing is, we are just starting to see what he could be. He is still so young. He will be a monster in the game for the foreseeable future."
Miech is a local author who spent an entire season chronicling that CSN team and its star player, Bryce Harper, a journey that was told in "The Last Natural," the tale of a Las Vegas native who eventually would be the No. 1 pick in the Major League Baseball draft and sign the largest bonus ($9.9 million) for a first-year position player in history.
Greatness has been attached to Harper since he first hacked at a fastball from the left side, the expectation that one day he would be considered the game's best.
He is now.
Harper is the youngest unanimous Most Valuable Player in baseball history and just the seventh from any National League team, having earned all 30 first-place votes from the Baseball Writers' Association of America in balloting announced Thursday.
He is only 23 and yet in his fourth season with the Washington Nationals, Harper became the second player ever in his league to finish in the top two for average (.330), home runs (42), runs (118) and walks (124) in a season.
The other guy: Rogers Hornsby.
"I am very humbled by this honor, very blessed," Harper said. "Going into this season, all I wanted to do was stay healthy and be on the field every day. I just try to play the game the right way and respect my team and my organization. You grow up as a kid in the backyard dreaming of things like winning a World Series and being named MVP.
"Nevada is a great state and being able to share this with Las Vegas and the fans in D.C., as well, I can't tell you how thankful I am."
It was been a historic week for baseball stars produced in Las Vegas, given Harper's award was preceded Monday by former Bonanza High standout Kris Bryant of the Cubs being unanimously chosen as National League Rookie of the Year.
How amazing is Harper's ascent? He is nine months younger than Bryant.
Hype is a difficult thing to manage and ultimately prove correct, so when Harper was introduced to the world as a 16-year old phenom from Las Vegas High on the cover of Sports Illustrated, labeled as the most exciting prodigy since LeBron James, swinging a bat with the desert mountains serving as his playground in a piece entitled, "Baseball's Chosen One," it was normal to respond skeptically.
But even as his decision to depart high school following his sophomore year and enroll at CSN once passing his GED test was dissected and widely criticized, Harper never wavered from the path he believed would deliver him to this moment. Even when he was called arrogant and brash, when he was accused of playing reckless one day and not hard enough the next. Many thought him a bust during his early days in the bigs, defining a preposterous and yet truthful gauge of expectations that were placed on his shoulders.
But for the first time since arriving in the majors, he was able to play in 150-plus games last season, injuries having shortened the previous two to a combined 218.
The results silenced critics.
Every. Last. One.
"I think people who know me understand I don't really listen to what fans or others might say or think," Harper said. "I don't care about competing or (being compared) to other guys. It has always been about, 'What have you done for me lately?' I have heard that since I was young. But I knew that I could do these things if I just stayed healthy.
"I can always get better. I'm going to enjoy this award with my family and teammates and then know that tomorrow a new year is coming. It's almost here. All I want to do is win a World Series and be the best I can be."
He talked a lot about winning Thursday, about what the Nationals mean to him and how badly he wants to help deliver them a championship. It shouldn't surprise those closest to him, and doesn't surprise a certain author who sat in a dugout at CSN back in 2010 and put on blinders during batting practice, waiting for a certain sound to emanate from a left-handed swing that brought hail storms to the roof of the bookstore.
"The conundrum of any great athlete is to be convinced you're better than the next guy," Miech said. "(Harper) has that type of ego. But it's also what makes him so good. Even when he fails, inside his skull he is burning to get better and prove he is the best. This is just the tip of the iceberg when it comes to how good he can be.
"Individual awards are great, but they are inconsequential to someone like him. I am sure he has a fire deep in his belly to win it all. He has always been about team results. Winning matters to him more than anything."
Baseball's Chosen One has a new moniker.
MVP.
Hype has been replaced with reality.
— Ed Graney can be reached at egraney@reviewjournal.com or 702-383-4618. He can be heard on "Seat and Ed" on Fox Sports 1340 from 2 p.m. to 4 p.m. Monday through Friday. Follow him: @edgraney