NCAA drops hypocritical ways in opening championships to Las Vegas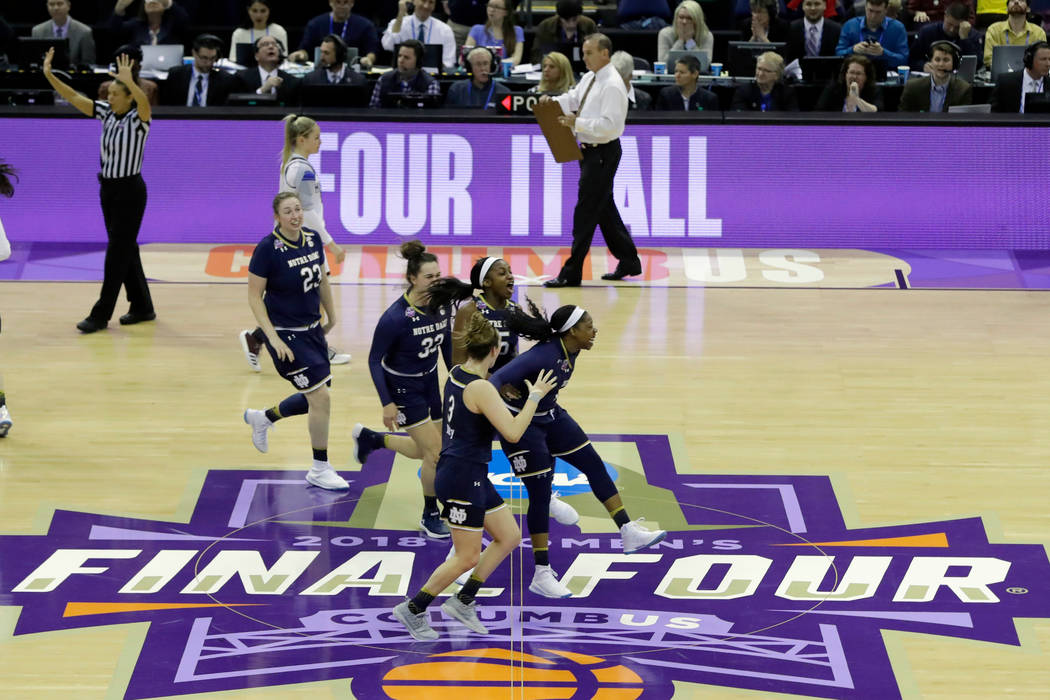 It was Monday when the Supreme Court struck down a law largely banning sports betting as unconstitutional, clearing the way for states to legalize it.
It was Monday, then, that the highest federal court of the United States saved the NCAA from its own hypocrisy.
When it comes to the practice of claiming to have moral standards or beliefs to which one's own behavior does not conform, the organization that regulates athletes from thousands of institutions and conferences sure played a leading role until now.
I mean, it was poster child for insincerity when explaining its stance as it happily watched television ratings soar and revenues balloon from events such as the NCAA Tournament, on which so much is wagered globally.
Take the ability to bet on March Madness away from the equation, and it's just another basketball tournament, a bug on the windshield of sporting events.
But the ruling this week — the court voted 6-3 in favor to strike down the Professional and Amateur Sports Protection Act of 1992 — caused the NCAA to act swiftly by removing its outdated blinders in regard to staging championship competition in states that offer sports gaming.
Which, of course, means Nevada.
Which, of course, means mostly Las Vegas.
The company line is that the NCAA has temporarily lifted such a statute, although when the Board of Governors ultimately convene in an official capacity, you have to believe this will become a permanent decision.
Even a group of university presidents can't continue messing this up, although don't get me started on how short-sighted it was in 1989 for John and James Knight to identify those in such a position as best to run college athletics.
One of the all-time blunders.
That the NCAA for so long kept its championship events away from Las Vegas on the basis of sports gaming and its potential for nefarious acts staining its amateur standing — insert laugh track now — was foolish along the lines of the NFL snubbing its nose at the town for similar reasons, sans the so-called amateurs.
But then the Raiders landed a stadium deal and convinced league owners how profitable such a relocation move would be to their pockets and — poof! — here comes the nation's most popular and powerful league to Southern Nevada.
Even if the ruling forced the NCAA's hand on this, it was left with no alternative given what dominoes might next fall in terms of specific states taking bets.
Think about it: The College World Series has been held in Omaha, Nebraska, since 1950, and the town and NCAA announced a 25-year extension in 2009.
What if Nebraska — one of the first states to legalize gambling on horse racing — in time adopts a hunger to add and regulate all sports? Do you really believe the NCAA would then remove its event from such a loyal and long-standing partner such as Omaha, which counts its annual economic impact at around $70 million over the tournament's 12 days?
Bids will open for new cycles and, all of a sudden, Las Vegas will now be in play for things like the Final Four and Frozen Four and wrestling and volleyball and gymnastics and golf regional and championships.
You can't overstate how large a moment this is for the town and state.
"Even (NCAA president) Mark Emmert talked about it before that there were some things that probably appeared — and I'm being nice with how I say it — that to the outside world would be hypocritical," said Jim Livengood, former athletic director at UNLV who led the charge in trying to convince the NCAA to change its ways in this area. "This was certainly one of them.
"At some point, it just seemed to make sense that because this is so regulated in Nevada, that part of it with (the NCAA) was not only hypocritical, bit also a tad bit archaic in they way we were thinking."
Victory, then, has arrived for Las Vegas, as those who run college athletics had no choice but to join the party.
They're late to the table, but just watch how broad those smiles are when the new NFL stadium hosts its first Final Four.
Dollar signs tend to make for happy suits.
Contact columnist Ed Graney at egraney@reviewjournal.com or 702-383-4618. He can be heard on "The Press Box," ESPN Radio 100.9 FM and 1100 AM, from 11 a.m. to 2 p.m. Monday through Friday. Follow @edgraney on Twitter.