New defensive coordinator brings NFL clout, family ties to UNLV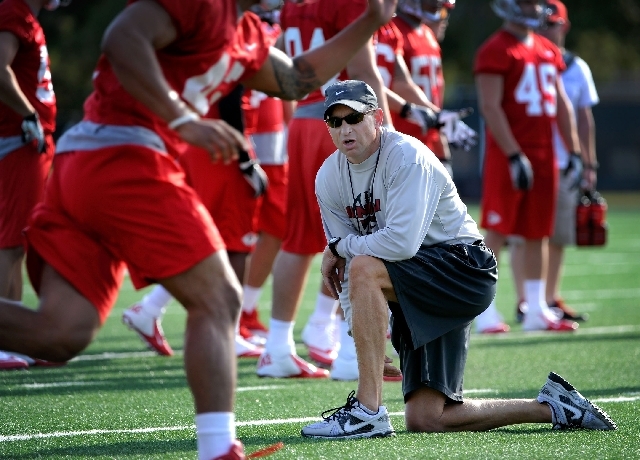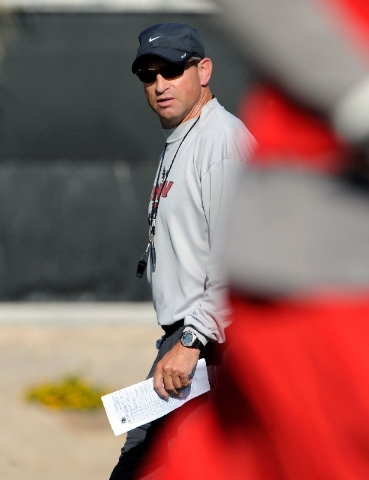 Tim Hauck watched from afar, across time zones, wincing with most results. Saw the scores. Knew the record. Felt for his older brother.
He has seen the system work first-hand, knew what Bobby Hauck was teaching as UNLV's head football coach has been proven successful time and again elsewhere, believes it could be so in Las Vegas.
"I'm not jumping on any tables," Tim Hauck said. "There have been three straight two-win seasons and the defenses here haven't been good for 30 years. It's a win-loss business. Those outside the program don't see all that happens inside, only what happens on Saturday. That's understandable. That's sports. You win or lose. We have to win games.
"But this is going to get done here. I think people in the know realize Bobby is an extremely good coach and extremely smart. He knows his system works. And in the end, if it doesn't, he can look back and say, 'This one is on me. It didn't work this time.' But we know it works and I believe the kids know it works. I kept calling him the (last three years) saying, 'Stay the course. You will build this thing and you will do it the right way.'"
Bobby Hauck might be need of winning a specific number of games during his fourth season at UNLV to be granted a fifth, but the toughest job ensuring that happens just might belong to one of the newest members of his staff. He knows the guy pretty well, too.
Tim Hauck is 46 and 2½ years younger than his brother, but arrives at UNLV with the sort of experience and clout that immediately earns the respect of those college players he will now instruct as the team's defensive coordinator.
On paper, it's not a good hire. It's a terrific one.
Kids are predictable this way. They all want to go where Tim Hauck has been, a 13-year NFL veteran at defensive back who played for the 49ers, Eagles, Colts, Seahawks, Broncos and Packers.
Garage sales at his house must be the bomb.
He will immediately command players' respect and focus, the latter of which is significant when you consider where UNLV's defense has been for what seems like forever, scratching its collective heads while standing in the other team's end zone.
They are video game numbers, those poured on the Rebels over the years by opposing offenses. UNLV allowed averages of 32.6 points and 445.2 yards last season, and that was with improved tackling. The Rebels have had a serious issue under the current staff defending the pass.
Issue being, they've hardly done it.
It could change now under the direction of a coordinator who both played and coached in the NFL (Tim Hauck has held assistant roles with the Titans and Browns), of someone who has been there, done that at the game's highest level. That's the hope, at least, of the man who hired him.
"Guys who get done playing aren't necessarily refined as coaches right away," Bobby Hauck said. "But (Tim) grew up in a coach's house (late father Robert Sr. coached prep football in Montana for three decades) and was always pretty much a coach on the field as a player. He jumped into coaching pretty fast and has since increased his ability and knowledge at different levels. He's far ahead of the normal guy who is done playing and becomes a coach. I'm hoping he has a great year.
"I didn't think we'd be able to get him because he had some other (NFL) opportunities. He knows what he's doing. Now, the proof is in the pudding. We have to produce. But if he wasn't the best guy for the job and capable of getting us somewhere (on defense), someone else would be sitting in his chair."
The brothers also coached together on Bobby Hauck's staff at Montana from 2004-07, after which Tim went to UCLA for a year before returning to an NFL sideline coaching defensive backs and safeties in Tennessee and Cleveland.
But he remembers those times in Missoula, when big brother's teams set a standard for excellence at the Football Championship Subdivision level and won 43 games in the four seasons they spent together coaching.
Yes. He has seen the system work.
"We just need to get the players in a frame of mind of thinking winning and not a, 'Here we go again, type of deal,'" Tim Hauck said. "I believe they will. They believe it. A lot of football is about the mental side of things. These guys have worked hard and matured and have some experience now, all the things that will help the get to that next level."
Las Vegas Review-Journal sports columnist Ed Graney can be reached at egraney@reviewjournal.com or 702-383-4618. He can be heard from 11 a.m. to 2 p.m. Monday through Friday on "Gridlock," ESPN 1100 and 98.9 FM. Follow him on Twitter: @edgraney.