NFL owners' perception of gambling in Las Vegas appears to be changing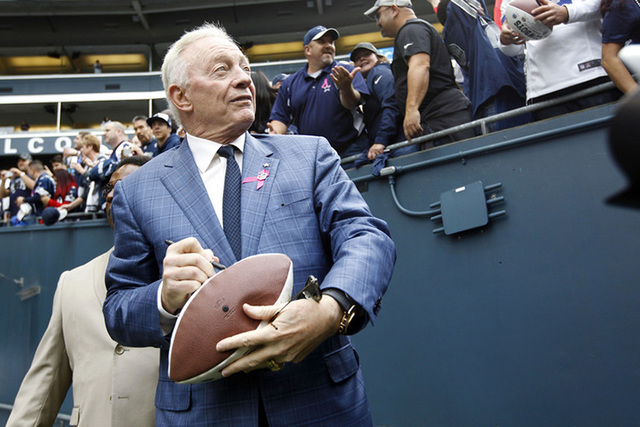 The tea leaves haven't sat in the bottom of a cup long enough to properly read them, and I'm not sure our esteemed mayor is finished making the rounds on sports talk radio shows from one coast to the next, so you would be smart not to write those checks for NFL season tickets just yet.
Critical details still must be finalized, like whether the Southern Nevada Tourism Infrastructure Committee will recommend the Nevada Legislature approve public funding for a domed stadium. And the proposed private/public funding split for the Las Vegas Sands/Majestic Realty project is going to change because they most always do in these matters to ensure compromise. But one longstanding barrier appears to be breaking.
The message is fairly obvious: Some across the league are rightly moving away from one of the NFL's more hypocritical opinions — which is a pretty sizable list.
Love or hate the team Jerry Jones micromanages to death — because there is no middle ground when debating the Dallas Cowboys — the billionaire from Texas holds as influential a voice as any of 32 NFL owners when it's time to vote on league matters.
So when he, and later Atlanta Falcons owner Arthur Blank, seem to diminish the issue of sports gambling as it pertains to the Raiders or any other team relocating to Las Vegas, you get the sense an old-guard pretense might be overpowered by a new-guard hunger to make more money.
It grew tired and boring some time ago, the NFL continuing to brazenly champion an anti-gambling stance as essential to preserving the integrity of competition when the league knows a profit margin that handsomely lines the pockets of owners is directly linked to those who wager on games and play fantasy football.
As much as someone like Blank raises a far more legitimate concern about bringing an NFL team to Las Vegas — simply, could the city sustain and support a franchise over time? — the idea that more and more powerful types are no longer using gambling as the deal-breaker is good news beyond whether a stadium is built or not.
It's a viewpoint that finally should open eyes at the NCAA, which has long prevented the staging of championships in Las Vegas, a stance that appears on the verge of changing.
There isn't a suit in this whole Raiders-to-Las Vegas storyline without an angle to play, and most of them deal with the rich looking for ways to get richer. Owners like Jones and Blank and assuredly others view Las Vegas as one of those untapped markets with potentially endless dollars signs.
Jones has the juice to convince others his way is best (see how the whole Rams-Chargers-Raiders trifecta played out in Los Angeles), which might be the reason one report recently suggested the chances of gaining the needed 24 owner votes to relocate a team to Las Vegas could stand as high as 75 percent.
"For me, I think that certainly the fact that Las Vegas has a gambling aspect to it is far overshadowed by the entertainment value, if you will, family appeal, that you have, the convention appeal," Jones said recently. "So (the gambling aspect) does not have disfavor with me, in my opinion, relative to being an NFL city."
It's far more than a sidebar to a main package, the idea that the gambling aspect finally might be seen for what it is when it comes to the NFL broadening its judgment of Las Vegas. It's also true that financing for the proposed stadium, specifically what kind of hit tourists should indirectly assume for such a venture via a hotel tax or another levy, must be examined and debated even more as to its fiscal responsibility.
There also is the point about Jones never mentioning Mark Davis of the Raiders by name when saying Las Vegas could work as an NFL market with the "right owner." Several reports have suggested Jones has wanted Davis to sell the Raiders for years, hoping a new name and fresh ideas (are you listening, Fertitta family?) would better grow potential revenue streams for the league.
So while the gambling aspect remains just one of several components to the entire ordeal — perhaps on her next radio spot, Mayor Carolyn Goodman can follow her suggestion of the Raiders or Chargers coming to Las Vegas with the Cowboys and Patriots, just for giggles' sake — it has always been the major hurdle in the eyes of those would ultimately cast relocation votes.
And that one longstanding impediment appears to be shrinking.
That's good news for Las Vegas.
Blank is correct. The microscope should move off gambling and instead be pointed at sustainability.
Which is where it should have been aimed all along.
The Review-Journal is owned by the family of Las Vegas Sands Chairman and CEO Sheldon Adelson.
Ed Graney can be reached at egraney@reviewjournal.com or 702-383-4618. He can be a heard on "Seat and Ed" on Fox Sports 1340 from 2 p.m. to 4 p.m. Monday through Friday. On Twitter: @edgraney
RELATED
Mayor Carolyn Goodman convinced Las Vegas can get NFL team
Raiders pledge move to Las Vegas, but potential stadium site far from settled
Las Vegas Sands proposes $1B domed stadium; Adelson to meet with Raiders owner
Goodell, NFL might be warming up to gambling