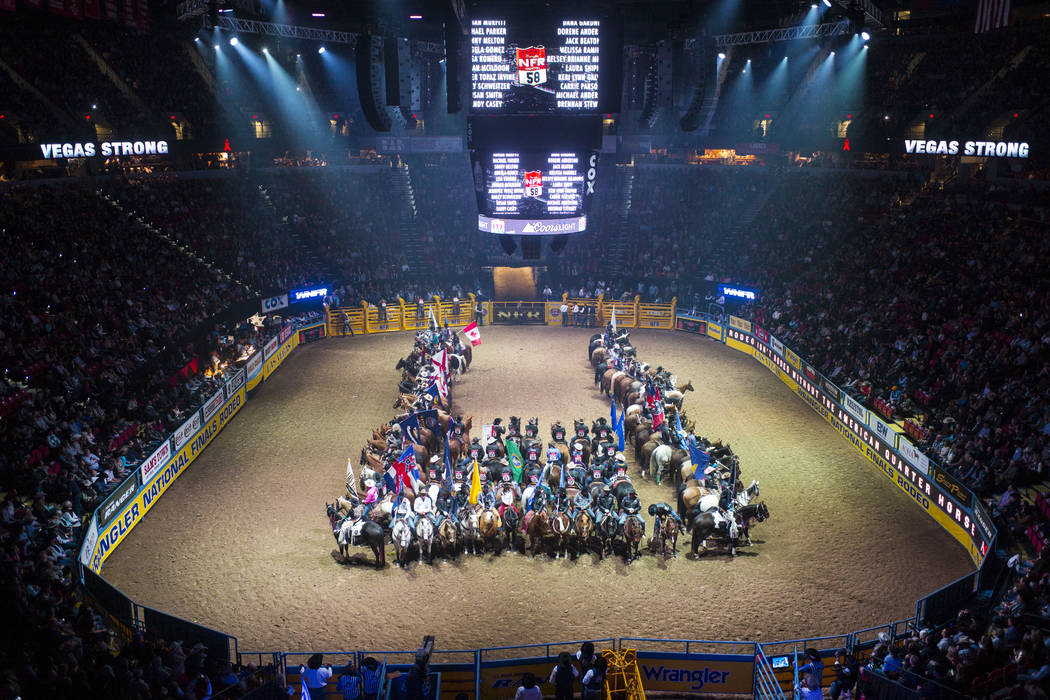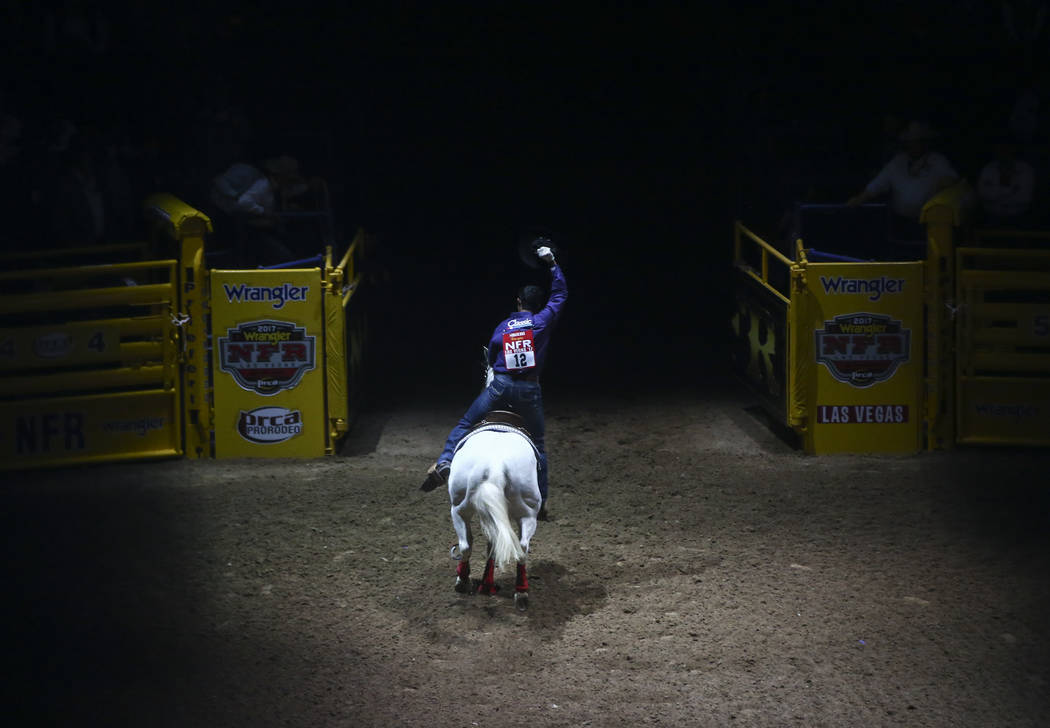 It has many interpretations, from nonverbal greetings to expressions of recognition and gratitude.
It's what a cowboy often does when introduced to a female, or what you might see when he enters a social gathering.
When it comes to how another National Finals Rodeo began its annual 10-day stay Thursday at the Thomas &Mack Center, the tipping of a hat brought a whole other meaning.
One of remembrance.
One of respect.
The NFR arrived in Las Vegas for the first time since the mass shooting at the Route 91 Harvest festival, which left 58 dead and 546 injured.
And as those competing cowboys and cowgirls sat on their horses, again introduced by the countries and states they represent, the names of those 58 scrolled slowly across a scoreboard screen high above.
And hats were tipped all across the arena floor.
"Las Vegas is truly a part of our rodeo family," the announcer said. "We offer our deepest sympathies to the victims, their family and friends, and all those who suffered so horribly."
There's a reason those at the NFR felt so strongly about honoring the slain.
There is some serious history to all of this.
Cowboys and country music have been fused one way or another since those who settled in the West wrote songs about open ranges and prairies, sang around campfires in the 19th century, usually accompanied by the distinctive tone of a harmonica.
It makes sense that the reflections of a musician and rodeo cowboy, both rarely at home, merely existing from town to town, are so alike.
Even one of the more famous rodeo sayings — pain is guaranteed; suffering is up to you — sounds like the next Taylor Swift song about some romantic breakup.
The mass murder of Oct. 1 would have been a devastating and horrific scene no matter the event or group of innocent lives it so cruelly took and affected, but that it occurred at a country music festival was hardly lost on those who have lived and understood the deep attachment between such sounds and the folks who love them.
Don Cusic is one, a music historian and professor at Belmont University in Nashville, Tennessee, the author of "The Cowboy in Country Music" and more than 20 other books, including ones on Johnny Cash, Elvis Presley and Gene Autry.
Cusic talks of a time when country music was the first real positive image of a cowboy, those who righted wrongs and brought the cattle home safe and represented a sense of freedom while embracing the outdoors.
He also knew upon hearing about the Las Vegas shooting how history would define it as an incredibly poignant moment, not only for its savage reality but also for the vision of those who love country music helping one another as bullets rained down upon them.
"At first, after seeing the news about it, I just felt numb," Cusic said from his office at Belmont. "And then it hit me that, of course, this would happen.
"The irony of it was obvious — there is a direct connection to country music and cowboys and guns, and most, but not all, wholly support the NRA and its interpretation of the Second Amendment.
"But the country music community is all about loyalty and family and having each other's backs. This is especially true in such times of tragedy. They believe if you're one of us, you're one of us. It's not surprising at all that so many people there would look first to help others."
There are two kinds of cowboys now, the one who still works the ranch and tries his darnedest to hold onto the past, who lives a rural lifestyle and maybe spends some time rodeoing, who feels threatened and boxed in by the size and siege mentality of a big city.
Then there is the show business cowboy, who wears the hat and boots and might be a singer or actor, who dresses the part more as an extension of the image for entertainment purposes.
You had both kinds at the NFR on Thursday, and that will continue over the next nine days as Las Vegas again hosts countless music events in and around the main reason so many flock here each December.
George Strait has sung about it for years, about the sun being high in a Texas sky, about breaking a leg in Santa Fe and losing a wife and girlfriend along the way, about lookin' for an 8 when they pull that gate and having Amarillo on the mind, about a cowboy's love for rodeo, no matter the odds or risks or what the journey might take from him.
Country music and cowboys have been joined at the buckle forever.
It made sense, then, that the NFR as part of another opening ceremonies paid respect to one of the darkest times this city has known.
Before riding off and into the bright lights of another NFR, cowboys and cowgirls tipped their caps to these words blaring throughout the arena … "We remain Vegas Strong!"
Contact columnist Ed Graney at egraney@reviewjournal.com or 702-383-4618. He can be heard on "The Press Box," ESPN Radio 100.9 FM and 1100 AM, from 11 a.m. to 2 p.m. Monday through Friday. Follow @edgraney on Twitter.