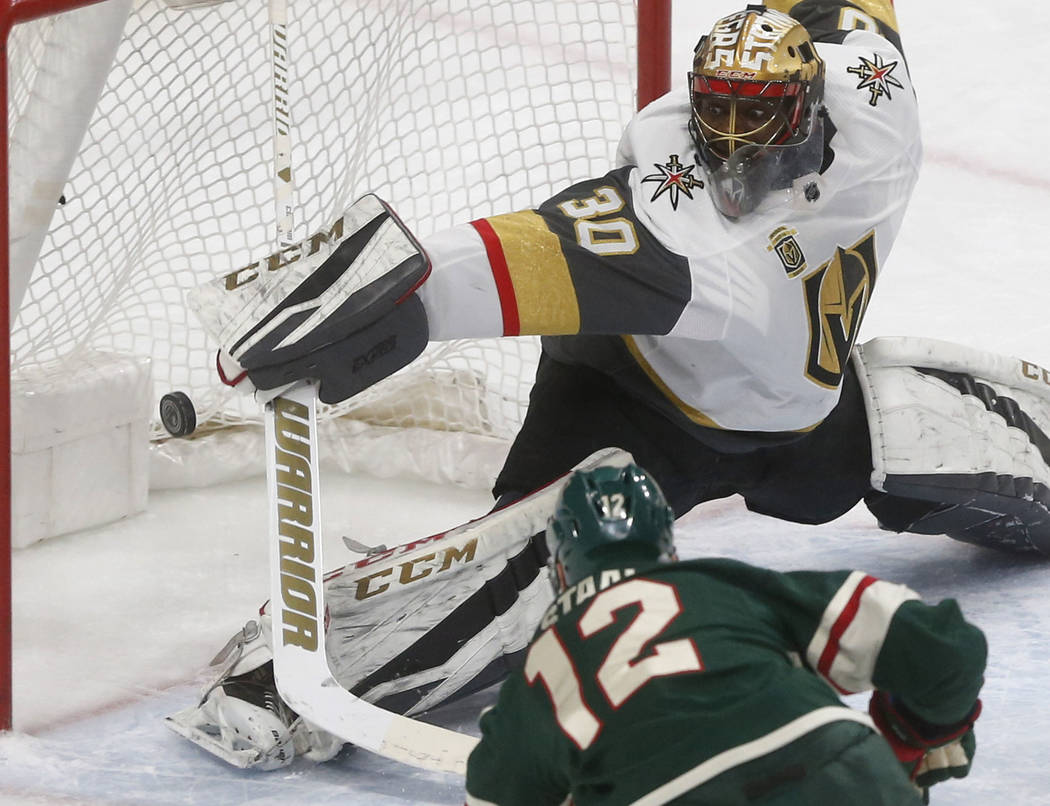 There were 18,014 in attendance Wednesday night at T-Mobile Arena, where the Golden Knights routed Pacific Division foe Calgary 7-3 to reclaim the NHL lead in points with 84.
And within such a crowd, among all those screaming and dancing and euphoric hockey fans, existed a percentage of folks with the same prejudicial thoughts that cost some their seats in Chicago this week.
You might not have heard them or known them Wednesday, but they were there.
Numbers bear it out. It's just that way.
The league promotes February as Hockey for Everyone Month, a way to drive positive social change and encourage inclusive communities, a time for encouraging groups to embrace the game regardless of race or color or gender or sexual orientation or socioeconomic status.
It's hockey's way of stating all levels of the sport should develop such ideals.
How ironic, then, this happened Monday: The Blackhawks banned a few fans from team home games after their involvement in directing racist chants at Capitals forward Devante Smith-Pelly during a game Saturday.
Smith-Pelly was serving a five-minute major for fighting when, according to the Washington Post, a fan next to the box was chanting, "Basketball, basketball, basketball," toward Smith-Pelly, who is black.
I'm not writing 800 words on race relations in this country, about whether or not public views on such things have improved markedly in recent years.
Political lines will be drawn. The message will seem commonplace. An issue we as a nation have never known what to do about will remain as debatable as ever.
It's an argument with no visible end.
The incident in Chicago never gained much national traction beyond the 24-hour news cycle that followed it, as predictable as that is disappointing. Such tales have become far too easy to expect and, for many, accept.
But this is worth exploring for reasons to be explained: "There are always going to be a few bad eggs," said Knights defenseman Nate Schmidt. "People that take things over the line. It's unfortunate, but that's where we are on all spectrums. There are always going to be people like that."
He's right, of course, and for this, we thank those bad eggs.
Without their ignorance, we couldn't recount inspirational stories offered by NHL players of color.
The Knights have two in goalie Malcolm Subban and forward Pierre-Édouard Bellemare, both on injured reserve, and players in such standing normally don't address media until back on the ice.
But the Chicago incident allows us to remind folks that it was Bellemare who represented Vegas as player ambassador for February and recently when the team hosted the Gay and Lesbian Community Center of Southern Nevada. That before the game Wednesday, the team honored those from Opportunity Village, which works with men and women of all levels of disabilities.
It brings to mind the wonderful story of Subban and his family, of his pro hockey brothers P.K. and Jordan, of his father Karl and the book he wrote, "How We Did It: The Subban Plan for Success in Hockey, School and Life."
It was in 2014 when P.K., then with Montreal and now an All-Star defenseman for Nashville, was the target of vicious racist taunts across social media from Boston fans.
But back then, like now, stories of inspiration and inclusion emerged from all the hate.
See. There are advantages to bad eggs. They help shine a light on all the good ones.
Schmidt played 200 games for the Capitals in a diverse, eclectic, cosmopolitan city. He was never a teammate of Smith-Pelly, but he found it more than a little incongruous that the taunt was aimed at a guy from such a place.
"It's disappointing it has to happen to a guy in our league, but to one in a town I played, it's tough," Schmidt said. "Hockey aside, you never want to hear that about anyone. There are a lot of ways to chirp at a guy — at his skating, at how he plays, at just being a visiting player. Lots of ways to go, but not the way they did.
"I think it's one reason the (NHL) has really tried growing hockey for everyone. We did so at local rinks in Washington and are doing in here now in Las Vegas. The more people we get interested in our game, the better."
Nate Schmidt is a really good egg.
Vegas has a locker room full of them.
Let the few bad ones chirp from the stands.
They will always remind us of the other, better, incredibly inspirational ones on and off the ice.
Contact columnist Ed Graney at egraney@reviewjournal.com or 702-383-4618. He can be heard on "The Press Box," ESPN Radio 100.9 FM and 1100 AM, from 11 a.m. to 2 p.m. Monday through Friday. Follow @edgraney on Twitter.