No excuse for demise of boxing program
August 18, 2008 - 9:00 pm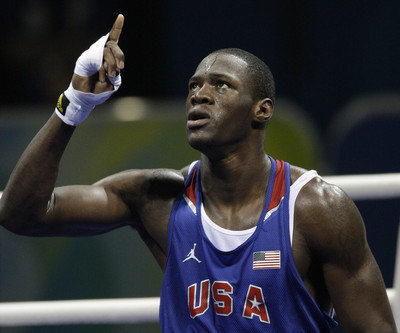 BEIJING
What the United States boxing program has lost in skill, it has replaced with a longtime political maneuver: These guys assign blame like nobody's business.
The golden house of Ali and Frazier and Foreman and Mercer and Leonard and De La Hoya is a mess today. It is more tear-down than salvageable, more a dwelling of accusation than acknowledgment.
USA Boxing is assured of earning one medal at these Olympics, one fewer than in 2004. Deontay Wilder is a 6-foot-7-inch heavyweight from Alabama and the last American standing, a former community college basketball player who took up boxing in 2005 in hopes of one day providing better aid for his daughter, who was born with spina bifida.
His feel-good story grew Sunday when Wilder advanced to the medal round with a tiebreak victory against Mohammed Arjaoui of Morocco at Workers' Gymnasium.
It's amazing that anyone wearing USA colors was noticed amid all the whining.
The federation's chief gripe remains an Olympic scoring system best defined as bizarre. When three of five judges have to push a button within a second of each other to award a point for a clean blow landed with the white part of a glove, anything from skewed scores to utter corruption is possible.
They might not have a clue about boxing, but you figure Olympic judges are fantastic at Madden '08.
Wilder and Arjaoui fought to 10-all on points following four rounds when the referee called both to the center of the ring and raised the American's hand. He won 23-22 on an accepted score (based on punches landed according to three of the judges), but I wouldn't blink if half of those watching had no idea how the outcome was determined. Call me crazy, but I just get uneasy when fights are scored with more electronics than Aisle 8 at Fry's.
"I thought he was going to raise the other hand and take another fight away from us," he said. "You can see for yourself — the judges are not on our side. Over and over again. They have been unfair the entire competition to the USA team."
Maybe. Maybe not. Whatever. The U.S. program (now working on its seventh CEO in six years) has greater problems than conspiracy claims about crooked judges.
Roy Jones happened 20 years ago. Boxers such as defending world champion Demetrus Andrade, who lost his welterweight quarterfinal match Sunday on points (11-9) to Jung Joo Kim of South Korea, need to stop referring to that fraudulent match in Seoul when explaining their own defeats. Play a new song; that record is all worn out.
To fault the scoring system for its collapse on the international scene — the U.S. has had just two world champions since 2001 and three of its eight athletes were gone after one round here — is much too short a net for the Americans to cast.
The boxing program has become an Olympic version of AAU basketball, only with a much seedier feel.
Yes, that's possible.
Things have run amok as fighters are torn between loyalties to personal and national team coaches. Six fighters threatened to boycott these Games if U.S. coach Dan Campbell remained in charge. One went AWOL. Another failed to make weight and was disqualified.
Campbell tried employing a rigorous residential program in Colorado Springs over the past year, but half of his boxers would sneak away to work with personal coaches.
How do you combat such devotion for the good of your national team? You probably can't.
These relationships date back years, a coach often viewing the kid as a potential way to improve his financial state and the fighter feeling more comfortable with someone who has represented a paternal or, at the very least, protective figure in his life.
"The majority of (personal coaches) have never been to an international bout and yet they're the ones advising our guys on how to box," Campbell said. "That causes problems. Nine times out of 10, the kid is going to revert back to fighting domestically. You can't win here doing that. They have no chance.
"We know what it takes to win internationally and we have to get these (personal coaches) to key on that approach. We keep trying."
The best strategy might be for USA Boxing to identify and pursue more fighters such as Wilder — inexperienced and yet not influenced by those outside the program. What you lose in talent, you make up for in togetherness. It could be the first step in getting the house back in order.
After all, look who is the last one standing here.
Ed Graney can be reached at 383-4618 or egraney@reviewjournal.com.