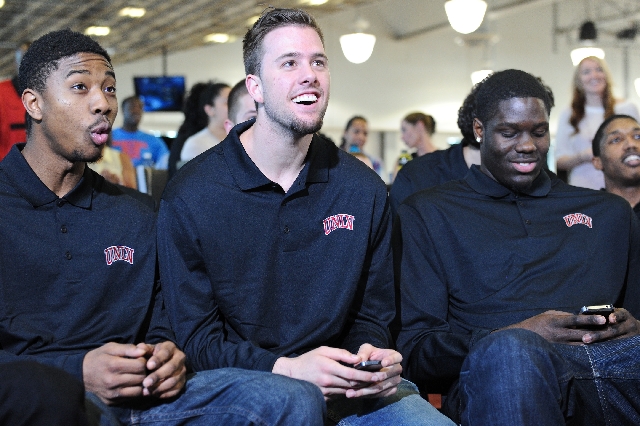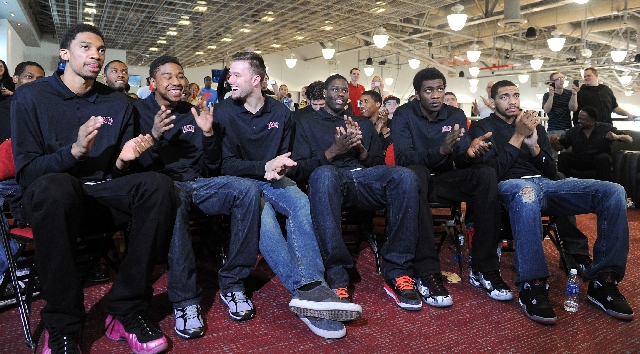 This is what happened at some point in a conference room Sunday that housed the NCAA Tournament selection committee in Indianapolis: UNLV was placed in the bracket as a No. 5 seed and Cal was placed opposite it as a No. 12, and a red flag appeared on the movie theater-size projection screen displaying the matchup.
It alerted the committee that the Rebels and Bears had played earlier this season.
The committee talked about it, thought it over and moved on.
That simple. That fast.
"The red flag had to be overridden because there were too many places we couldn't be sent or Cal couldn't be sent or just how the seeding fell," said UNLV athletic director Jim Livengood, a former selection committee chairman. "I love it for us. I think it's a great matchup."
He's right. The Rebels couldn't have asked for a better opportunity to advance than to play Cal in San Jose as part of the East Region.
Sound crazy? Not at all.
The distance between Cal's campus in Berkeley and the HP Pavilion where NCAA games will be staged is roughly 40 miles, but it could be across the street and it's no certainty Mike Montgomery's team will have a significant advantage over the Rebels when it comes to support in the stands.
Know that in the vast world that is Bay Area sports, Cal basketball is sort of like a stagehand for a Broadway play. It's not the 49ers or Raiders or Giants or Warriors or Sharks. It's not Stanford football. It's not even Cal football.
I'm not so sure some days it's De La Salle High football.
The flight between Las Vegas and San Jose is 90 minutes, meaning UNLV fans with the means to do so need to borrow a chapter or two from those in Albuquerque and make the trip to San Jose, much as those who cheer New Mexico packed the Thomas & Mack Center for the Mountain West tournament last week.
"We're going to travel well," Livengood said. "We're going to bring a lot of people. There are several flights each day from Las Vegas to San Jose, and our fans can drive there as well if they choose. I'd rather play in San Jose in a great arena than be in Auburn Hills, Mich., or Philadelphia or Dayton."
Here's the best thing going for UNLV: It's better than Cal.
The Rebels won that earlier game in December 76-75 on a last-second basket, but lost junior forward Mike Moser to an elbow injury in the first half and played without sophomore center Khem Birch, who had yet to become eligible after transferring from Pittsburgh.
Familiarity with an opponent can cut both ways, but in this instance, the Rebels will be a much different side than what Cal saw a few weeks before Christmas. A much deeper side.
Montgomery's offense includes more sets than San Jose has fog advisories, so any recall the Rebels can muster from already having to defend the Bears should benefit them.
No one is going confuse UNLV with great defensive teams, but if the Rebels can play with effort and intensity on that end, having 40 minutes of earlier experience against Cal could mean all the difference in winning or being home to watch Friday's tournament games.
They at least have a chance to be in the right spots more often than not.
The teams also met last year, with UNLV thumping Cal 85-68 in Las Vegas.
Outside of Mountain West teams, there might not be an opponent the Rebels know better right now.
"It doesn't change the fact Cal is a terrific team with a Hall of Fame coach," UNLV coach Dave Rice said. "But we want to go in and win one game. We're only going to concentrate on that right now."
In the minutes leading up to the selection show, Rice predicted his team would be a No. 5 seed. He is big on the Ratings Percentage Index and believes a top 70 nonconference schedule rating aided in the Rebels being slotted so high.
UNLV went 7-1 against teams ranked 51-100 in the RPI.
One of those teams: Cal.
"We just weren't able to avoid having UNLV and Cal play again," selection committee chairman Mike Bobinski said. "Trying to rematch teams from previous games in a season is a condition we want to avoid, but not a primary one for us. It is secondary. Because of what happened elsewhere in the bracket, there was nowhere else to put (UNLV). It was either Cal or (another No. 12 seed) Oregon, who also played UNLV this season.
"It's just the way the bracket fell. If we could have avoided it, we would have, I assure you."
I think they did the Rebels a favor.
It's a great matchup, a very winnable game.
Now, as for a potential round of 32 game against Syracuse and its zone defense … whole different animal.
Whole different column.
Las Vegas Review-Journal sports columnist Ed Graney can be reached at egraney@
reviewjournal.com or 702-383-4618. He can be heard from 11 a.m. to 2 p.m. Monday through Friday on "Gridlock," ESPN 1100 and 98.9 FM. Follow him on Twitter: @edgraney.
Videos
Cal coach Mike Montgomery's news conference