Non-superstar Flesch wears anonymity well
September 30, 2011 - 1:02 am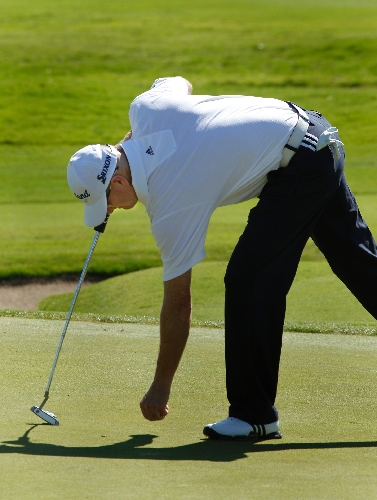 There is a golfer who shot 6-under-par 65 at the Justin Timberlake Shriners Hospitals for Children Open on Thursday, a guy who has made more than $18 million in his PGA Tour career and who no one would recognize this side of his home state of Kentucky without an 8×10 glossy and a nametag.
In other words, Steve Flesch is one of those guys we all want to grow up to be, able to golf for a living, make gobs of cash and walk through a supermarket without fear of being stalked by zealous fans or a Perkins waitress.
"I was never a superstar with Mickelson or Tiger talent," he said. "I'm just trying to hold on until I'm 46 or 47, where I can chill out and then play the Champions Tour at 50.
"Everyone says, 'Oh, you could have played better and won more money and tournaments.' You know what? I wasn't even the best guy on my high school team. I wasn't the best guy on my college team. I had to share that with another guy. I'm a 5-foot-9 guy from Kentucky who still lives where he grew up and who has overachieved."
Flesch calls this stage of his career limbo, a place 44-year-old golfers often find themselves. That is, not necessarily done contending but appreciative for an opportunity to play each week.
He is two shots back of leaders Jhonattan Vegas and William McGirt after one round at TPC Summerlin, tied with 10 others for fifth at a typical Fall Series event that has some terrific golfers whose names are unfamiliar to the average fan this tournament struggles desperately to draw.
Flesch never had to worry about keeping his PGA Tour status until a few years ago, when he finished 124th on a money list that only guarantees the top 125 a full-time standing the following season. Last year he finished 161st and was out of such fortunate company.
Flesch's No. 40 ranking in all-time earnings allowed him full exempt status this year. But his No. 122 placement this season makes his an uncertain position for 2012.
He doesn't mind all that much, not with children ages 9 and 13 at home and often unhappy with Dad being gone for weeks at a time. Flesch is a four-time winner on tour, capturing the first event in Fall Series history in 2007 at Turning Stone, but his best finish since was a tie for third at this year's Reno-Tahoe Open.
He has never been all that long off the tee, never intimidating to a leaderboard on a weekly basis, never one to strike fear into others on the course.
He's a lefty on tour, not Lefty on tour.
Still, the career earnings for Flesch read $18,015,518.
The guy we all want to be.
"I've never had an issue with people not recognizing me," Flesch said. "More people do now only because of the work I've done with the Golf Channel. They say, 'Are you still playing?' Oh, man. Talk about a shot to the gut.
"That's OK. If you told me I'd be 40th in career winnings at 44 when I was 20, I would be have been like, 'Are you kidding me? I'll take that right now.' The depth of talent out here wasn't as great eight, nine, 10 years ago. There are so many good players now. We now have 25-year-old kids winning major championships. If I don't stay in the top 125 this year — I think I will, I hope I do — having a limited schedule at this stage of my life wouldn't be the worst thing."
Given this tournament's history of countless red numbers and the perfect (but sweltering) conditions that greeted players on Thursday, you would think shooting in the neighborhood of 6 under each day would make Flesch a contender to shake Timberlake's hand come Sunday (but probably not be able to take his picture without permission from The Enablers).
It was a weird first round in that all former UNLV golfers in the field played as if allergic to such a familiar track, and the caddie for Rocco Mediate nearly went down for the count midway through the round because of the heat, stretching out under a tree and pouring water on his face while Mediate putted out. Yeah. Not good.
And quietly, unassumingly, methodically, a 5-9 overachieving guy from Kentucky with over $18 million in career earnings posted a 6 under and put himself in position to make a run.
"I've surpassed everything I ever dreamed about," Flesch said.
Well, except for that photograph with Timberlake on the 18th green Sunday.
Better get permission for that one.
Las Vegas Review-Journal sports columnist Ed Graney can be reached at egraney@reviewjournal.com or 702-383-4618. He can be heard from 3 to 5 p.m. Tuesday and Thursday on "Monsters of the Midday," Fox Sports Radio 920 AM. Follow him on Twitter: @edgraney.