Not much has changed with unpredictable NHL officials
Updated May 29, 2018 - 8:26 pm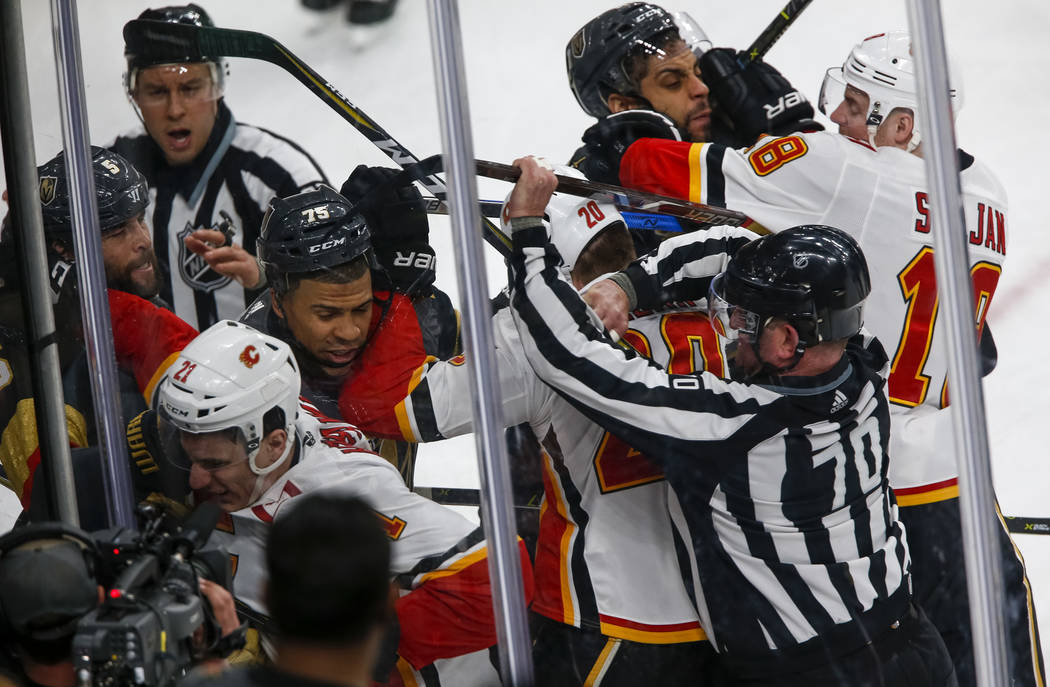 Within one of the great sports books, certainly the finest on hockey, read these passages:
NHL refereeing is an impressionistic exercise. … Mostly, it is the extent of a referee's discretion that makes hockey so difficult to officiate. In hockey, officiating is like doing spot-checks on New Year's Eve. Anything signaled is bound to be an infraction, and so good calls can seem like bad ones, everything becomes arguable, and no one is happy. … It's not what is a penalty, it's what the game allows. And the more it allows, the more it gets, and the more it gets, the more it allows. … Hockey is the most difficult of professional sports to officiate well.
That damn Ken Dryden.
He's a better writer than he was player, and we're talking a Hall of Fame goaltender.
Leave it to a Cornell guy to be terrific at both.
Full disclosure: I usually despise columns on officiating in any sport, choosing to believe those critical of the job wouldn't want or couldn't properly execute it, that the vast majority of those who choose the profession are honorable folks attempting to do their best work.
I also set the initial bar incredibly low, believing most officials are basically incompetent at some level or simply haven't been able to keep up with the speed and pace and athleticism of the sport they officiate — or both — so to be overly disparaging seems unfair.
But then you watch Game 1 of the Stanley Cup Final between the Golden Knights and Capitals on Monday.
Then you reread Dryden.
Thirty-five years after "The Game" was published, much of what he wrote about officials was apparent during a 6-4 win by Vegas at T-Mobile Arena to open the best-of-seven series, which is to say hockey remains the most inconsistently officiated sport in the world.
Fine folks who seem at times not to have any idea what to penalize and when.
In attempting to allow the game to discover its natural rhythm, Dryden believed it included so many infractions, calling near all of them wouldn't allow things to be judged consistently with other important factors. So, as he wrote, it's a penalty here, several uncalled ones there, never too many so that the flow of the things will be overly interrupted.
Hence, the inconsistency.
Example: Vegas scored to tie things at 4-4 at 2:41 of the third period Monday when officials missed a blatant cross-check by Ryan Reaves on John Carlson, allowing Reaves to jam home his second goal in as many playoff games.
It shouldn't have counted.
Washington should have been on the power play and leading 4-3.
"It's just unforgivable," NBCSN analyst Mike Milbury said on the postgame telecast. "You've got two officials … you have to make the call. It's a turning point of the game … That's not the way we're supposed to play. You're not supposed to play prison rules. You're supposed to play by the NHL rule book. You're supposed to know it. You're supposed to be alert. You're the best officials in the league."
Instead, that goal was followed three minutes later by Capitals forward Tom Wilson crushing Jonathan Marchessault with a blindside hit that put the Vegas front-liner off the ice and into a concussion protocol for 15 minutes.
And because officials took so long calling a two-minute minor interference on Wilson — it could have easily been a five-minute major — David Perron of the Knights came off the bench for a retaliatory cross-check on Washington star Alex Ovechkin.
Meaning, instead of the Knights being on a power play, things went 4-on-4.
I'm not surprised the league's department of player safety didn't bother to further discipline Wilson, because beside goalie interference, which the folks in Toronto have a better chance at solving those Millennium prize math problems than calling with any sense of consistency, the most confusion lies with what exactly constitutes an illegal hit.
This isn't about fans, who watch with biased eyes favoring whatever side they want to win.
It's not about media, either those employed by the team or others who bizarrely consider themselves part of it.
It's about the players and coaches and management officials who worked so tirelessly all season to reach this point.
They deserve better.
Vegas and Washington will likely be sharper in Game 2 on Wednesday than they were Monday.
The officials need to be as well.
It's been much of the same these Stanley Cup playoffs, much of the inconsistent calls that have defined the NHL for some time now.
But these are the finals, and that should demand everyone's very best.
Even if Ken Dryden saw this stuff decades ago.
Contact columnist Ed Graney at egraney@reviewjournal.com or 702-383-4618. He can be heard on "The Press Box," ESPN Radio 100.9 FM and 1100 AM, from 11 a.m. to 2 p.m. Monday through Friday. Follow @edgraney on Twitter.