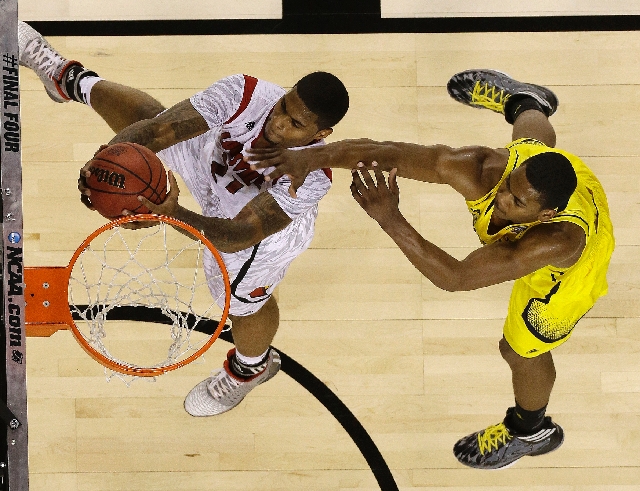 ATLANTA
The fear two days later: That what we saw in the championship game of the NCAA Tournament on Monday night is an aberration, a tease, an exception to the rule that insists college basketball has lost its way at the offensive end.
That all the terrific execution, all the movement and spacing and knocking down of jumpers both midrange and deep during Louisville's 82-76 victory against Michigan at the Georgia Dome, was merely a 40-minute sample of something a majority of teams no longer are capable of producing.
Or, specifically, not allowed to produce.
There are reasons college basketball just offered its worst offensive season in six decades, factors that led to all the missed shots and low scores and lethargic play.
Some can be overcome; others are simply a sign of the technological times in which we exist.
To the latter: Scouting today compared to 20 years ago is more different than the pro potential of Trey Burke and Spike Albrecht. A video coordinator can hand a coach and his assistants a DVD of an opponent's entire offensive and defensive schemes and every out-of-bounds play it has run for the past five seasons in less time than it takes the morning coffee to brew.
There are no secrets. You're not going to fool even the most average coach in 2013, meaning the preparation side of things is far more even across the landscape. If there is an advantage in coaching, it's those who adjust better once the ball is tipped and at halftime. It's about players more than it ever has been, because you have assistant coaches who couldn't draw a basic ball-screen offense if their lives depended on it earning exorbitant amounts of money for the singular and yet incredibly sought after skill of finding and signing the most talent.
But when it comes to how low scores now define the game, officiating is a much bigger problem.
And getting worse by the season.
How is this for irony: The best thing college basketball could do is borrow a page from the NBA, where commissioner David Stern some years back gathered a group of coaches and general managers for one common goal: Bring movement back to the game.
"Pro basketball was ugly, maybe only one or two teams averaging 100 points, and (Stern) wanted things changed," said Louisville coach Rick Pitino, who coached the Knicks and Celtics and was part of the committee that helped implement Stern's demand. "So they stopped all the arm bars, the standing up of screens, coming across the middle and chopping a guy. Stopped it all. You put a hand on a guy now, it's a foul. Now, there is freedom of movement in the NBA, and you see great offense. The LeBron Jameses of the world can be great because they're not being checked everywhere on the floor.
"In the Big East Conference now, you should wear body guard. You can't cut; you can't move. The only way to change it, beginning with the exhibitions to start next season, is to have the first 10 or so games really ugly and call all of it. Players will adjust, there will eventually be fewer fouls, and you will see great offense again. Like the NBA has now, you will see great scoring teams in college.
"It's the next step of evolution for the college game. Stop the hitting, fouling and flopping. Make it to where 80 percent of block-charges are blocks, which they should be. Create that freedom of movement. Something has to be done."
Problem: It's tougher to police the independent contractors who are NCAA officials working for countless conferences than it is a group of NBA referees who fall under the same umbrella of disciplinary oversight.
You can change rules and offer ideas of uniformity on how you desire college games to be called, but to expect hundreds of officials across the country to fall in line like those have in the NBA is a reach at best.
Far too many college officials continue to seek attention, to desire the spotlight shine brighter on them than the game.
Why they are allowed to talk to coaches during a game is beyond me. The last thing most officials need, given they're dead tired from all the travel while working far too many games, is another reason to lose focus.
"Can you imagine someone screaming in your ear as you're about to make a Wall Street trade?" Pitino said. "I love the way NBA officials work. They just drop the ball, ignore you as if you don't exist and go to the other side of the floor. There should be no conversations between coaches and referees."
Technology and officiating.
One thing you can do nothing about and the other might be too far gone in a negative manner to save.
I suppose, then, we should hope the basketball gods enjoyed Monday night's final as much as the rest of us.
Because if it was just an aberration, a tease, an exception to the rule, offense might never again be as we remember it.
Las Vegas Review-Journal sports columnist Ed Graney can be reached at egraney@reviewjournal.com or 702-383-4618. He can be heard from 11 a.m. to 2 p.m. Monday through Friday on "Gridlock," ESPN 1100 and 98.9 FM. Follow him on Twitter: @edgraney.