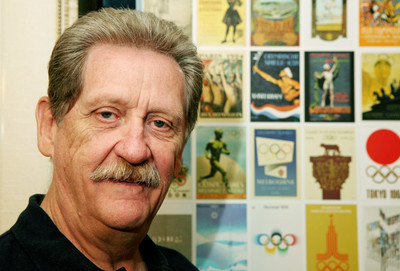 He drove across Interstate 15 late that summer, amazed with what he had seen, captivated by the pageantry, inspired to witness more, determined to travel all across the globe to live the moment over and over.
Paul Riley is the Olympic spirit we lost along a highway littered with dirty syringes and extraordinary greed. He still believes in those five intertwined rings, still feels his heart jump when the national anthem plays, still has faith that healthy and honorable competition can overcome the soiled truth of failed drug tests and incessant pursuit of all things commercial.
He still sees a flame that burns brightly with the principles of peace and fair play, still favors symbolism over sponsorship.
"Maybe I just never imagined what it would be like until I was actually there," said Riley, a Las Vegas resident. "Just the opportunity to realize so many different people from across the world are no different from us, that we all have the same wants and desires.
"It is the most exciting event I have ever been to."
Riley retired from the casino business 13 months ago after 42 years of working dice pits throughout Las Vegas. He has attended every Summer Olympics except one since 1984 in Los Angeles, and his home is a miniature museum to those journeys.
There are hundreds of pins and commemorative sets of flags and program covers and LeRoy Neiman prints of Olympic champions. There is a glass-encased ticket from the 1992 gold medal game in basketball, back when the Dream Team ruled Barcelona and the United States was noticeably better than Spain and Argentina. (Yeah, such a time existed.)
On a coffee table in Riley's living room, below where a Neiman work of the 1976 Games hangs, rests a large book and two magazines. Each tells the story of China, which in less than a month opens its contentious and communist doors to the planet for the 2008 Olympics in Beijing.
The motto of these Olympics is "One World, One Dream," a hope that a nation whose history of human rights violations is appalling might prove itself a modern and amicable civilization capable of moving toward more social and religious freedom.
The world isn't holding its breath like Michael Phelps in a freestyle race, because it's impossible to believe such transformation would last once the flame is extinguished and the doors close.
Riley will be there, however. He is 70 and wouldn't miss it, having passed through China on his way to the Seoul Olympics in 1998.
The stories he tells are more about people he has met than games he has witnessed. This is one part of the Olympics that has been shoved to the background as the event became more about earning potential with athletes and less about camaraderie among them and sporting fans from all nations cheering them.
"I go as much for the history as anything," said Riley, a lifelong bachelor without children. "You also never know who you might run into, who the person next to you might be."
He stood in line for the track and field competition in Seoul carrying a UNLV backpack, noticed the guy in front of him was wearing a Rebels golf shirt, stuck out his hand and met former Nevada governor Grant Sawyer.
Athletes. Parents and friends of athletes. Coaches. The teenager in Atlanta who told Riley they had just witnessed history as Michael Johnson glided past the finish line in the 200 meters. The Jamaican who coached decathletes for England and also was stuck on a tarmac bus for five hours in Hong Kong while security checked baggage.
Riley didn't plan all this, never spent his days growing up in Pittsburgh dreaming of making a new voyage every four years hoping to enrich his life with memories about diverse cultures gathering in the name of sport. But he always wondered.
He nearly went to Mexico City in 1968, couldn't get the time off from work for Munich in '72, thought Montreal would be a mess in '76 (he was right) and honored the U.S. boycott in Moscow in '80.
But then came 1984 and that drive home across I-15, that promise to himself that it wouldn't be the last time he experienced such ceremony. He has missed only Sydney, Australia, in 2000 since, something about needing the money for home landscaping and pool repair.
"I never did get that done," Riley said. "Would I like for more Americans to feel about the Olympics as I do? Sure. Maybe it's just my age. But when you see the faces of those athletes standing on the podium and hearing their anthem … When you think about the years and years they trained and sacrificed to represent their country … .
"Oh, yes. It's an amazing thing."
Paul Riley is the Olympic spirit we lost. It feels good to find him.
Ed Graney's column is published Sunday, Wednesday, Thursday and Saturday. He can be reached at 383-4618 or egraney@reviewjournal.com.