Oregon worthy of No. 1 seed in NCAA Tournament
March 13, 2016 - 12:19 am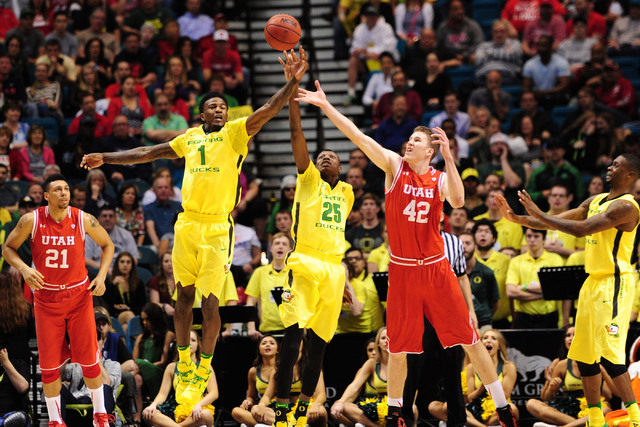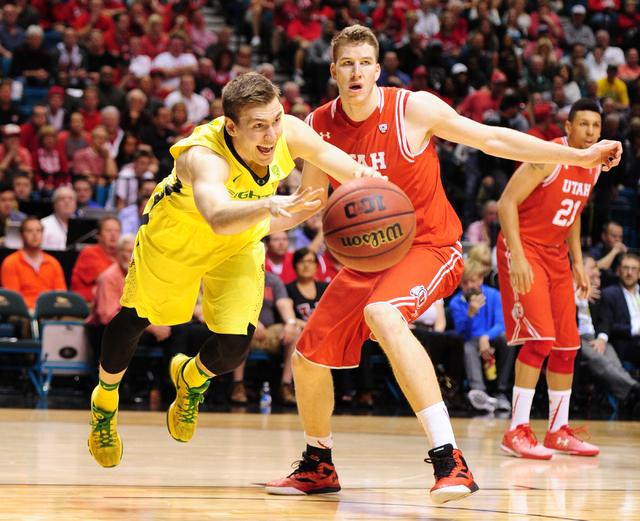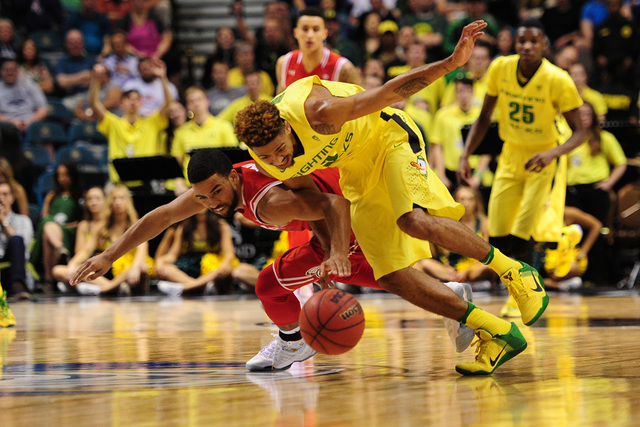 Dave Rice knew after watching the film, even in the first week of December, even that early in the college basketball season, even when coaches are still figuring out who they have and what they might become.
Oregon just happened to grow into one of the nation's best teams.
The Ducks played a game at the MGM Grand Garden against UNLV on Dec. 4 — a few lifetimes of drama ago if you're standing on the Rebels side of the court — and walked away an 80-69 loser.
UNLV did everything needed to beat Oregon, then ranked 15th.
The formula hasn't changed. Not many opponents have executed it, is all.
"They had the look of a top 10 team," said Rice, the former UNLV coach who was fired about a month after that victory. "At the time, we knew it was a great win that could be important for our program with the respect we had for Oregon."
When the NCAA Tournament bracket is announced today, the Oregon side that on Saturday evening pummeled Utah 88-57 in the Pac-12 tournament final on that same MGM floor should be placed among the No. 1 seeds.
There is a chance it won't be, but not because the Ducks aren't all sorts of deserving.
They enter the madness this week having won eight straight and 14 of 16 games, including sweeping the conference regular-season and tournament titles. They have a top-three RPI and a top-five schedule with the same starting lineup that lost to UNLV.
Which begs the question: How best to beat the Ducks?
"You have to get stops and get out in transition," said Rice, whose team that December evening made 10 3-pointers and was 18 of 21 from the free-throw line. "Oregon does a great job with their press and half-court defense after made baskets. They're hard to score against in the half court. You have to get to the free-throw line and shoot 3s off extra passes. You have to score consistently and set your defense because Oregon is terrific in transition.
"They have so many interchangeable parts. Versatility. Can score in a lot of ways. A lot of guys that are tough matchups. We knew watching them on film what a challenge it would be. And then playing them validated all of that. Very talented. They play really well together."
Those who are paid to make educated guesses at how the NCAA Tournament bracket will look once released have slotted Oregon as a No. 2 seed for some time now, but if you agree Kansas and North Carolina have No. 1 spots secured, how can the Ducks not also be in prime position for the top line in the West Region?
Virginia has over the past day or so remained on the No. 1 line of most bracketology forecasts, even though the Cavaliers won neither the regular-season nor league tournament titles in the Atlantic Coast Conference and have an RPI (2) and schedule strength (3) similar to Oregon's.
Michigan State is another popular team being predicted for one of the four top lines. The Spartans didn't win a Big Ten Conference regular-season championship, could win the league tournament title by beating Purdue today and yet have worse metric numbers than Oregon.
Villanova has been another trendy No. 1 pick.
It lost to Seton Hall in the Big East Conference tournament final.
And there is this: Utah is being projected by most as a No. 2 or 3 seed.
Oregon beat the Utes by 31 on Saturday.
Bloodbath.
Just annihilated them.
"Part of my job description is not seeding teams," Utah coach Larry Krystkowiak said. "I think (Oregon) is a great team. I wouldn't want to play them. I know that."
Oregon will make its fourth NCAA trip under coach Dana Altman, but never has been seeded higher than seventh. That will change when the bracket is announced today, and if all is right and just inside the selection committee room, the Ducks will be placed on the No. 1 line.
"They are absolutely deserving of it," Rice said.
He knew they were good after watching the film in December.
Turned out, they had the potential to be great.
"We just want to play," Altman said. "(Seeding) is for the committee to decide. Wherever they send us, we're going to go play. I've never been one to politic for us getting in or seeding or anything. We will go where they tell us to go.
"We're just anxious to be in the tournament."
Oh, they're in, and Krystkowiak said it best.
Wouldn't want to play them.
Ed Graney can be reached at egraney@reviewjournal.com or 702-383-4618. He can be a heard on "Seat and Ed" on Fox Sports 1340 from 2 to 4 p.m. Monday through Friday. On Twitter: @edgraney.