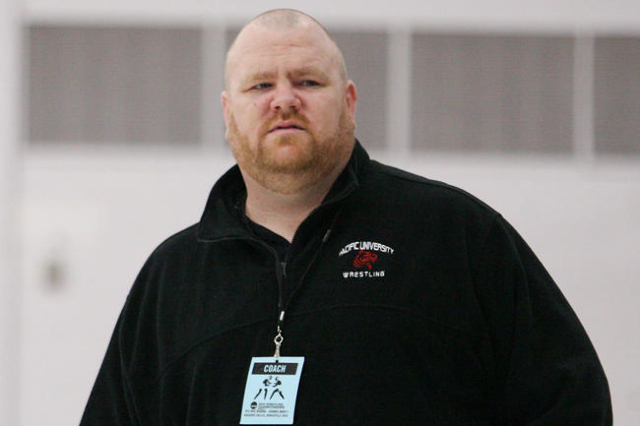 When the hours had passed and the telephone calls to terrified parents and family members and school officials had been made and the injured had been transported to local hospitals and the chaos and fear had leaked into a basin of emotional exhaustion deep within him, Severin Walsh sat alone in a Las Vegas motel room.
It was after 3 a.m. and eerily silent.
That's when the gravity of it all hit, when he finally breathed for the first time in hours and his life flashed before him a second time that evening.
"You realize how close you came to making your wife a widow and having your son grow up without a father," Walsh said. "You realize someone just lost their life right in front of you and others were still fighting for theirs. When it was happening, you don't have time to analyze it all. You just react.
"But none of it was lost on me at that moment alone in the motel. I just sat there."
Walsh is the wrestling coach at Pacific University in Oregon, located 25 miles west of Portland in the quaint little town of Forest Grove. It was settled in the 1840s and boasts a total area of 5.88 square miles, the sort of place where independent bookstores sell used novels for 50 cents and you pay for them on the honor system.
It's a level of normalcy Walsh hopes can return to his team Saturday, when for the first time since that horrific night last month, the Division III Boxers will step on a scale, make weight and compete.
When life might seem ordinary again.
They had just watched the new "Star Wars" movie and were descending steps onto the sidewalk outside Planet Hollywood on Dec. 20, hurrying to practice for a holiday tournament scheduled to begin the following day. That's when a woman later identified as Lakeisha Holloway intentionally plowed her car through a crowd of pedestrians along the Strip, a heinous act that killed an Arizona woman and injured dozens of others.
Among those struck were four in the Pacific University group, three former wrestlers now working various roles for the team and one current student-athlete, 125-pound freshman Christian Guerra.
He suffered a head injury that required staples to close the wound, but has since been cleared to compete. None of those from the team were seriously injured, a fact Walsh points to them as being young, fit athletes from lighter wrestling weights, able to react and move quickly on their feet as the car jumped the curb.
"I'm 6-foot-5 and a former heavyweight, so I would have probably gone low and been in some real trouble," said Walsh, 38. "The lighter guys can move. She missed six to seven of our guys by inches. It was something that made you pause for an instant and register what was happening. You heard the engine gun and saw the car enter the crowd and assumed it was an accident. But then she accelerated and kept going, and you knew it was no accident. At that point, our instincts just took over. Our trainers and staff and kids just began helping as many people around them as they could."
Another wrestling team in town for the tournament — Delaware Valley University — was also walking that part of the sidewalk, and among those injured (none seriously) were five student-athletes and head coach Steve Cantrell.
When reached this week, Cantrell said he and his team have chosen not to grant interviews about the incident and referred questions to a university spokesperson.
The Division III Aggies also compete for the first time since that December evening on Saturday at Western New England University.
Holloway has been charged with murder, child abuse (her 3-year-old daughter was in the backseat of the car during the bloodbath), and felony hit-and-run for a crash that killed 32-year-old Jessica Valenzuela of Buckeye, Ariz., and sent at least 35 people to hospitals, including three in critical condition.
On Saturday, in a dual meet at Southwestern Oregon Community College, four hours from that quaint little town with the independent bookstores and 50 cent used novels, Pacific University wrestlers return to the mat.
"As far as coming through something pretty tragic, we're doing OK," Walsh said. "You know when you tell kids to appreciate every day, that the next one you could walk across the street and get hit by a bus … Little things like injuries on the team or other setbacks don't seem as devastating any more. We are counting our blessings. This entire thing brought perspective to all of us about what's really important. Enjoy and be thankful for every moment. Take this opportunity to love each other and be better teammates, better to those around you, better people, better citizens.
"We need to get back competing. We need a healing moment. We need things to be normal again. Wrestlers are wired that way. Step on the scale, make weight and compete."
And never, ever forget the eerie silence of a Las Vegas motel room and the chaos and fear that preceded it.
Ed Graney can be reached at egraney@reviewjournal.com or 702-383-4618. He can be a heard on "Seat and Ed" on Fox Sports 1340 from 2 p.m. to 4 p.m. Monday through Friday. On Twitter: @edgraney