Panthers' Norman resurrecting art of trash talking
February 5, 2016 - 12:55 am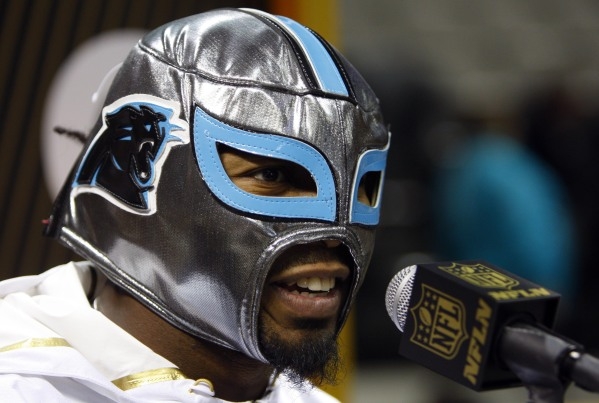 SAN FRANCISCO — Art changes. It still means a diverse range of human activities, but time passes and different types take on a more advanced form.
Trash talking in sports is an art.
Some athletes resemble Rembrandt in their discourse.
Some resemble a 2-year-old dipping his fingers in paint.
Josh Norman appears to be staking his claim to a seat at the table of the elite when it comes to climbing inside opposing heads, a lifetime from the days when trash talking was limited to claiming one's team was better and guaranteeing a Super Bowl victory.
It's different now than when Joe Namath lounged by a pool and slung shots at Earl Morrall.
Today, Namath would have to do so wearing a Lucha Libre mask.
Which is what Norman wore on Opening Night here
Monday
.
What we don't know yet: If all the talking from Norman will make a difference in Carolina beating Denver in Super Bowl 50
on Sunday
, if one of the league's best cornerbacks will again make as many plays with his feet and hands as words fly from his mouth, if he will emerge from the most important game of his life a winner like past Super trash-talkers Richard Sherman and Shannon Sharpe or come up short like trash-talking failures Freddie Mitchell and Jerramy Stevens.
It's a story that probably doesn't earn the attention it deserves, which happens when your quarterback is about to be named the league's Most Valuable Player and owns a personality the size of Charlotte.
Cam Newton might be the face of the Panthers, but his team isn't 16-1 without a defense that led the NFL in interceptions this season with 24.
That's why there is a sign that hangs above the lockers of Carolina secondary players — and was brought to the Super Bowl — that reads: Thieves Ave.
"I don't consider myself a trash talker," Norman said. "I consider myself a motivator. It's mental warfare out there, brother. We're not out there picking daises. We have a group on the side where it's just our alley, our avenue. It's not something I would say where, 'Thieves Ave.,' sticks with us. No, 'Thieves Ave.,' doesn't stick with us. We are thieves on Thieves Ave. We have a whole street with nothing but (defensive backs) on it."
He was a walk-on before earning a scholarship at Coastal Carolina, whose nickname is the Chanticleers, which is a name given to a rooster in fairy tales. But there is nothing imaginary about Carolina or how Norman has played this year, his finest since being drafted in the fifth round in 2012. He has four interceptions, and opposing quarterbacks have managed a 54 passer rating when aiming in his direction.
Which has a chance to be really bad news for the Broncos.
Denver is absolutely here because of its defense, and an offense that threw 19 touchdown passes to a league-high 23 interceptions better find ways to either complete enough attempts away from Norman or attack his side better than most this season.
"He's an outstanding player, he's rangy, he covers a lot of ground, he's a good tackler, he's created a lot of turnovers stripping fumbles and of course, made a couple game-winning interceptions," Denver quarterback Peyton Manning said. "He's an outstanding football player — when somebody says he's a great cover corner, it's like labeling a guy one way. This guy is an outstanding football player and fits in great with this defense."
Hand it to the Broncos. Most of them, anyway.
They haven't really bought into the idea of trading barbs with Norman. Manning and wide receiver Demaryius Thomas have, for the most part, showered him with compliments this week.
Maybe they're waiting until after the game should a win fall their way. Maybe they watched Norman's utter mental destruction of Giants wideout Odell Beckham Jr. earlier this season, a trash-talking clinic that resulted in Beckham's drawing three personal fouls and a one-game suspension for cheap shots, and figured it's a tough war (of words) to win. Maybe they just don't care.
"There is no reason to talk," Thomas said. "It can actually make (Norman) play better. I don't pay attention to it. I don't talk. I don't get into the talking. I've seen him on film talking. But if he does, it's not going to bother me. I'm going to be ready for it. There's no reason to talk. We don't get paid to talk. We get paid to play football."
There was, however, this exchange between Denver wide receiver Emmanuel Sanders and Norman.
Sanders said that for however many questions he has been asked about Manning's possible retirement, he has had more about Norman. That while he believes the Panthers cornerback is a good player, he's nothing exceptional. That he talked his way into being a media star.
"I guess you have to be pretty good to talk your way into that," Norman said. "I haven't heard much about (Sanders). Maybe he should go practice some more."
Sunday
will be fun, if only to answer this Super Bowl question: Who will Josh Norman prove to be, a modern-day Joe Namath or a present-day Jerramy Stevens?
Ed Graney can be reached at egraney@reviewjournal.com or 702-383-4618. He can be a heard on "Seat and Ed" on Fox Sports 1340 from 2 p.m. to 4 p.m. Monday through Friday. On Twitter: @edgraney