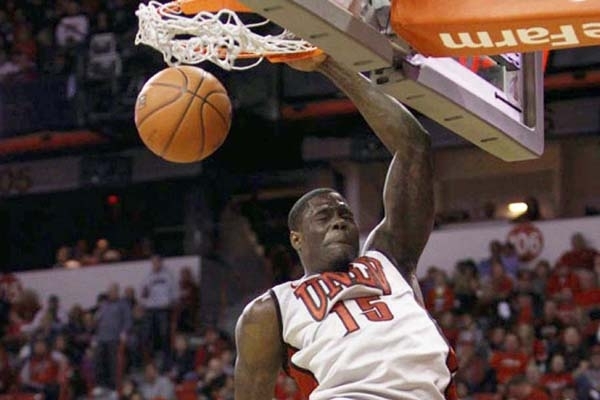 "There's nowhere you can be that isn't where you're meant to be …"
— John Lennon
Mr. Beatle didn't know the NBA Draft lottery.
The evidence is overwhelming that since 1985, when a certain envelope was "allegedly" knocked against a metal bar in order to create a crease and allow Patrick Ewing to amazingly land at the feet of the New York Knicks, the only thing more certain than annual conspiracy theories being debated is how some draft picks are fortunate and others cursed.
Jan Vesely and Kawhi Leonard were considered the top two small forwards in the 2011 draft.
Vesely went No. 6 to the Wizards.
Leonard went No. 15 to the Pacers and was immediately traded to the Spurs.
Translation: Fate can be a cruel thing to some and a life-changer for others.
Losing begets losing in the NBA for many, and career paths are often formed by the franchise from which you're selected, because strong management is everything when it comes to building a winner.
Here's hoping Anthony Bennett can avoid a Vesely-type existence.
You can't find a mock draft that has the UNLV forward being selected any lower than sixth come June 27, and many over the past several days have elevated Bennett to a top-three status.
But there are definitely better places for him to land than others. Here, then, is a best-case scenario of potential destinations for Bennett, using the top six teams of the recently selected lottery.
It's a highly intricate system based on such factors as a team's need at Bennett's position, its organizational strength and, perhaps more important to any future NBA player's resume, a town's nightlife options.
Points are awarded on a 1-5 basis, with 5 being best.
1. New Orleans
Picks No. 6
Needs (4): I might have a difficult time pronouncing Al-Farouq Aminu, but I know the guy can't score. New Orleans covets a productive small forward to team with young, promising players such as Anthony Davis, Greivis Vasquez, Ryan Anderson and Eric Gordon (when healthy).
Organization (4): I have liked Tom Benson since he first danced while spinning that umbrella as owner of the Saints. I like goofs. He bought the city's basketball team with the purpose of bringing the same sort of stability his NFL team owns. Benson gets a 5 here if not for a nickname change to the Pelicans.
Nightlife (4). French. Quarter. 'Nuff. Said.
Total: 12 out of a possible 15.
2. Cleveland
Picks No. 1
Needs (4): Kyrie Irving at point guard. Tristan Thompson at power forward. Dion Waiters scoring from all spots on the floor. Bennett would be a huge piece for the Cavaliers and a big upgrade from Alonzo Gee, who might not start for Findlay Prep.
Organization (4): On lottery luck alone, the Cavaliers grade out high. Throw in the fact they have some of the cheapest concession prices in the league, and owner Dan Gilbert receives higher marks than you might think in the post-LeBron era.
Nightlife (3): No city bonds with its local athletes like Cleveland, where NBA, NFL and major league baseball players frequent downtown clubs and restaurants nightly.
Total: 11 out of a possible 15.
3. Phoenix
Picks No. 5
Needs (5). The Suns lack everything except a point guard, given no one on the current roster averaged more than 15 points this season. Bennett wouldn't worry about playing time or shot attempts here.
Organization (2): Many in Arizona have a name for Suns owner Robert Sarver: cheapskate. He charges a fortune to watch a bad team and has been viewed as someone who will always choose his wallet over winning.
Nightlife (3): You can do far worse than Old Town Scottsdale for entertainment options. You can also do much better.
Total: 10 out of a possible 15.
4. Washington
Picks No. 3
Needs (4): If he only has to beat out Chris Singleton for minutes, Bennett could count on making an immediate impact for a team that won half of its final 50 games this season. John Wall and Bradley Beal are a better-than-average backcourt from which a small forward with Bennett's skill could benefit.
Organization (1): The real estate trick for anyone drafted by Ernie Grunfeld: Rent, don't buy. The Wizards have been a revolving door of players for some time, not the sort of recipe that ultimately delivers a championship. If not for Wall, this rating is a zero.
Nightlife (4): Dupont Circle. U Street Corridor. Adams Morgan. Georgetown. H Street. There is a plethora of clubs and bars for politicians and athletes alike to mingle and find fun.
Total: 9 out of a possible 15.
5. Orlando
Picks No. 2
Needs (2): I suppose the Magic could go small with Bennett and Tobias Harris, but the latter won't be giving up his small forward spot for years to come. Mo Harkless is also another versatile forward for Orlando. The Magic need a point guard in the worst way, and Bennett isn't one.
Organization (2): You can thank Dwight Howard for this ranking, a diva of a player whose soap-opera exit from Orlando set the franchise back decades. There hasn't been a free fall like this since $1.2 trillion vanished from the U.S. stock market in September 2008.
Nightlife (3): It gets a bad rap — electronic dance music tends to do that — but the town is actually very cool beyond all the glitz and tourists wearing Mickey Mouse ears. Drinks are cheaper than in Miami and the people are far less, well, plastic.
Total: 7 out of a possible 15.
6. Charlotte
Picks No. 4
Needs (3): The fact Bennett isn't very good defensively wouldn't harm him here, where Charlotte is desperate for anyone who can create a shot and help take some scoring burden off Kemba Walker.
Organization (1): It's one of the worst in sports led by the game's greatest player in Michael Jordan. Charlotte has an all-time winning percentage that flirts with single digits. Not even cheap tickets can save the sorry state of this franchise.
Nightlife (2): The city is clean. The air seems fresh. There are some nice bars and clubs in and around the EPICENTRE. Did we mention the city is clean?
Total: 6 out of a possible 15.
Las Vegas Review-Journal sports columnist Ed Graney can be reached at egraney@reviewjournal.com or 702-383-4618. He can be heard from 11 a.m. to 2 p.m. Monday through Friday on "Gridlock," ESPN 1100 and 98.9 FM. Follow him on Twitter: @edgraney.