Pitino's legacy not defined by 15 seconds
December 11, 2010 - 12:00 am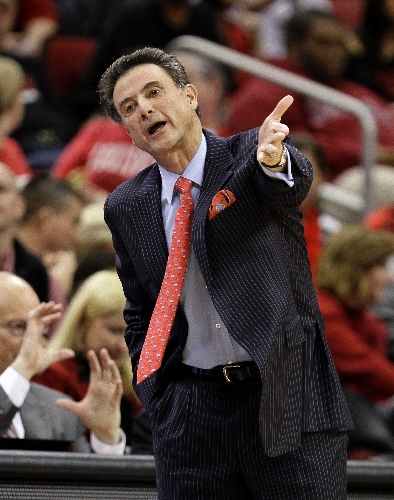 LOUISVILLE, Ky.
It is nestled among the bookstores and coffeehouses and charming shops of the historic Crescent Hill neighborhood, a restaurant specializing in northern Italian cuisine and offering one of the city's best wine collections.
There is a family feel to Porcini. Locals greet each other at the bar. Flat-screen televisions show NFL games. Grown men sit among large groups drinking and laughing and wearing Christmas sweaters so hideous that Lou Carnesecca would pass on them.
It is a place as welcoming for the corporate attorney as it would for be your crazy Uncle Fred. I think I saw both there Thursday evening.
In the back, past the half brick walls and booths that created more news over the summer than the nightly dinner special, is a wall decorated with pictures of celebrities who have visited. Hanging among them is a restaurant review of Porcini, and within the text is a part labeled Power Diners.
The mayor is listed. So is a prominent Louisville physician. So is Hall of Fame football player Paul Hornung.
So is Rick Pitino.
Fifteen seconds?
It took 10 times that to get a menu.
But in that blink of unsnapped pants and an oh-so-quick indiscretion that Pitino had in one of those booths back in 2003 while his former executive assistant sat on the other side of the brick wall, the reputation of one of the finest college basketball coaches in history was tarnished to the point that some Louisville faithful will never again view him the same.
Even if the Cardinals make another Final Four under Pitino.
Yeah. Even then.
"It's a basketball-crazy town, and he's the highest-profiled person in it," said Pat Forde, a columnist for ESPN.com who lives in Louisville and has covered Pitino since 1990. "But what happened mortified some people. This is also a very Catholic town. When you include things like an abortion … some will never forget or forgive.
"But there is also the camp that says he's a basketball coach, and they don't care about his private life. Just go win games. Many people were only worried that it would negatively impact basketball. I think (Pitino) is scarred by all of it, probably for life."
It takes less than 10 minutes to drive from Porcini to the downtown KFC Yum! Center, where No. 24 Louisville today hosts No. 20 UNLV and Pitino's team receives its first challenge in a season in which it already has seven home wins and won't leave the state to play until Jan. 9.
Today's game will serve as an annual remembrance to Billy Minardi, a brother-in-law of Pitino who was killed in the Sept. 11 terrorist attacks while working at the World Trade Center. Another brother-in-law was killed after being struck by a New York City taxi, and the Pitinos in 1987 lost a 6-month-old son to heart failure.
The coach has had his share of tragedy, not to mention one notorious encounter that turned his world upside down.
Karen Sypher still awaits sentencing after being found guilty in August of extortion and lying to federal agents, demanding millions of dollars and other gifts from Pitino to keep quiet about their encounter and the fact the coach then paid for her to have an abortion.
This isn't just a Louisville basketball town. Perhaps about 40 percent of the area's residents are Kentucky fans. So when all this became public and Pitino took the stand at Sypher's trial and the jokes about the tryst not lasting longer than it takes to read this sentence went national, some here celebrated the negative effect it could have on the Cardinals while others mourned it.
Which side feels better about things today?
It depends on whether the person you are asking is wearing red or blue.
Louisville will welcome a top-10 recruiting class in 2011, but there is no denying that the factory of NBA talent being turned out by John Calipari at Kentucky has put the Cardinals further behind their rival in national stature.
Pitino — who in his 10th season has led Louisville to one Final Four, a number most here would have predicted and expected to be higher when he took the job — strives to keep Louisville in most water-cooler discussions about the nation's best programs.
His is still some respectable clout. Pitino, 58, remains the only coach to lead three programs to a Final Four, and while his team this season isn't as talented individually as others at Louisville under him, it might be playing together better than any before.
Pitino and that night at the Italian restaurant were front-page discussion here for a long time, but as the story fades more and more into the past, a coach whose on-court credentials are unrivaled by most tries his best to remain relevant.
"He is a cinch Hall of Famer just on his college credentials," Forde said. "He reinvented how college basketball is played from a 3-point standpoint. He's one of the very best coaches of all time. He's older now, definitely wiser and in a lot of ways sadder.
"But the bottom line is this: People get behind winners, and no matter what happened in the past, if this team wins big, people here are going to celebrate Pitino the way they always have."
Restaurant booths and half brick walls aside.
Las Vegas Review-Journal sports columnist Ed Graney can be reached at egraney@reviewjournal.com or 702-383-4618. He can be heard from 2 to 4 p.m. Monday and Thursday on "Monsters of the Midday," Fox Sports Radio 920 AM.